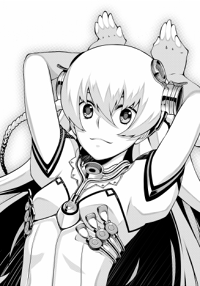 Edgeknight
Original poster
LURKER MEMBER
FOLKLORE MEMBER
Invitation Status
Posting Speed

One post per day
1-3 posts per week
One post per week
Writing Levels

Beginner
Elementary
Intermediate
Adept
Adaptable
Preferred Character Gender

Female
Futanari
Primarily Prefer Female
Genres

Scifi, anime, mecha, magical girl, superhero, cyberpunk, yuri
Malevolence From Beyond
An eldritch horror magical girl roleplay
Characters
|
In-Character
​
The year is 2085. Fifty years ago, the Ashcroft Foundation shocked the world by revealing that magic was real, and they had harnessed its principles in new technology. The old gods have also taken notice, and now their cults are more active than ever. Operating in secret, they threaten to destabilize society and bring about the return of the Old Ones in a new era of madness. Fighting in a shadow war against them is the Eldritch Society, an international secret society dedicated to protecting the mortal world and driving back the advances of horrible deities. Their greatest warriors are tagers, people who have survived a powerful magical ritual and been bound in symbiosis with a "higher being," gaining incredible power. ​
A group of young women are about to be in the right place at the wrong time. A ritual gone out of control leaves them the unwitting subjects, and they have been found worthy by the alien beings summoned forth. They will have to learn how to use their new powers, and find allies in the shadow war quickly if they want to survive in a world of monsters. Because they are tagers, holy warriors, and they are destined to fight. ​
Welcome to the Strange Aeon. ​
Hello and welcome to a weird little roleplay about magical girls and Lovecraftian horror. Your characters have just been unwillingly granted great power and will, like it or not, have to fight all manner of horrible monsters. It's gonna be fun.

Before the RP proper starts, I plan on having a sort of session zero. In addition to making characters, we're going to have some discussion of our expectations, so we can get everyone on the same page in terms of tone and other things. This will probably be a darker story most of the time, although how dark may change from time to time. Also, even if it is a darker roleplay, the focus is less on cosmic horror and more on humaniy's ability to fight back. You're eldritch super heroes, after all.

Please note that characters will not necessarily be first come, first served. I will be picking the characters I like. I am looking for a small group of around 3-4 other people.
If, for some reason, you would like to be a Co-GM for this madness, please let me know. It'd mostly just involve bouncing ideas off each other for what happens next, and probably keeping me honest about a posting schedule.

Posting Speed
I will do my best to post at least once a week, and would prefer the same from everyone else. Posting speeds that are sometimes faster or slower are also fine at times.

Posting Expectations
As long as one has reasonably correct grammar and spelling, I won't be particularly upset. I would prefer posts not be one-liners, but I won't set any minimum word counts. Just shoot for at least a paragraph or so, and try to move the scene or conversation forward.

Mature Content
There may be swearing, violence, graphic descriptions of gore, drug and alcohol use, and possibly sexual content. There will inevitably be tentacles anyway.

Communication
Communication is important. If you have a question or something is unclear, please ask.

Discord
I'll probably set up a discord server. I have not set one up yet. If one feels strongly for or against discord, please let me know.

What about insanity and stuff?
While madness is often a theme in the genre, notable so in tabletop role-playing games such as Call of Cthulhu, I do not intend to track sanity as a resource or worry much about characters going mad or losing their minds over encountering a new Mythos beastie or the like. I will leave this up to you as a player. If you want your character to suffer, go ahead. This RP will definitely have opportunities for psychological themes and horror. How does your character change from the things she has to do? How is she changed by the extradimensional symbiont bound to her? How do the people around her react when she seems to know things no man was meant to know?




Be kind to each other.
Listen to Iwaku staff.
Listen to me.
Follow all site rules.
Do we really need things like this?
---

Your characters will be young women who have been granted incredible power, and dragged into what would normally be the concern of adults. Until they became tagers by accident, your characters probably didn't even know there was a secret war against the Old Ones, but now they won't be able to avoid it. And they still have to go to school and maintain a normal life.

Your characters are still exceptional people on some level. Not anyone can be judged worthy by the "divine" beings that join with them to become tagers. It requires a certain amount of willpower and conviction.

In addition to your character, you will also get to create their form and abilities when they change into a living, power-armored monstrous warrior. This isn't a monster girl sort of thing so much as just a full-on monster. Tagers are more like the Guyver or Tekkaman blade. his probably means your characters aren't exactly magical girls per-se, but it's close enough, and we'll be following a lot of the same tropes.

Your characters all attend the same school, although they do not need to be in the same grade or class. The details of their home life are also entirely up to you. If you would like to work with other players to have a common background, you are more than welcome to.

It won't take the Eldritch Society very long to track down your characters, and they will all be invited to work with them shortly after the roleplay begins. I will be discussing how the RP will start and how to gather all the characters together before the RP proper starts, so help ensure things go smoothly. Starting a RP is difficult, what can I say?


Name: Your character's name
Age: Your character's age, preferably 13-18. Optionally, also include their grade/year in school.
Appearance Your character's appearance. Images are fine, and while artwork, particularly anime-styled is recommended, I will not require it either. Please also provide a good paragraph description of your character's appearance, should you feel the need to elaborate with additional details not present in the image.
History: At least a paragraph about who your character is. Where are they from? What's their family life like? What events have shaped who they are today?
Personality: A very brief sketch about how your character tends to act or see the world. Also consider how their ta'ge symbiont's influence has or will change their mentality over time.

Feel free to provide any additional information you'd like, and if there is anything you want to keep secret, feel free to PM me with it.


You character has also been bound to an alien symbiont summoned from another plane of existence. The Eldritch Society believes them to be divine, and whatever they are, they are willing to bond with humans, granting them great power in exchange for a measure of the magical energy they produce and their ability as a host to experience and influence the world. You will need to describe your symbiont and the form it grants you, as well as your character.

Appearance: The shifted appearance you take on when you fully manifest your symbiont. While humanoid, one is still clearly alien, monstrous, and likely to frighten anyone who saw them. Think the Guyver, or other biological or living armors or just plain old cool looking monsters, really. Images are encouraged, just as before.

Natural weapons: The natural weapons available to you. Be they claws, blades, a powerful bite, tentacles, or even more unusual or mystical ranged attacks. Although not all tagers are built for direct combat, they are all capable of it and have at least a couple weapons at their disposal.

Limit Weapon: Your signature special move. Make it nice and flashy. Examples would include the Guyver's mega-smashers or similar anime wave-motion guns, an ability to create several illusory copies of oneself, an unstoppable armored charge, the ability to teleport around an area and make multiple attacks from many angles or against several enemies, and so-on.

Other supernatural Abilities: Other supernatural abilities you possess, if any. Some examples could include flight with or without wings, the ability to turn invisible, a sort of displacement effect to appear slightly next to where one actually is, or the ability to phase through solid matter.

Personality traits: The personality traits your symbiont tends to bleed into your own. What new, alien desires are now yours? Additionally, does your symbiont usually remain a silent partner, or is it talkative as a voice within your head?

Hybrid Form: When you partially manifest your symbiont, what weapon or ability do you gain? What obvious change happens to your eyes?


I mentioned earlier a "session zero" sort of thing and general discussion of expectations. To help facilitate discussion, please also fill out this questionnaire. The use of specific examples, where appropriate, is encouraged (for example, naming a specific series to describe how dark one would like things to be).



What things from the Lovecraft Mythos would you like to see? If there is a specific god or monster you like, let me know. If there are specific themes or styles you like, mention those as well.
What things from magical girl anime would you like to see? I'm mostly looking for themes, tropes, and the like here.
How dark do you want the RP to get/be?
How light and/or silly do you want the RP to get/be? This is not mutually-exclusive with the above. You can want a mostly darker tone ,but still occasionally enjoy a moment of levity, and one might argue it can be important every now and again.
How much do you want to worry about the authorities and planning things carefully? The setting's cyberpunk and a bit dystopic. Do you want to be careful to avoid alerting your enemies or the police? Or would you prefer to have few consequences to overt action?
Do you want death and/or madness to be a major concern? In other words: How much do you want a character to possibly be lost due to either of those?
Is there anything you absolutely do not want to see?

Please feel free to include anything else you'd like to discuss OOC, but those are the big ones that I'd like to have out for shaping the overall tone and style of the game. I don't want to have one person expecting something like Madoka Magica, and someone else expecting Haiyore! Nyaruko-san.

Tagers in detail
Tagers have a lot of abilities common to all of them, regardless of the specifics of the form they take. They are stronger, faster, tougher, and more agile than a normal human, even when in their normal human form. Once they shift into their alien battle form, they become far more powerful, and gain access to a number of terrifying abilities, but are also obviously nonhuman, and would easily be hunted down as just another monster by the Office of Internal Security. Most symbionts can appreciate the need for discretion and only manifest partially into a sort of hybrid form, granting access to some of their abilities. On the plus side, since the symbiont does not exist in the world, a tager appears to be perfectly human to most means of detection.
The price for this power seems slight, at first. While one's perceptions have been opened to a world beyond the mundane, which usually leaves one a little...less sane than they were before, not much else seems to be a downside. The symbiont consumes some or all of the magical energy their host produces, reducing theri ability to practice or assist in magic. The symbiont is mystically and mentally bound to its host. Existing just outside of reality, most of the time. But that connection allows its own desires to bleed through, and its personality begins to influence the host over time. Moreover, when one is stressed or threatened, the symbiont may attempt to manifest partially or fully, regardless of one's wishes.
Please read the information below, it may help you in creating your character.



In human form, a tager enjoys some enhancement to their strength, agility, and other abilities, although to what extent depends on the individual symbiont.
Regeneration at a slow rate, taking hours or days to recover from injury. Any injuries sufered in human form recover at this rate, even if one later shifts forms.
A tager can, regardless of form, detect dhoanoids, other tagers, and supernatural beings. It takes about a minute of observation to identify someone as a dhoanoid or other supernatural creature, but tagers can recognize each other instantly by their mental connection (see below).
Mind link: In human form, tagers can communicate telepathically over short distances of around 10 m.




Greater enhancement to their physical attributes.
The ability to leap great distances with little effort.
A gecko-like ability to stick to and crawl along walls and other sheer surfaces. Ceilings too, as long as they can support your weight.
While shifted, your mortal form is mystically protected and you can survive in space or deep underwater. Airborne toxins are also filtered out and will have no effect.
Shifted tagers gain armor that protects them from harm.
While shifted, tagers regenerate rapidly from any injuries. However, the symbiont will not allow them to shift back to human form until all sustained injuries have healed.
Every tager has a variety of weapons and supernatural abilities, including a Limit Weapon, a powerful attack of ability that can only be used once a day, often to devastating effect.
Supernatural senses: You gain one or more supernatural senses. Some examples include perfect vision in total darkness, thermal vision, the ability to see through walls, the ability to sense life, and echolocation.
Mind Link: Your mind link now functions over a distance of a few kilometers.


Partially manifesting the symbiont takes an act of will in most circumstances. In this state, a tager still appears mostly human, although their eyes take on some clearly inhuman appearance, such as becoming pitch black, solid blood red, or segmented like an insect's. Any natural weapon manifested is also obvious for anyone to see. In hybrid form, you gain access to one of your supernatural senses, and either one natural weapon or other supernatural ability.

---

The setting for this roleplay is Kojiki City. The time is 2085. Kojiki is a large metropolis in Japan, and one that has not been replaced by a more modern arcology over the years, in part because it survived the various wars intact. There is still a strong law-enforcement presence, although crime often runs rampant, and enforcement has gotten tougher to match. Many people get around by public transportation, either by bus or subway. Much of the architecture in Kojiki sports art deco touches, and the more stylish parts of town look like an odd mixture of the 1920s and modern holographic advertisements and displays. Wireless communications access is near ubiquitous, and only the very poor are without an advanced smartphone to take advantage of it. Since Kojiki is a bit more open than a modern arcology, organized crime, underground sorcery, and other everyday horrors run just under the surface. The Chrysalis Corporation's local headquarters is a small arcology towering over an entire city block and dominating the skyline.

Your characters attend Sanagi High School, a school that, while not one of the best, is well located near a residential district and also several shops and fast food restaurants right near the campus. Sanagi was fortunate enough to be included in an urban restoration project, and benefits from increased funding and influence in the business world, notably from the Chrysalis Corporation and its many subsidiaries. It has become extremely popular for many parents, as any graduate can look forward to several job offers from one of the world's premier megacorporations.


About fifty years ago, the Ashcroft Foundation shocked the world by going public with the following: magic was real. And they had used it to develop new technology capable of generating steady, clean energy. This Dimensional Engine soon propelled mankind forward by leaps and bounds. Finally, we had the revolution in energy futurists had anticipated would come with the atomic age. Soon after the development of the D-engine, antigravity systems were also developed, and humanity has leveraged them both to usher in a new age of exploration. Powered armor and even larger humanoid mecha have been developed for both peaceful purposes like construction and for war.

Additional advances in fields such as cybernetics, nanotechnology, and biological engineering have led to revolutions in medicine and everyday life. One can generate just about anything with a nanofactory...provided one has access to it. Medical cybernetics exist, although far more common are replacement tissues created using a person's own cells and then attached with the help of nanomedicine or beneficial sorcery.


The Chrysalis Corporation is one of the world's most influential and largest megacorporations, often chief competitor to the Ashcroft Foundation itself. It is also rotten from the inside. Decades ago, Chrysalis rediscovered the Rite of Transfiguration, a powerful ritual that transforms a human into...something else. This attracted the attention of the god Nyarlatheotep, and it gathered its mortal cult, the Children of Chaos, and silently took over. Most Chrysalis employees are completely unaware of the cult's existence, or any other darker influences, although eventually cult initiation and promotion are one and the same.

Dhoanoids
A human undergoing the Rite of Transfiguration gains a form more suitable for its masters. The resulting creature is a shapeshifting monstrosity known as a Dhoanoid. Although they walk around like men, their true form lurks just below the surface. Utterly inhuman in body and mind, a dhoanoid is easily discovered by genetic scans or mystical means, and the Children of Chaos work carefully to hide them from any such public scrutiny. A dhoanoid can easily transform from their human appearance to their true, monstrous form, and can even only partially transform, should they choose to do so. Several known types of dhoanoid have been developed, and a dedicated team of research scientists and sorcerers is hard at work developing more with even stranger abilities.


Founded by renegades among the Children of Chaos who stole the Ta'ge fragments, The Eldritch Society is a loose society of sorcerers, psychics, and others who know of the hidden truths of the world and act to protect it and humanity from these darker influences. The society has developed the Rite of Sacred Union from information contained within the fragments, a ritual similar to the Rite of Transfiguration that does not force one to lose their mortality. Instead, it calls out into the universe, to bring a mortal and a "higher being" together in symbiosis. However, participants in the rite would be "judged worthy". Tagers, as they have come to be called, are mortals who have undergone the Rite of Sacred Union and survived. They are monsters with the hearts of men, and are the Eldritch Society's greatest warriors.

---
Influences
The Cthulhu Mythos
The Cthulhutech Role-Playing Game by Wildfire LLC. A lot of things for the setting and tagers are taken from CTech, so credit where it's due.
Deus Machina Demonbane - Still what I expected Cthulhutech to be like.
Last edited: