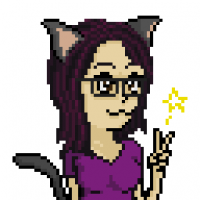 Morality Kitchen Sinker
Original poster
FOLKLORE MEMBER
Invitation Status
Posting Speed

1-3 posts per week
One post per week
Online Availability

I work full time, so I'm usually not on until after 6PM EST on weekdays. (Weekends are free game though.)
Writing Levels

Intermediate
Adept
Advanced
Adaptable
Preferred Character Gender

Male
Female
Futanari
No Preferences
Genres

Urban/modern fantasy, psychological horror, fandom using OCs (no canon characters except in mentions!)
Someone once pointed out to me that too many of my characters are jerks.
I was quickly on the defensive about that. I argued that I've only
told
them about the jerks because those guys are the most interesting! If someone sees a puppy in the street, arguably the "default" behavior would be to save it, so a guy that laughs as the puppy gets run over is more deserving of attention, right? Well, today I sat down and sorted my characters into three groups: jerk, neutral/fluctuating, and nice. (Obviously this was grossly simplified; I based it on character traits that stand out the most.) Here is a breakdown of my findings by character faction:
Protagonists of current arc: 25% nice, 12.5% neutral, 62.5% jerks
Antagonists of current arc: 0% nice, 25% neutral, 75% jerks
Protagonists of arcs gone by: 100% nice, 0% neutral, 0% jerks
Antagonists of arcs gone by: 0% nice, 20% neutral, 80% jerks
Major characters of neutral standing: 66.6% nice, 33.3% neutral, 0% jerks
Side characters of neutral standing: 50% nice, 25% neutral, 25% jerks
Silly parody characters with their own self-contained story: 0% nice, 25% neutral, 75% jerks
More grounded characters with their own self-contained story: 83.3% nice, 0% neutral, 16.6% jerks
This is not what I was hoping for.
Now, some of my favorite characters in any fandom are those that play against their type and trend more towards a moral gray area. But as you can see, I've only done that with the protagonists -- the current arc has WAY more jerks than the previous one, but the moral spread of antagonists hasn't really changed. This is a problem!
I already know the reason behind this. I ended the referenced "arcs gone by" because the characters involved
weren't interesting.
And my attempts to make characters that
were
mostly churned out jerks. Now I don't have enough relatable characters!
Tl;dr: Too many of the important characters are jerks. Not enough of the nice characters are important. Characters that are nice and important aren't interesting.
Taking into account that I
really
don't like scrapping characters that have been around as long as some of these guys, the solution that I've come up with is to make some of the important jerks more relatable. I can already point out a few who have good intentions but act all self-superior for no good reason. But I feel like if I take that away from them, they'll lose their depth and become boring pancakes.
Another possible solution is to take some of the interesting nice characters and make them more important by folding them into the main story. I already have a couple in mind, but I'm not sure if this would really fix anything. It's not like anyone
changed;
their goals just shifted around a little. I mean,
maybe
this nice character could help chill out the jerks a little bit, but that seems so forced...
Of course, there's the caveat that when I say "interesting," I mean "interesting for me to write." It's entirely possible that the nice characters
are
interesting, but I'm inherently doomed because I find them boring to talk about and write for! owo'
How can I fix this mess? Is there anything else I can do? Am I just reading
way too much into things?
YOU BE THE JUDGE.
Last edited: