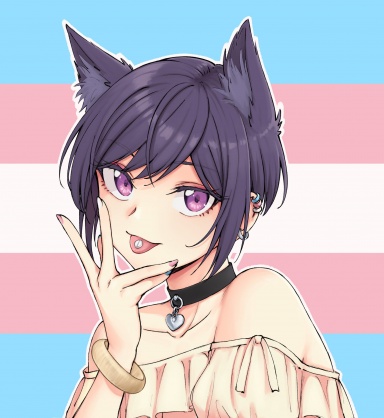 Putting The T in LGBT
Original poster
Roleplay Invitations

Group Roleplays, One on One Roleplays
Posting Speed

A Few Posts A Day, One Post a Day, A Few Posts a Week
Writing Levels

Elementary, Intermediate, Adept, Adaptable
Genders You Prefer Playing

Female, Transgender
Favorite Genres

Yuri, Magical Girl, High Fantasy, Sci-fi, Ray-gun Gothic, Mecha, Steam punk. Scifi Apocalyptic,
Genre You DON'T Like

Horror.

Heyo! Welcome to my thread! Here you will find plots set in worlds of my own creation, while romance doesn't need to be the main focus in most of them, I would still prefer it to be slowly forming in the background at least, one thing I do have a bit of a craving for is trans girls in rps, as a subject I am VERY familiar with I like to see representation in rp.
Also if none of these plots suit your fancy feel free to toss any ideas my way, or even just ask to brain storm a new world with some of your preferences!
Rules: Yeah I know, rules suck
Post Size/Speed: I am not too picky with my posting size, I can comfortably produce two paragraphs several times a day, and will match you if you want to write less, generally as long as you don't give me constant one liners I won't complain.
As for speed, I would like at least a post a day, with more being preferable, if you can't keep to that just tell me, I CAN be patient despite my appearances.
Sexual Content: Personally I have no libido or anything like that currently, though i am not opposed to either fade to black or writing smut if it fits into the story.
As for romance in general, I mainly do fxf, however, that includes trans women, generally if there is a romantic lead for your character to go after you can choose to have them be either Transgender or natal female though I do have preferences for some of the rps.
PC/NPC Control: While you of course have complete control over your character, please ask if you want to make my character or any NPCs created by me do something, 99% of the time I will agree, you can also feel free to introduce NPCs both friendly and hostile, and even if I am in GM mode I will ask before controlling them.
Plots: The reason you are here! (feel free to suggest plots if you think I might like em)
Code Heart: Digital Love!
The world's newest VRMMO has just released! A fantasy game boasting the biggest world ever seen and a limitless class and customization system guaranteed a huge player base, and when it became apparent that it was not going to trap people in some weird anime plot, the numbers only went up!
While taking on her first quest, a girl who is new to the game runs into another player who they find themselves oddly drawn to... And quickly approach and party up with them, yet this girl refuses to talk about her life, or even meet up in person... And it seems she never logs off.
So yeah, this is a plot a lot like Log Horizon or SAO, except your character can leave at will, it will be mostly a cute adventure and eventual romance between a gamer and an oddly inhuman companion, with the benefit that if we get bored we just switch which game is being played.
Lost Galaxy: Fragments
The war that raged for a hundred years has ended, more fierce than any before it can be clearly seen that no one won, no one was left TO win, fleets lay scattered around the galaxy like so much refuse, and planets drifted apart, shattered by orbital bombardment or encased in impenetrable shields, among all this destruction a lonely woman looks for company...
This rp is a more somber slice of life, set between the apocalypse and resurgence chapters of my scifi universe, essentially the equivalent of ww3 happened, a galaxy wide apocalypse, and you will play as someone travelling around in a ship trying to find others, depending on your preference, you may only find one or two people, or eventually gather a full crew.
Lost Galaxy: Resurgence
It's a new era in the galaxy! The barriers that surrounded the planets of the galaxy have begun to drop, their ancient power sources finally seeming to burn out and allowing the surviving people of the galaxy to return to the stars, filled with curiosity and greed...
Among this resurgence a new profession has formed, the star seekers, people with often salvaged ships that travel the stars.
Part bounty hunter, part explorer they have already established themselves as an annoying yet useful trade.

Alright, so this rp is a moderately happier one, people are returning to the stars, but no major powers have really established themselves, you would play as one of several things, either a Star Seeker who has decided to look for a crew, someone who stumbles across an ancient ship/steals a less than ancient one, or even someone who gets picked up by a Star Seeker.
Soaring Hero:
The floating world of Veritas is in the middle of a resource shortage, the glowing, fragile crystals that keep the many islands and continents floating are also the strongest fuel source known to man, and mining it creates an obvious conundrum, with tensions high and nations looking for any excuse to start a war for resources, the discovery of a new strain of crystal seems to be perfectly timed!
That is until an accident causes a massive explosion, catching several bystanders in it's wake, those who survived were certain of their demise... Until they began showing strange powers...

So this rp is one I created years ago, and is set in a world war era world where the continents tore themselves from the ground before recorded history, you will play as a woman caught in an accident that gives them several energy based super powers and begin to fight baddies in the buildup to a world war, this is another rp where it can be played as 1x1 or with me as a GM, though I massively lean towards GM mode since I can more easily do certain things.
Mahou Madness: Hidden Depths
It seemed like any other day at school, boring classes, way too much homework, and club managers dragging students around like herd animals, and if a student hadn't stayed back late they would never have thought different...
As they walked through the halls, finally ready to go home, the student is attacked by what could only be called a monster! Unable to run they the prepare for death... And are saved, a hero clad in strange armor begins battle with the monster, slowly losing ground as they were trying to protect their friend.
It is then that they are given a choice... Become a magical warrior and fight alongside them.
There is only one problem... They are a boy! And becoming a magical girl would slowly but surely transform them to a girl... But would that be so bad?

So this is actually based off of a dream, and stars a closeted trans girl (as in even mostly in denial them self) who becomes a magical girl to fight monsters and evil corporations, it would be equal parts magical girl and slice of life.
This could work with either you as a veteran magical girl, a GM, or if you think you can handle it, the trans girl.
Cast of the Flying City: The flying city of Regel, seat of royal power and grandest of the imperial cities, it bears weapons far beyond those of the surface peoples and it's people live in paradise... But the city relies on more than simply weapons and happy citizens, it needed a force to represent their power and operate the city, for this reason the cast were created, utilizing all magic and technology available they were better than the best, beyond mere humans they defended the cities against all threats.
A new class of Cast have been created, trained to operate the newest area of the flying city they were prepared to take up their posts and serve loyally, however before they could, a great crises occurred, without being told why they were ordered into storage, and when they finally woke the city was gone, leaving them alone in their empty district.

This is a less formed idea, which is to say I have a basic outline and the lore figured out, but plenty is up for us to discuss, you would play as the class leader of the new group of cast, taking charge of your confused classmates to try and find what happened to Regel, there will combat, both on the ground, within the city and even utilizing the city.
This Rp is a mix of fantasy and scifi elements, for an example think something like modern final fantasy games.
Last edited: