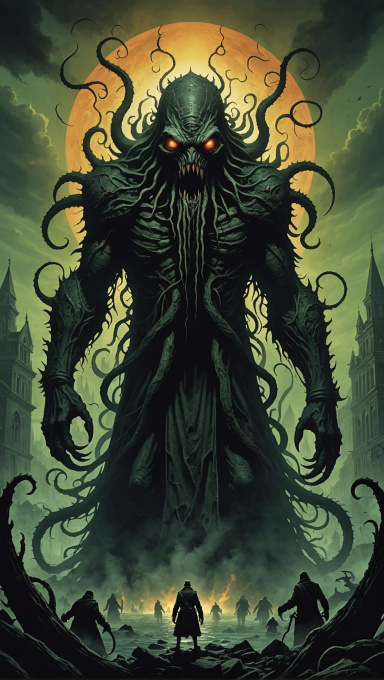 Waiting for Wit
Original poster
SECURITY DEPARTMENT
FOLKLORE MEMBER
Invitation Status

Looking for partners
Posting Speed

1-3 posts per day
Multiple posts per week
One post per week
Slow As Molasses
Online Availability

On fairly regularly, every day. I'll notice a PM almost immediately. Replies come randomly.
Writing Levels

Adept
Advanced
Preferred Character Gender

Primarily Prefer Male
No Preferences
Genres

High fantasy is my personal favorite, followed closely by modern fantasy and post-apocalyptic, but I can happily play in any genre if the plot is good enough.
Good luck, you poor fuck.

The words seemed to echo around the small, enclosed space Vala found herself locked in, louder even than the sound of the door being slammed closed and some locking measure engaging. She shivered slightly, rubbing her hands up and down her arms.

Vala wasn't entirely sure how she's got here. One of the roaming cities had stepped over her small home, and the next thing she knew she'd been bundled up with everyone else in the vicinity and escorted to a large waiting room. Many of the others had been ecstatic. The Tortue Cities were by far the safest place to be, and being picked up meant they'd be able to live without threat from the Calamar, even if they'd have to work off their salvation through hard labor. It had to be easier than the life they'd been living previously.

Vala, however, had been nearly paralyzed with some indescribable sense of unease, which had kept her from joining the excitement of her fellows. And soon enough, that concern became reality. As they were lined up and filed before a machine, the people were put on various jobs. Sewer maintenance. Plumbing. Window washing. Nothing fun, but nothing deadly. Until...

Two words popped up when Vala stepped forward. Guard Duty. She'd barely had a chance to mumble in confusion before two men had seized her arms, and dragged her out of the room under the pitying gazed of those who remained unsorted. Now here she was.

Welcome to the mobile armor division! A cheerful, robotic voice sounded around Vala, before a screen in front of her suddenly illuminated, casting both Vala and the metallic interior in faint blue light. You have been assigned to model SX-1956M, which has been preprogrammed with several basic commands.

Several symbolic buttons appeared on the screen in front of Vala, the largest in the center resembling a circle with a line through the top. Please imitate power. The circular symbol began to flash. Hesitantly, Vala reached out to touch it.

There was the rumble of engines, and the darkness around her faded, replaced by a view of the hanger around her. Only now did Vala fully recognize that she'd just been shoved and belted into a mech! Around her, rows and rows of similar contraptions stood, waiting patiently as people climbed into their cockpits. Vala began to panic, struggling in her harness, which didn't give an inch. She didn't know how to pilot one of these things! Surely they weren't really about to send her out against the squids?

Please wait patiently. The robotic voice seemed to care little for her panic. Your bioengineer will be assigned momentarily.

Now, the guards words seemed to make more sense. She was going to need all the luck she could get, or she really would be fucked.