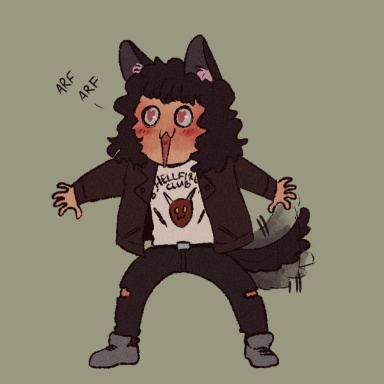 My sun sets to rise again.
Original poster
ADMINISTRATOR
Roleplay Invitations

Group Roleplays, One on One Roleplays, Chat Roleplays
Posting Speed

Speed of Light, Slow As Molasses
My Usual Online Time

It varies a lot depending on my schedule, unfortunately.
Writing Levels

Adaptable
Genders You Prefer Playing

Primarily Prefer Male
Playing Style- Passive or Aggressive

I play what's needed, but I do like to take the lead. In my one-on-ones, I often like being the "Game Master" in the sense of creating the setting, controlling NPCs, and steering the plot. But I still like input and collaboration from my partners. In group games, I prefer to be the GM or to play a leading or mentor role.
Favorite Genres

I love a little bit of everything. My top choices would be Horror, Modern Fantasy, Urban Fantasy, Magical Realism, Noir, Steampunk, Cyberpunk, Splatterpunk, Post-Apocalyptic, Historical, Mystery, old-school High Fantasy, and Sci-Fi (especially Spacesagas). I'd love to do some occasional Clockpunk or Weird West or Wuxia or Dieselpunk, too.
Genre You DON'T Like

I guess the only thing I don't particularly care for is high school drama, and even that can be fun with a good hook.
A Harry/Luna/Draco Potterverse RP
by Astaroth and Pahn

---
OOC
​
"We've got Potter!" Greyback roared triumphantly. "We've captured Harry Potter!"
-Harry Potter and the Deathly Hallows, pg. 455
​
Two figures sat in large winged-back armchairs before a roaring fireplace. The light from the flames danced and cast strange patterns on the wine-colored walls, reflecting and playing off the crystal chandelier that hung overhead. Though both alike in their pointed features and blond hair, there were key differences between the pair: one, the man, had long and immaculately brushed locks and eyes that flickered madly at the slightest sound; the other, the boy, was a living statue, his hands gripping tight on the polished wood of his chair's arms as he stared straight ahead into the fire.
Despite the blaze in front of him, the room was like ice.
"Your mother is taking her time," hissed Lucius Malfoy.
"...Should I go and see why?"
the boy heard himself ask. Even to his own ears, the words sounded reluctant.
"You'll do nothing of the sort." His father's reply was all buttered venom. "Bad enough that we've been reduced to a boarding house for all kinds. I'll not have my son answering the door like one of the help."
But it's fine for mother, I suppose,
thought Draco, and sank lower in his chair.
He wondered if it had been worth it to come home for Easter, sometimes. The school wasn't much fun these days, as much as it should have been now that the rubbish teachers had gone and Slytherin had the favor in terms of pecking order. Draco had dreamed of this day. Why shouldn't he enjoy the glory?
Why should it matter, how mudbloods and Gryffindors looked at him in the hallways? So what if he saw a rotten, weak old man's face every time he met the eyes of a man who'd once been his favorite teacher? And dreams... were just dreams. They meant nothing.
Malfoy Manor was where Draco belonged. He'd longed to see his parents again. And yet...
He glanced sideways again at the mad-eyed man beside him, and shuddered.
Sounds echoed in the hallway beyond the drawing room. Footsteps coming up the stone staircase, in a large group. Bile rose in Draco's throat. The last time this many people had arrived at the Manor, it had boded ill. He resolutely kept his gaze fixed on the flames as the door creaked open behind him.
"What is this?" drawled Lucius, rising from his seat.
"They say they've got Potter," Draco heard his mother reply. Her voice was stiff, but placid as a glacial lake; she was no doubt trying to remind his father that he should follow her example. And then, a beat later, "Draco, come here."
Potter.
That was not a name Draco had expected to hear. His limbs were like lead as he slowly pushed himself up to his feet and turned. Somehow he couldn't bring his eyes to go much higher than his own feet. It felt that it took him a very long time to reach his mother's side.
There were a number of feet, he found. A whole group of Snatchers, his mother, three prisoners at the center and fore of the group. One pair of shabby, tattered boots with holes where the toes ought to be caught his eye, and Draco felt his stomach turn again.
Greyback.
A muscle in his jaw twitched, but otherwise he refused to let any other sign of weakness slip out.
"Well, Draco?" demanded his father. "Is it? Is it Harry Potter?"
"I can't—I can't be sure,"
Draco muttered. He shifted sideways, away from those tatty toeless boots.
"But look at him carefully, look! Come closer!" insisted Lucius. He was stalking across the room now, coming to place a hand on Draco's shoulder. His grip was painfully tight. "Draco, if we are the ones who hand Potter over to the Dark Lord, everything will be forgiv—"
"Now, we won't be forgetting who actually caught him, I hope, Mr. Malfoy?" It was hard not to shiver at the sound of that voice. Fenrir Greyback might have been a man at the moment, but there was a touch of the monster there, something feral and hungry.
"Of course not, of course not!" Somehow, Lucius didn't seem to take heed of that tone. Draco watched his father's feet pass him by, stopping toe to toe with one of the captives. "What did you do to him? How did he get into this state?"
"That wasn't us."
"Looks more like a Stinging Hex to me." His voice lowered to a silky whisper. "There's something there... It could be the scar, stretched tight..."
Lucius Malfoy had never sounded less like the man Draco had always aspired to become.
"Draco," he chattered, voice vibrating with barely-contained excitement, "Come here, look properly! What do you think?"
Giving Greyback a wide berth, Draco came up along his father's right side and at long last lifted his bowed head.
The face of the boy in front of him was grotesque. It was swollen and shiny, stained a dark pink, features twisted in all the wrong places. Shaggy black hair and the hint of stubble along the puffy jaw put Draco in mind of a dark-maned lion that had been stung by a bee. It certainly looked nothing like the Harry Potter he'd known in school.
All but for the slit of an eye, where a brilliant green pupil peeked out from the hideous mask. That eye fixed on Draco's own grey pair with recognition. The drawing room was utterly silent as he stood there, frozen in place under the force of that squinting, unwavering stare.
"...I don't know,"
Draco lied, when eternity had passed, and turned to walk as far away from that green gaze as the room would allow.
---
All dialogue starting with "What is this?" taken directly from Deathly Hallows, pg. 457–459. The scene remains the same from that point on, but from Draco's POV.