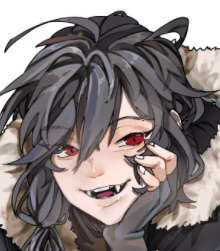 triple A battery
Original poster
Hi, I'm Kas! Pronouns are they/them, I'm 19, turning 20. I'm looking for RP! I think it's just faster for me to list things about myself and what I'm looking for. Please don't hesitate to reply to this thread or PM me if you're interested in anything I'm offering!
About me:
- Queer.
Prefer to RP m/m pairings
, very fine with f/f and f/nb, iffy on m/f, m/nb. Very much okay with any form of platonic/queerplatonic relationship.
- Prefer romance to be a) developed and b) secondary to plot. Very fond of enemies to friends to lovers.
- Long posts; 5+ medium sized paragraphs. I don't ask for the same amount of content as long as it's not a one-liner.
- Swearing and dirty jokes are common. If you're an adult, I'm fine with and into doing raunchy RP, but I'm a bit shy about doing explicit RP right now. I could probably get into it with enough time, though.
- Fond of whump and hurt/comfort.
- I'm an artist; I draw my own characters and my style is incredibly anime. Use whatever faceclaims you like, but you might want to factor this in your decision.
What I'm looking for:
- At least one decent sized paragraph per post; no one-liners, please.
- Anything with magic or superpowers. Love urban fantasy, high fantasy, and superhero plots.
- OC-exclusive content, please!
These can be added to whatever thread we do without any complaint on my part:
- Omegaverse/A/B/O
-Soulmates (platonic or otherwise)
- Queerplatonic or platonic relationships
- Worldbuilding
- Supernatural elements
That should be it! I like to have an ongoing conversation with my RP partners, so don't hesitate to message me at any time.
I have some plot ideas if you're interested in participating in any of them! They're up to change if you want.
Character A is the too-young boss of a mafia family/gang. Character B is their "attack dog", aka their bodyguard, who was a bodyguard for A's predecessor. A flirts constantly with the entirely professional and uninterested B. Whether this flirting goes anywhere at all is up for discussion.
*Doing this one with someone!
Character A is an exorcist who makes money off of streaming their supernatural experiences. Character B is a regular college student who doesn't believe in the supernatural. A and B are roommates.
*Doing this with someone!
Character A is a vigilante. Character B is a villain who wants to turn over a new leaf, but also doesn't want to spend their life in jail. B is chased by some people they'd upset, and A helps them out of the situation and offers B a place to stay in exchange for helping out with the dishes.
Last edited: