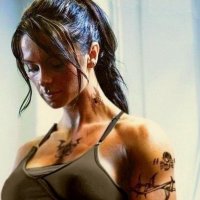 Pain and Pleasure 2 sides of the same coin!
Original poster
Hi peoples! I'm interested in pursuing a long-term story-driven RP, in any of the folowing fandoms: Fallout, Blade Runner, any variation of James Bond-esque setting, Deus Ex, Star Wars or Star Trek (just dont expect me to know the names of all the ships and other techy stuff :P ; I'm familiar vith the basics but I dont much care for the space-operesque part of it, boring, I'm much more a ground-type ).
Aniway, I write at least a paragraph or more, I like descriptivenes and atention to detail (especialy in sex and combat scenes), I do not like supernatural nonsense or radicaly twisting realism, how-ever. I also like a gritty feel to the world, so no cartoon-ish stuff (and ABSOLUTLY no anime).
And... just because I'm looking for plot, it dont mean I dont seek plenty of smut too.

So the RP wuld be 18+ for sure, and the smut wuld be rather explicit and intense, vhen it happens. I'd post a full list of my likes/dislikes, but I dont think this is the right place for that, I'l give details in PMs, so here I'l only mention my chars are bisexual, vith a more hetero-bent, and I wil never play any furry/futa/other non-human types. I play strictly female main characters (but can add male NPCs as needed).
Thats about all, if your interested PM me and we'l talk! :)))