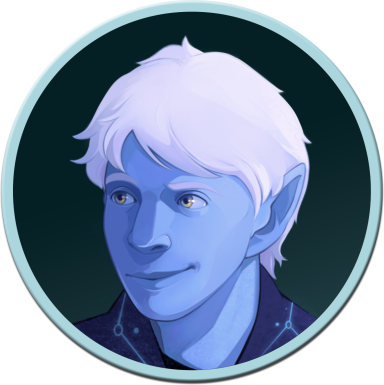 Stargazer
Original poster
FOLKLORE MEMBER
Invitation Status

Look for groups
Looking for partners
Posting Speed

Multiple posts per day
Writing Levels

Adept
Adaptable
Preferred Character Gender

Nonbinary
Transgender
Agender
Primarily Prefer Male
Nonbinary
Yo!
I've tried once or twice to get back into roleplaying, only to find my partners unable to continue due to IRL circumstances. So I've been a little unlucky.

I enjoy various genres, with a particular love for urban fantasy and thrillers. I'm happy playing men or people under the non-binary umbrella. Romance is fine, but I'd prefer to keep it PG-13. Horror, however, I'm happy with getting descriptive. I'm pretty active as long as I have a thread to watch and can at least promise a few times a week, if not every day. I've got some writing samples linked in my signature & you can look at the two other roleplays I had started on here if you'd like to. I write as much as I can per post, so you have as much to work with as possible.
I'm 26, so I'd prefer only 18+ partners, regardless of story content. My pronouns are they/he!
Here are a few ideas I had:
An acclaimed artist captures the attention of a mysterious admirer who becomes increasingly obsessed with their work and personal life. As the admirer's fixation spirals into a dark obsession, the artist desperately turns to a private investigator.
Two tormented souls, haunted by their traumatic pasts, cross paths in a psychiatric institution. As they bond over their shared pain and experiences, they uncover a dark secret within the institution that feeds on their psychological vulnerabilities. Together, they must confront their demons and fight against the forces that seek to keep them trapped in their torment.
In a remote village, a series of bizarre and grotesque transformations afflict its inhabitants. They slowly morph into mythical creatures from Greek mythology, each suffering a fate tied to their own personal flaws and sins. The remaining unaffected individuals must race against time to uncover the cause of the transformations and find a way to reverse the curse before they too become monstrous beings.