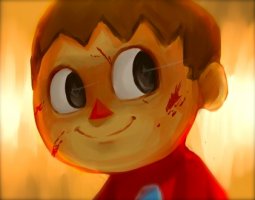 Hi-def
Original poster
LURKER MEMBER
FOLKLORE MEMBER
Preferred Character Gender

Male
Genres

Fantasy, Horror and Sci-fi. I'll try basically anything though. I also love strange and unusual RP genre concepts. Different is good!
View attachment 7535
Outside the train's double paned window, roads and old farmhouses, swallowed by snow, dotted the landscape. A barren stretch of frozen earth between Karlstad and stockholm was the only thing standing between two young refugees and a new life. A new hope for a young boy, and the vampire he believed he could spend the rest of his life with. He raised a small, gloved hand to the window, tracing his own name on the cold glass. Oskar.
Oskar sat with his back pressed tightly against the padded bench seat of the train, small and unassuming, the hint of a smile beginning to curl at the corners of his mouth. His bright blue eyes stood out against the crimson red scarf that hugged tight against his neck. His booted feet barely reached the floor and swung, heels hitting the wooden panels with a rhythmic tap. With Blackberg, the murders, and everything that had happened fading into the distance, Oskar felt a warm tingle in his stomach. He moved his hand from the window to the trunk that sat at his feet. He knew Eli was in a deep sleep by this point, so he resisted the urge to wake her, to tap out that they were almost there, to share his excitement with the only person he had in his life.
As a voice sounded over an intercom, announcing that they were only a few short miles away from Stockholm, Oskar watched as the sun dipped slowly into the western sky. Oskar exited the train via a loading ramp, small hand clutching the handle of his trunk. He had gone over everything in his head a million times, the way a bank robber might plan out the details of a heist. Eli had taken the precaution of writing everything down for him and giving him enough money for a hotel room, not to mention a fake name to register under. By the time Oskar made it to the room the sun was gone, and outside the hotel, darkness covered the snow drenched landscape. He opened the door to the room, speaking softly before unlatching the lid to his trunk and crossing the threshold.
"You can come in.."