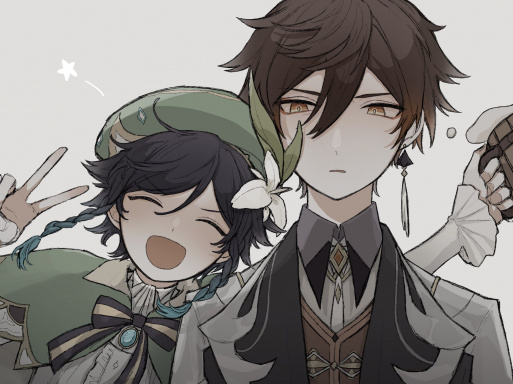 Kawaii Queen
Original poster

I know this is a role play site. But I also know that a lot of people probably don't want to put all their time and effort into writing fanfics or little stories. Plus, it's fun to have someone else write something for you, since everyone's writing style is different!

I'm here to offer you a chance to request fanfics, small stories, character bios, etc!


$2 per paragraph.
|| Paragraphs are six lines each. ||

$5 per paragraph for special fetishes.
|| Fetishes I don't know a lot about/feel overly comfortable writing. ||

I accept Cashapp, Venmo, and Paypal. Cashapp is preferred. Payment will be sent beforehand if we agree on a set length, and a deposit will be sent beforehand if we have no length limit.
|| Just a small amount, to make sure I'm not getting ripped off. ||



To request fetish and smut, please be 18+.




I will basically write anything except for: Loli/Shot/Underage, and Bestiality. I have no issues when it comes to abuse/rape/odd fetishes.
I don't mind writing furry or anthro characters, either. :>


Details. I can never have too many details on what you want, or what special scenes you may want included. I love seeing artwork and previous works of your characters, too! Please include any important things about your character/s that you think I should know.
|| For example, sexuality, hobbies, pet peeves, favorite styles in clothing/makeup, etc, etc ||

I'll happily write oc/oc, oc/canon, and canon/canon! I'm into a lot of fandoms- anime, films, books, manga, games, tv shows, etc.
If I don't know something/haven't seen it/read it, I will use the wiki to look things up, or you can always fill me in. :)



|| If you want me to read or watch something for you, it'll cost quite a bit extra. ||




If you want to request a commission, contact me via kik, discord, or deviantart.

Kik: Artificialsugarbaby
Discord: Artificial Sugar#0520
Deviantart: FantasyLifeWriter | DeviantArt


Feel free to ask for more samples if needed. :)


Delphine

Delphine had been living in Northbrook House for years. She'd lost count of how many- since after one, it was basically all the same anyway. Seconds blurred into minutes, which blurred into weeks, then months, then years. Time seemed to pass too quickly for her to grasp it, and it seemed like she had been standing still throughout the last few years while life went on around her. She couldn't seem to escape her past, and no matter how hard she tried to ignore it, the demon that followed her made sure she would never be happy again. The constant threats being whispered in her ear, the bruises and slashes as it took out the anger and frustration that made it what it was. No one believed her. No one listened. So eventually, she'd quit talking. She was known as the "actually crazy one" in the house, and most people stayed as far away from her as they could get. That suited Delphine just fine- she didn't want to put anyone in danger, and it seemed like the demon enjoyed hurting those who got close to her. The early morning was always a good time for Delphine, however, as she usually had peace and quiet to simply eat her breakfast. She always grabbed the same thing: a bowl of grits, with butter and cheese, and a large cup of coffee with extra creamer. It was something she'd had for breakfast during her teenage years at home, and it made her feel slightly less alone sometimes. Mixing the cheese and butter into her grits, Delphine sat at her usual table alone, blocking out the other people in the house, as well as the demon on her shoulder. She had become quite good at blocking it out most of the time, and sometimes it disappeared for hours and gave her a break. She didn't know where it went or what it did when it left, but she was grateful for the small bit of silence it offered her.

Her usual morning routine was interrupted, however, when someone sat down across from her. Looking up, Delphine met the gaze of a young man who was clearly new. No one else would sit with her-- and she would have recognized a beautiful face like his. Looking down at his tray, Delphine cringed. "Don't." She said softly, reaching over and grabbing the muffin from the tray. Standing, she tossed it into the nearby garbage before sitting back down. Brushing a loose curl behind her ear, she smiled nervously. "The muffins are ages old. I think they might be seriously expired. You'll get sick if you eat them." Taking a large drink of her coffee, Delphine looked back down at her own tray of food, glad that she'd been lucky enough to have a nice roommate when she first arrived. Maria had been an angel, the best possible person for someone like Delphine to meet when she first got here. But Maria was gone now.

He's pretty isn't he? I bet he'd look prettier with his head torn off.

Closing her eyes tightly, Delphine muttered the prayer she'd learned quietly to herself, uttering it over and over, until the whispering went away. Opening her eyes, she looked back at the new guy and attempted to smile. "I'm Delphine." She didn't plan on getting close to him, but she wasn't going to be rude and pretend he wasn't there. If he was brave enough to sit with her, then he deserved to at least know who she was. Taking a small bite of her breakfast, Delphine gazed around the cafeteria as two other new people came and sat down at her usually empty table. They weren't sitting close enough for her to speak to them, but they didn't seem to care what everyone else was saying about her, either. The girl seemed somewhat familiar-- Delphine had seen her around, at least. The guy seemed much newer, though. She hadn't seen him yet.

Orion

Orion had only been at the house for two days so far- he was still settling in, really. He'd been introduced to his roommate, been given a tour of the building and the grounds, and had been given a schedule to follow for the next two weeks- until he was more comfortable and could be allowed some free time. His belongings had been searched through, and he'd been given everything back. They didn't take away electronics here, but there was a wifi cut off time, and everyone had to hand in their phones before bed at night. Laptops were allowed to be used during free time and weekends, but all computers were heavily monitored, and there was no way to hide anything you were doing. No sharp objects, no medicines that weren't given to you from one of the staff, and all bathroom products were bought and supplied by the building as well. It was pretty well controlled, but not overly strict, which Orion appreciated. His roommate seemed a little weird, but Orion wasn't surprised. Everyone here was "weird" in one way or another. Everyone had been through some kind of traumatic event, so no one was exactly well adjusted. Even so, some people were more fucked up than others, and those special cases had less privileges, were given single rooms, and were often kept in a different area than everyone else. They were also guarded and walked everywhere by one of the staff. Orion didn't really want to meet any of them. His third day at the house started out pretty badly, since the alarm had gone off and woken him up. Everyone scrambled out of bed and to their doorways so the staff could see who was around and awake.

Standing in the doorway, arms crossed, Orion caught the eye of a girl across the way. She seemed to be half awake, just like everyone else, but she had more light in her eyes than the rest of them. She was cute, but she quickly looked away. Orion was used to that reaction now. After everyone had been counted and the situation had been taken care of, people began to settle back into their routines and get ready for breakfast. Orion showered and dressed in a plain t-shirt and pair of jeans before slipping on a plain black hoodie. Grabbing a book he'd been reading, he made his way to the cafeteria and studied their choices before deciding on a bowl of scrambled eggs and a few pieces of bacon. Grabbing a water to go with it, he made his way into the seating area, scanning it for a few moments before spotting a mostly empty table. Ignoring the protests from those around him, Orion took a seat near the end, away from the two unfamiliar faces, and across from the girl he'd seen that morning. She was reading a book with a familiar cover, so as Orion took his seat, he studied it, a small grin coming to his lips. "A lot of those soldiers were recruited from art schools. And people think art majors are

useless

." Orion took a sip of his water, hoping he wasn't sounding like an ass. He had a problem with that, or so he'd been told. History fascinated him, however, and he couldn't just keep his lips sealed when someone was reading about something that interested him. Besides, he didn't really feel like eating his breakfast in silence again. It was incredibly awkward.

Lumen

The rocking of the ship stirred Lumen awake, a soft hum of voices filling the background as she opened her eyes. She hadn't meant to drift off, but the ocean was calm and it calmed her as well, lulling her to sleep. She wasn't sure how long she'd been asleep, but it didn't matter- she could tell no one had been paying attention, and no one had messed with her book, seeing as it was still open to the same page it had been before. Yawning gently, she stretched and stood, making her way over to one of the windows to look out. "We're here!" A voice called out loudly, full of excitement. Lumen examined the land in front of her, seeing it quite a ways off still. She wondered what the New World would be like, and for a moment excitement filled her heart as she thought of all the new flowers she'd be able to discover. As everyone began to gather their things, Lumen scooped up her book and gave her Palico a pat on the head as she turned, leading the way to the top deck, waiting patiently with the rest of her squad to get off. Each squad was made to get off in order, and to stick together, so Lumen did exactly that. By the time her squad was finally being let off, most of the other groups had already gone on ahead. Following an older man to the base camp, Lumen was shown her bed and her trunk, and then told to report to Yukio Okumura, who would be her captain and the man she would be reporting to. Lumen had met him, she'd been going to school for years now, but she'd never actually been assigned to any of his missions or anything, so she didn't really know him.

After settling in and unpacking her belongings, Lumen called out to her Palico. "Chantrieri, come along." Her Palico, named after the "Tacca Chantrieri

" or the "Black bat Flower", was a lovely black/violet color and had large lilac eyes. Her fur was long and well groomed, and she always snapped to attention when called. As soon as Chantrieri was behind her, Lumen turned and began to make her way to the main area of the base camp, looking for Yukio, or as he was supposed to be called, Captain Okumura. Spotting him, Lumen approached, standing at attention, hands behind her back. She'd barely had a single conversation with him, but he simply oozed authority. She would not question his orders, despite the fact that he was only a few years older than her. From what she'd heard, he was amazing- extremely talented and intelligent. Just the kind of person Lumen would want to be in charge. Chantrieri stood at her side, looking up at Captain Okumura, eyes shining brightly. The Palico had been dying for some action since they'd gotten on the ship, wanting to arrive quickly so they could start hunting both Demons and Monsters. There would be all kinds of new species here, plenty for everyone to do, and most importantly, a new beginning for everyone. "Good afternoon, Captain. Lumen Braun, reporting as ordered." She could still hear her faint European accent in her Japanese, and it made her cringe inwardly. She didn't want anyone to notice it, but there was no hiding it. She'd done her best for the last few years, but she wasn't completely able to dismiss the accent, and sometimes she didn't remember words, either. It was frustrating.

Ryuji

Ryuji sighed loudly as he gazed through the porthole on the side of the ship. It was early afternoon on their second week of being on this damned ship, and he was going out of his mind. He was bored. Beyond bored. There's been no action on the ship at all, both in terms of fights and any type of sexual situation, too. Ryuji wasn't a player, and he didn't have a girlfriend, but he'd been hoping that maybe he'd meet someone he could like enough to date while on the trip, or at least when they reached the New World. But so far, nothing. "What's up Bon?" Rin's annoying voice called out, cutting through Ryuji's thoughts. "Eh? Whadya mean?" Ryuji asked, narrowing his eyes. "You sighed super loud just now." Growling quietly, Ryuji shrugged. "He's bored. We're all bored." Renzo spoke up suddenly, opening one eye to look at Rin. Ryuji had assumed he'd been asleep, but apparently not. "All this way, all this water, and I haven't seen a single girl in a bikini." Renzo groaned and put his hands to either side of his head, looking as if he was going to cry. "We're here to work-- this isn't a vacation..." Konekomaru spoke up, sighing softly. He adjusted his glasses and returned to his book, ignoring Renzo's whining. Standing, Ryuji let out a huff and turned away from the group, deciding to find something to occupy himself for a while. As he made his way through the ship, he saw some people he recognized, but didn't know well enough to stop and chat with. One of them was a dark haired woman who Ryuji had seen, but avoided if at all possible. He'd heard some pretty scary rumors about her.

Her name was Yorikama, and he didn't remember her first name, if he'd even heard it. Glancing at her as he passed, Ryuji wondered how much of the rumors were true. He'd also believed plenty of rumors about Rin at first, but they'd turned out to be less scary than he'd originally thought. Watching her for a few moments, Ryuji wondered what squad she was even assigned to, but before he could ask, someone was calling out and alerting everyone to the fact that they'd arrived. Grinning, Ryuji rushed back to his table, looking out the window happily. "Shakyamuni, look at that!" Ryuji called out happily, grinning as he placed a hand on his Palico's head softly. The little creature let out a meow and nodded, clearly as happy to be arriving as Ryuji was. After everyone had begun gathering in their squads to leave, Ryuji became a little too excited and managed to bump into someone on his way off the ship. Turning to see who it was, he saw a familiar face. Yorikama. "O-Oh, shit, I'm sorry." Ryuji brushed the back of his neck with a hand awkwardly, offering her a hand up since he'd knocked her down. "I hope I didn't hurt you. Are you alright?" He tried to put the rumors of her out of his mind, focusing on the woman in front of him, and telling himself he didn't know her, or anything about her. He did his best not to judge before he got to know someone-- but sometimes that didn't work. Secretly, he was hoping she didn't put a curse on him. He'd heard her family were Witches, after all. "Bon!" A voice called out loudly, making him turn. Seeing Rin waving to him, Ryuji turned back to Yorikama and bowed politely. "Sorry! I have to go!" Making his way back to his group, Ryuji looked back one more time at her before he continued on, wondering if he needed to put a protective ward around himself.