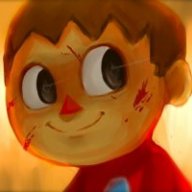 Hi-def
Original poster
LURKER MEMBER
FOLKLORE MEMBER
Preferred Character Gender

Male
Genres

Fantasy, Horror and Sci-fi. I'll try basically anything though. I also love strange and unusual RP genre concepts. Different is good!
Not necessarily "B" movies, but ones that most people didn't see.

I like watching new movies. Sometimes I feel like I've seen most of the best ones, then someone will tell me about one that I've never heard of and it will be amazing.

Anyways. This thread is for people to share movies that didn't get a lot of attention in the media, but are none the less awesome.


I'll start off with a movie called "
A.I
" (Artificial Intelligence). I had No idea this movie even existed. It came out in 2001, and until last night I had never heard of it. If you're into robots and stuff I would check it out.
Maybe it was just me that had never heard of it
> ??
SO, WHAT ARE YOUR NOMINATIONS FOR OVER LOOKED GEMS IN THE MOVIE INDUSTRY???
​