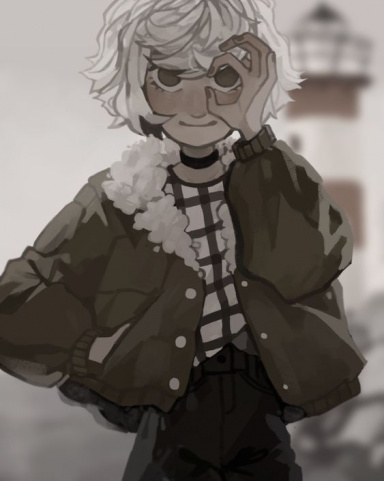 friendly neighborhood hopeless romantic
Original poster
Posting Speed

1-3 posts per day, One post per day, 1-3 posts per week
Writing Levels

Adept, Advanced
Preferred Character Gender

Male, Primarily Prefer Female
Genres

Fantasy (high, low and anything in between), modern, medieval, anything that'll keep me at the edge of my seat. Romance is absolutely necessary. And fluff. Just a lil bit.

monarch of ever forgiving
some of us wonder if you want to die
- Hymn for a Scarecrow, Tally Hall (2011)
​

Levy here, at your service! Quick rundown of myself and my credentials: I've been roleplaying since I hit double digits, and I believe I've improved considerably. I post just about a couple times daily and I tend to play female characters. I do most genres apart from anything furry-related. Great community--nothing personal, just not my cup of tea. I'm a pretty chill person. If you disappear for a while, you're free to come back and talk to me about it. The door is always open.

Things I expect from you:
-
Posting speed! At any other time, I would be totally chill with it. But right now I really need someone that posts multiple times a day.
- World building. I am in love with plotting with people. Please don't let me do all the work. I want your input. Throw some ideas in.
- I'm most comfortable playing female, but I'm fine with straight or lesbian pairings. Sexy times are also cool with me, but I'm a bluestar, so there's that. Fade to blacks for redstars, if such a thing ever comes up.
- Grammar! Writing ability! I don't mean to sound dicky and pretentious, but please know what an oxford comma is. I expect pretty good quality of writing and at least a good 2-3 paragraphs. I sometimes go overboard and write like a novel, so don't be overwhelmed. I know how you feel.
- Talk to me outside of the roleplay? As much as I love writing, I also really like connecting with people, making friends. You know, all that sappy shit. I drink it like midnight artists drink coffee.
- Communicate with me! If you don't like a thing, or if you want to change the post length or something, tell me! I'm an open, patient person.

Plots
- the characters in this color will be played by myself
* craving (doesn't mean I only care about those plots).​

*Blind girl x Demon


A blind girl a

ccidentally summons a demon and, because she is so intent on being a good host, demands they stay for tea. The demon decides to stay and sees how everything plays out, as hell is far too boring.


Sea Dweller x Land Dweller

(I don't mind playing either)




Two civilizations parted by the sea, both antagonizing the other two no end. Land-dwellers see themselves as superior beings, royalty, while sea-dwellers see their land counterparts as scum who've abandoned tradition. Two people, bound by fate, live in vastly different lands, and yet with a stubborn curiosity, find each other.




Law-abiding citizen

x Gang member


A certain bookworm had found her way into what seemed to be a federal offense. A man beaten to the ground sitting in a pool of someone's blood, with a group of rowdy looking people surrounding him, 5 men and 3 women. The bookworm ran, not before spilling her bag. In a crazy whirlwind of events, she, along with the 8 other gang members are thrown into prison. She seemed to have stumbled upon a war between local, rival gangs competing for power.




*Witch

x Assassin


A certain witch has a peculiar knack for getting herself into trouble. Presently, she was skipping rooftops with the King's army hot on her trail. It seemed she'd reached a dead end, and thus, upon sighting a passerby on the streets below her with hefty enough looking arms, she jumped without a thread of hesitation. Little did she know her new self-declared comrade was, in fact, an assassin. In the middle of a job, that too.




**

Disconcerted Citizen x Dystopian Prison Escapee

(I don't mind playing either)




Ah yes, your classic dystopia. Federal agents are tasked with tracking down anyone of suspicion and are to be immediately thrown into the containment facilities that pepper the outskirts of the city. A person with an ambition for art was recently captured, and recently escaped. Being heavily wounded, their choices were vastly limited, thus they settled to take refuge on a passerby's balcony. The owner of said balcony was clearly flabbergasted upon the sight of a bleeding human on their property, and quickly ushered them inside to patch them up.
---
Last edited: