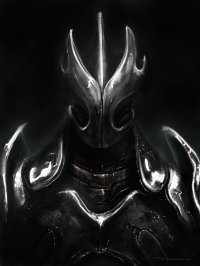 Vi Veri Veniversum Vivus Vici
Original poster
LURKER MEMBER
FOLKLORE MEMBER
Invitation Status
Posting Speed

1-3 posts per day
One post per day
1-3 posts per week
One post per week
Writing Levels

Intermediate
Adept
Advanced
Adaptable
Preferred Character Gender

Male
Primarily Prefer Male
It began like any other day that April.
School had ended for the day as Sirius drove himself home, eventually leaving his abode as his parent fawned over the daily life and accomplishments of his younger brother, making him sick. He then began to wander into the local woodlands, going in far enough where he had built his own treehouse as the years had gone by, his response to one of many unfulfilled promises. Make no mistake, Sirius was a good older brother when he forced his smile. But it was not so much being an only child for so long as being far more neglected than he should have been. He drew his hood to combat the cool air that blew into his face as he climbed up the ever familiar rope ladder and reclined against one of the walls. His wavy blonde spikes were snug beneath the charcoal black hoodie. The hoodie itself was comfortable, with gray stripes running down the length of the arms. He wore beige cargo pants and tennis shoes otherwise, containing a wallet with three hundred and ninety-four US dollars, an iPhone 5s, as well as a small notebook and a black pen.
It was then as the teenager sighed that a grey flash of light caught the attention of the boy's grey-blue eyes. He jolted up to his feet and looked about the area, seeing the light emit from large artificial mound he had assumed for years was a burial ground for Native Americans in times long past. However, he would soon learn that such was not the case. He then climbed down the swaying rope ladder, walking over to the protruding object that had emerged from the large pile of earth. He thought to himself, deciding that it most likely emerged from the record-breaking rainfall as of late and the expedited erosion that would have taken place as a result. He then pushed away more and more of the surrounding mud and soil to discover what appeared to be a sphere roughly the size of a baseball and carved from some unknown crystal. He then gingerly probed it with his right index finger, a great and powerful roar echoing in his mind while he made contact with it. He then retracted his finger and hesitated, wondering what he has just heard. It was then that the orb began to levitate and approached him, heading towards the hand he had prodded it with. Unsure why, the young man raised his arm so his palm made contact with the sphere. Unmoving and without any expression he was petrified as it entered his body as the roar resounded throughout his mind once more as a grey flame appeared on the back of that hand, burning his new Sigil into his flesh as he emitted the same roar he heard in great pain. Only when it ceased did the pain stop, leading the young man to fall unconscious.
Some time later (the next morning in fact) he would begin to stir, hearing voices above him. The first was feminine and kind, but the other was deep and had an air of power to it.
"Headmaster, are you sure that he should be awarded such a high class? He is a human, after all."
"It's been decided, Nurse. The Academy Board of Deans have chosen to award him SS Class. After all, let's look at what we know. Somehow, this human was chosen by a First Stone, so we have no idea what that will do. Secondly, this is that a human, albeit one that reincarnated from another species, has ever been chosen by a Legion Stone at all. Thirdly, I've finally heard from the Soothsayer. This boy is the reincarnation of the Grey Dragon! It took all three Dark Lords to defeat him, and even then he killed them all before they died! If anything, we may be underestimating this boy. Besides, we'll need to place him accordingly. The new year starts tomorrow and he doesn't have long to become acclimated to all this."
"Headmaster, he's waking up!"
It was then that Sirius' eyes opened, sitting up as he identified the two people those voices belonged to. To his left he saw a tall, disgruntled old man wearing a white button-down shirts, a black sweatervest and slacks, as well as a black tie and belt with loafers of the same color. Upon further inspection it could be seen that the man was bald, and had yellow eyes and abnormally pale skin. The woman herself was slightly stouter than the man, wearing the stereotypical nurse uniform and corresponding white flats as her clothes adapted to her pear-shaped figure. Her skin was more akin to that of the region, her face affirming this. The faculty members looked to one another and remained silent, the teenager speaking up to break the tension after checking his right hand, affirming that he hadn't been dream when he gained the Sigil.
"Alright, I'll bite. Who are you, what is this mark on my hand, where am I, why am I here and how did I get here?"
His tone was calm but not demanding as he spoke up, the headmaster putting a pair of glasses to his eyes and clearing his throat, speaking aloud for himself and the nurse.
"Patience, Legionnaire. I am Alphaeus Mortis, a lich and the headmaster of the Academy's Japan Branch. The Academy is a collection of schools for young monsters where the join into Legions lead by Legionnaires like you. We brought you here with the aid of Nurse Ayumi, the kind, young witch over there, and her magic. You're in the Japan Branch's infirmary. That mark on your hand is called a Sigil. It marks you as a Legionnaire, the master over a Legion. Your Legion will be made up of monsters who choose to swear loyalty to you called Soldiers. Now, Mister Nocturne, you are here because of more that mark on your hand. You were chosen. That silver orb that entered your body is known as a Legion Stone, but you will learn more about that later on. More importantly, it's because you were a dragon in your past life. Not only that, but you were one of the most powerful dragons: the Grey Dragon, Sadon. Because of that I've lobbied for you to be here, and of course I succeeded. You personal effects were moved to your new dormitory. Your clothes, however, were burned. Get dressed in your uniform and I'll show you to your new home."
Sirius decided not to argus any of the arbitrary and questionable point brought up by the headmaster, giving two questions as he went behind a screen to silently change into the suit-like uniform.
"If everyone is a monster, why do you look human? Also, sir, have my parents been notified of this?"
The undead headmaster cleared his throat once more before speaking again, his voice clairvoyant and loud.
"They have been notified. They agreed actually and registered you, although they were told something a bit different as the supernatural world wishes for as few humans to know as possible. You will likely go through more than your share because of that fact that you are not only human but are also an SS Class monster, a dragon. The Board of Deans has yet to come up with a proper name for what you are yet, however. Two of the favorites were 'dragonkin' and 'dragonoid.' To put it frankly, Mister Nocturne, there has never been a situation quite like yours before."
It was then that Sirius came out in the school uniform, hearing some more the ancient headmaster as he was given a brief tour of the campus, taken to a four-story dormitory building at its end. It was surrounded by others like it, though this one had a flag flying. The flag itself was primarily black, with black borders and a grey dragon in the center. The headmaster then took him inside, showing him the ground floor which included a common room, a training room and gym, a moderate dining hall and kitchen, study rooms as well as a few other features. There was also a connection to the nearby bathhouse the dormitory also used. The next two floors were divided by the ranks, with each room being different depending on rank. His, given he was the Legionnaire, was the most lavishly furnished and doubled as an office space given its size. They headmaster spoke about some other first years likely stopping by later in the day who had been asked to join his Legion to begin with, providing the young man with the Legionnaire's Dagger with which to perform Blood Oaths. The lich then took his leave after teaching the young man how to perform Blood Oaths, turning his attention to the rest of his Branch. Sirius then took up his familiar notebook, phone, and wallet as he put them in his pockets. He then inserted the dagger into a special slot on his belt before taking off the coat and hanging it up, after which he returned to the common room and turned on the television. He sat and explored on his own until it was about three in the afternoon and he heard a knock on the door. Given that an upperclassman had already delivered his schedule to him he figured it must be another First Year. He stood up, walking over to the door and opening it curiously. He spoke calmly, trying not to be rude.
"I am Legionnaire Sirius Nocturne of the Grey Dragon Legion. How may I help you?"
Last edited: