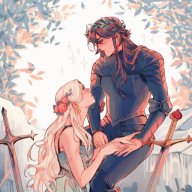 Just some guy who's a necromancer
Original poster
For as long as people have lived off the land, cultivating it, tending it, working together to thrive and grow stronger than both had ever before, there have been ones named "Earthmates" who have held a special connection with the world. Whatever ground the Earthmate tilled was fertile and vibrant. It called the rune sprites to gather around and thus the area was blessed with more than just fertile farmland, but an abundance of fish, of clean water, of prosperity and good health to all around them.

And the Earthmates have been around for as long as anyone could recall. Longer than that perhaps. But why? Were they created with the world? Were they blessed by the divine dragons? There were some who were jealous of their power. Those who waged war upon the entire world in an effort to wipe them all from existence. In more recent times, the name Ethelberd comes to mind: Emperor of the Sechs Empire until one day he vanished mysteriously, never to be heard from again.

But surely this was not the first of such barbaric actions against them, yet there is very little history left from them, having been given mostly orally from one Earthmate to another, and with the atrocities of Ethelberd, many of those stories have perished along with their holders.

With so few Earthmates to till the fields, the world has begun to notice changes. More extreme temperatures and storms worldwide, erratic ocean currents. All of which leads to where we are today. An island to the west of the Land of the Elves, in unexplored territory, a ship carrying passengers and cargo finds itself washing ashore at it's beach. And beside the beach? A port. Empty. No ships, no boxes, no evidence of any life at all save the long outcrop of marble and wood and limestone decayed by the crashing waves and the flow of time.

And from that leads a road, overgrown and forgotten. And from there, an expansive city of marble. Ivory columns which still stand, and cobblestone roads weaving from one street to another. Unlike the port and the nearly hidden road, this city still seems to be well maintained, all things considered. But in addition to it's marble buildings and streets, sitting on the hillside with terraces of what were once likely lush, rich, fertile soils, now looks to be gravel and sand, ill-suited for farming. This one great city seemed to be missing someone. One to revitalize those fields and bring back their former glory, and from that the towns as well.
---

​
In this Roleplay, characters will be the passengers on a ship that was wrecked on this mysterious island that does not show up on any current maps. They have been stranded for about 1 month by the time we start the RP. They have shelter, and they are able to forage, however there is still a lot of work needed to revitalize this once great city. And now with their basic needs a bit more secured, it's time to start working on improving their current home.
This Roleplay has a focus on the towns interactions with one another and the relationships they form with one another, but there will also be separate adventures deeper into the island where characters can explore in an effort to find out where they are so they can call for help and maybe even uncover the mysteries as to what happened to this town so long ago. These expeditions are not mandatory to join however, and you are more than happy to stay in town. Furthermore, characters actually have access to a spell called "Recall" which acts as a fast travel back to the center of town, so returning to town is incredibly quick.
If you have any questions about the RP of any kind, please let me know and I'll be happy to answer them!