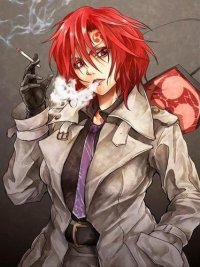 Excuse me? Do I have to kick your ass?
Original poster
Woodsboro, California.
It'd been some time since the 'Woodsboro Slasher' killings that had been placed on the deceased Billy Loomis and his accomplice Stu Macher. Films were being made to capitalize on the tragedy and milk it for it's lack of a better term, blood money. But there were some who just wanted nothing more than to move on from the killings. To give them any more attention was helping Stu and Billy to live on through their infamous legacy long after their deaths both at the hands of Sidney Prescott, the one who'd been targeted by the two to begin with.

Such as Cici Cooper who was helping lead a sorority party at Ohio Windsor College and had taken a break from the hustle and bustle of the party for some alone time. As she settled in on her couch however, she'd be startled as her phone suddenly began to ring.

Having initially been taken by surprise from the sudden call, she quickly brushed off whatever concerns there may have been and picked up the phone to accept the call. Placing it to her ear, she smiled.

"Hello?"


The voice wasn't one that Cici recognized but something about it just gave off a disconcerting vibe. The voice sounded deep, scratchy, almost what she had heard from the killer in those Stab movies. She wasn't the biggest fan of them herself. They were profiting off the blood of those unfortunate enough to have died in the killings after all. But, that didn't stop the movies nor did it stop guys who thought they were funny by pretending to be the killer by using the same voice changer.
Thus Cici believed it was nothing more than a prank from one of her friends's boyfriends. Probably got drunk and decided pretending to be the killer was a funny idea. Well, Cici had no intentions of playing this silly little game and he'd let the voice on the phone know.

"I'm sorry but I think you've got the wrong number."

Normally, this would have been the end of the conversation and whoever was on the other line would have agreed and hung up. Or at the very least admitted that this was a joke and revealed themselves. But this one took neither option.



"Aw, why be like that? You sound awfully bored. Maybe we can entertain each other?"



Cici raised an eyebrow at the man's insistence on wishing to speak to her. Either this was a really persistent prank-call or there was something she just wasn't getting. Deciding she'd play along for just a little while, Cici leaned back into her couch and folded one leg over the other. "I guess you could say that. What kind of entertainment did you have in mind?"

The voice seemed to go silent for a moment before a soft chuckling could have been heard on the other end before the voice finally spoke up once more.



"Hehehe, do you like scary movies?"



"...That's an interesting question. You mean like those Stab films? I can't understand why anybody in their right minds would like those films. It's just filled to the brim with poor acting, zero tension, and girls with large breasts running around waiting to get hacked up. Why?" She answered the stranger's question so why not ask one of her own in exchange?



"Because I think you'd make a good member to the cast."

Taken aback by the strange compliment, Cici slowly nodded. "..Thank you? Look, I'd really love to talk some more but I have a party to run. Maybe we'll talk later, bye!" She'd say before clicking the end call button and placing the phone back on the charger.

But just as she was about to stand up from the couch, the phone began to ring again. It was probably whoever was behind the prank deciding to call her back and let her in on it. Too bad for them she was already two steps ahead. Reaching over to grab the phone, she'd start off. "Look, if you're gonna tell me it was all a prank I-"



"No, you listen bitch! You hang up on me again, I'll slice you from ear to ear you got that?!"


"E-Excuse me?! Look asshole, I don't know if you're drunk or what but I'm not afraid to call campus security on your ass if you keep going like this!"

"They'd make it just in time to see you dangling from the ceiling with your guts. Pleasant sight, right? But enough beating around the bush. You remember what I said about you making a good addition to the cast?"
Cici was understandably frightened. This seemed to go be going far beyond the boundaries that any reasonable prank should. Either this guy was really dedicated to his craft and Cici had someone's ass to seriously chew out later or this was real. Her voice trembling, she clutched the phone close and whispered out a response.
"Y-Yes?"
"You'd have a lead role...As a corpse!"
Just then Cici let out a shriek as the backdoor to her room was smashed open and standing there decked out in black robes and the chilling white 'Ghostface' mask was a man who looked just like Billy and Stu, the previous two killers. Only it seemed this time someone was wanting to pick up where they left off and Cici was their next target. Drawing what appeared to be a hunting knife from within the sleeve of his robe and clenching it in his gloved hand, Ghostface rushed forward only to trip past Cici and fall over her coffee table as she flung her phone at him with all her might.
"Ugh!" The killer cried out as they tumbled over the table and Cici quickly raced to rush out her front door. If she could just get downstairs and outside, all she'd have to do from there was go back to where they were holding the party and warn them of the killer. But Ghostface wouldn't be letting her off so easily. Quickly picking himself up from where he'd fallen, he glanced over to where Cici was trying to make her escape and launched himself towards her.
Wrapping his arms around her waist, she'd go down with a yelp but continued to kick and scream as Ghostface tried to find a good spot to stab her with his knife. Eventually, she'd get one good kick however and knocked the copycat killer off her as she continued down the way. Slamming his fist into the door frame out of frustration, he'd pick himself up once more and raced down the stairs after his would-be victim with knife drawn. Cici had made sure to retreat back to her dorm while the others were still at the party leaving her with little friends to come to her aid and in her panicked state, it's doubtful she could have called them in time.
But just as she was about to clear the final step on the stairway and bolt out the front door, she'd feel a hand grip firmly onto her hair and pull her back and a sharp pain coursed through her body starting from her back and then spreading from there. Ripping the knife free, Ghostface dug it back in in another fresh spot on the girl's back.
It was too late, Cici thought even as thoughts of pain began to cloud her mind. The two killed at the premier of Stab 2 were just the first set of victims in what would ultimately become a new killing spree and she was to be the third kill. But just before Ghostface could inflict the final stab however, he'd wince as a red light was suddenly shined on his face. Campus security? But he thought he'd been so discrete and with most of the others away at the party this seemed like the perfect time to strike.
Cici's vision was getting blurrier with each passing moment as she lost more and more blood. Her previously pink sweater was coated blood and she struggled within Ghostface's grasp. She wasn't sure who or what was causing that light but she hoped that they were either here to save her or help to put her of her misery before Ghostface did. She was really hoping for the former.
But as the figure responsible for the light stepped forward, it became clear that this wasn't exactly the savior Cici might have been hoping for. Dressed up in a fancy black suit with heavy black boots, a bald head and probably the most distinguishing feature: a chrome mask in the shape of a skull planted on the man's face. The red light seemed to be coming from a camera attached to his shoulder to indicate that it was recording. But why record this? Unless he was an accomplice of this Ghostfaces but then why did he seem tense around this new guy?
Brandishing a menacing looking knife-knuckle duster hybrid in one hand, the 'ChromeSkull' man held a phone in the other. Quickly pressing in a series of numbers on the keypad, he'd hold it out for Ghostface and Cici to see.
RELEASE THE GIRL AND MAKE YOURSELF SCARCE. THIS IS NO LONGER YOUR HUNTING GROUNDS. YOU'VE BEEN DETERRED BY AN APEX PREDATOR.
Ghostface leaned in to read the text as it was shown to him and then pulled back, his body language very clearly getting across that he was offended at the very idea of someone walking in to take what was his. The newcomer noticed Ghostface's reluctance to hand over Cici and typed in a new message on his phone.
IF YOU DON'T GIVE ME THE GIRL, YOU'LL END UP LIKE HER. SIX FEET UNDER. NOW, HAND HER OVER.
The man tucked his phone away and held his hand out expecting Ghostface to just hand over Cici who was still bleeding out and her vision was growing more and more blurred by the second. If either of them didn't hurry up, she might have just bled to death. But Ghostface had a solution. Placing his knife across Cici's neck, he'd pull it to the side and blood shot out of the gash on her throat.
The man with the chrome mask simply watched in silence as Cici convulsed and couldn't stop the flow of blood gushing out of her neck. Deciding that Ghostface wouldn't get the last laugh however, he'd seek to embed his knife right into the side of Cici's head. Feeling the blade of his knife slide in through bone, he'd rip it out and shoved her body to the ground.
Now, it was just the two killers and a corpse on the grounds of a college. Before any of them could make a move, the man pulled out his phone and typed in a new text and held it out for Ghostface to read.
YOU THINK THIS MEANS YOU WON, YOU UPPITY LITTLE SHIT? I BELIEVE THE SAYING IS MESS WITH THE BULL, YOU GET THE HORNS. YOU MESS WITH CHROMESKULL YOU'LL GET THE KNIFE RIGHT TO THE HEART
With his victim dead Ghostface didn't feel any dire need to stay silent anymore as he turned off his voice changer and began to laugh.

"Hahahahah, no really I'm sorry! You're right, I'll just hand over this entire college full of girls and guys needing to have their guts lain all over the place to some guy who calls himself...ChromeSkull?"

Ghostface wiped the blood off his knife and then pointed it in ChromeSkull's direction.

"Or I could gut you like a fish right here and now."
Even with his mask hiding his facial expression, ChromeSkull didn't seem deterred by the open threat. Keeping his own knife drawn, ChromeSkull typed in one more message for the other killer to read.
REALLY? WOULDN'T BE THE FIRST TIME SOMEONE TOLD ME THAT. CERTAINLY WON'T BE THE LAST.
From there, Chromeskull sought to knock aside Ghostface's knife and gripping him by the neck slam him up against the stairway's banister. The killer's feet kicked out and his knife swung wildly at ChromeSkull, causing sparks to fly as the metal blade scratched against the chrome mask. But ChromeSkull wasn't eager on letting him get a chance to perfect his aim. Keeping his tight grip around Ghostface's neck, he sought to hurl the killer across the room and through the door.
Covered in wood and glass shards, Ghostface's body writhed in pain as ChromeSkull opened what remained of the door and shut it behind him as he smashed the tip of his boot right into the other killer's side, probably bruising some ribs if not outright breaking them. He'd then pull Ghostface up to his feet and slipped his fingers in through the knuckle-duster side of his knife to smash Ghostface in the face.
*SHUNK*
Just a few inches away from Ghostface's mask, ChromeSkull turned his head and saw that there was a knife planted right in his shoulder. As blood could have been trickling down from near the bottom of the mask, Ghostface chuckled weakly.
"Took some time...Of you throwing me around...To get close enough to stab you..."
This might not have been the sort of game-changer move that Ghostface had been hoping for however. ChromeSkull simply held onto the knife and ripping it free, he'd fling it aside without so much as a wince of pain. All thanks to the painkillers he had doped himself up on before arriving to the college. With no weapons left on Ghostface's part, he'd pull back and the sound of bones breaking rang out as he punched Ghostface square in the face. Letting him go, Ghostface trembled and fell to his knees.
Deciding that he had his fun with this fool, ChromeSkull pulled his knife up stab it right into Ghostface's heart. But before he could plunge the knife downwards, Ghostface reached up and gripped his arm.



"W-Wait! You don't have to do this! Kill me, I mean! You must be out here looking for young and nubile victims, right? I can help you with that! You just have to keep that knife of yours away from any of my vital organs!"
ChromeSkull had to admit, he hadn't expected the other killer to beg. But he supposed that even those who once lorded power over their victims were susceptible to the same mannerisms when the tables were turned on them. Casually pulling his cellphone back out, ChromeSkull quietly typed out a message and held it in front of Ghostface's mask.
ASSUMING I AM, WHAT COULD YOU OFFER ME? YOU'VE SEEN THAT I'M CLEARLY YOUR BETTER IN REGARDS TO PHYSICAL COMBAT. YOU'RE USELESS TO ME IF YOU RUN INTO SOMEONE OF MY STATURE WHILE OUT THERE HUNTING VICTIMS. YOU'D END UP BECOMING MORE THAN A LIABILITY TO ME. SOMETHING I'D RATHER GO WITHOUT.
"B-But you need a partner! Someone who knows these streets inside and out! I know I've never heard of you but you clearly seem to know what you're doing. Which means you must have experience right? I can act as your eyes and ears, let you know what any potential victim is doing at what time!"
That seemed to pique ChromeSkull's interest as he tilted his head at the extended offer Ghostface had just made. But, still he didn't get to where he was today by accepting handouts from those probably as depraved as he was, maybe even more so.
I'M LISTENING. YOU MAKE A PRETTY ENTICING OFFER BUT WHO'S TO SAY WHETHER OR NOT YOU'LL STAB ME IN THE BACK WHEN THE TIME COMES AROUND THAT YOU FEEL YOU'RE DONE WORKING UNDER ME. THE GUY WHO MADE YOU FEEL VULNERABLE, JUST LIKE ONE OF YOUR VICTIMS.
The mere thought of turning on ChromeSkull earned an outburst of laughter from Ghostface who pulled up his mask so ChromeSkull could see who it was he was dealing with and not just some punk in a Halloween costume.

"That whole 'stab your partner in the back cliche' is so overused in movies these days. Usually by the plucky dragon to the main villain who has ambitions of his own and would do anything to get to the top spot. But I'm not looking for any kind of top spot. You know what I want? The media making a circus out of my trial, I was gonna blame it on the movies but with you helping out I think it'll be a good long while before that kicks in, amirite? So, you have my word that I'll toe the line you set out for me and in exchange all I want is a bigger body count to add for when I finally get my moment in the spotlight. Mickey Altieri at your service."
What Ghostface neglected to mention was that he already had a partner-in the form of the previous killer's mother, Mrs. Loomis. Who had gone to all the trouble of paying for Mickey's college fees to help him get closer to Sidney, the girl who took Mrs. Loomis's precious Billy away from her. But this guy seemed to have a pretty good head on his shoulders and maybe if Mickey was lucky, with his help they could double the body-count.
Mulling over Mickey's words, ChromeSkull realized that he already had an assistant try to impersonate him and strike out on his own. ChromeSkull found out and murdered him in cold-blood. If this 'Mickey' stepped out of line than ChromeSkull would just do the same to him. But, perhaps for now he'd have his uses.
YOU'RE FREE TO TAG ALONG, FOR NOW. BUT IF YOU STEP OUT OF LINE EVEN ONCE AND I MEAN EVEN ONCE, YOU'RE AS GOOD AS DEAD. I DON'T NEED DEAD WEIGHT DRAGGING ME DOWN. NOT WHEN I GOT BUSINESS PARTNERS TO IMPRESS. NOW IF WE GOT THIS LITTLE ALTERCATION OF OURS SETTLED, LET'S GET GOING. BRIBED CAMPUS SECURITY ONLY LASTS FOR SO LONG.
"Ooh, fancy." Mickey snarked as he was pulled along roughly by ChromeSkull as they quickly vacated the premises. Getting into ChromeSkull's car, the two sped off into the night. With his mask off and his arms folded behind his head, Mickey looked over at ChromeSkull.
"So, why Cici? I killed her because of a crack she made about me and this other girl, you know typical college 'drama' at it's goriest. But, what about you? You don't seem to exactly fit the motif of college student."
Keeping one hand firmly on the wheel, ChromeSkull held out his phone towards Mickey to read as he drove.
WAS ORIGINALLY OUT HERE TO SEE IF I COULD LEARN A LITTLE BIT MORE BEHIND THE STORY OF THE KILLINGS HERE IN WOODSBORO, HEARD ABOUT A LOCAL PARTY AT A SORORITY FROM GIRLS. ENDED UP FINDING YOU THERE INSTEAD. HAVE TO ADMIT THAT IF YOU'RE THE SUCCESSOR TO THE KILLINGS, YOU'D HAVE BEEN DEAD WITHIN THE WEEK. THAT SIDNEY PRESCOTT CERTAINLY IS TENACIOUS IF NOTHING ELSE. BUT IF I WERE TO GET MY HANDS ON HER THEN IT'D BE A DIFFERENT STORY.
"...You're really pulling the 'if I did it my way' card? I had a plan, one that involved a dire lack of one Sidney Prescott. Just because you muscled your way in on my scene doesn't mean you get to think that things would have ended differently if you were the baddie here and not me. But, where are we heading to now anyway?"
I'D WATCH THAT TONGUE OF YOURS. MIGHT END UP WITHOUT ONE NEXT TIME YOU FALL ASLEEP. AS FOR WHERE WE'RE GOING? THE LOCAL AIRPORT, I'VE SEEN ALL THAT I NEEDED TO SEE HERE. HAVE SOME BUSINESS OBLIGATIONS I NEED TO FULFILL OVERSEAS. SIDNEY PRESCOTT CAN WAIT FOR AFTERWARDS."
"Whoa, whoa overseas? You mean you're some kind of international serial killer? Huh, guess I do have to give you credit. Jumping from country to country to hack up teenage girls. That's some solid determinations right there. But, I'd just like to note that I'm not exactly well-versed in any language except for English."
DON'T NEED TO BE. YOU'RE NOT GOING TO BE THERE AS MICKEY ALTIERI. YOU'RE GOING TO BE THERE AS GHOSTFACE. JUST AS I'M GOING TO BE THERE AS CHROMESKULL. ANYBODY ASKS A QUESTION? YOU JUST NOD AND LET ME HANDLE IT.
"..Right, where exactly are we headed anyway?"
JAPAN. SOME OF THE YAKUZA NOTICED MY LINE OF WORK FROM THE EMPLOYEES I HAVE ON 'BUSINESS' OVER THERE AND GAVE ME A CALL. FIGURED I'D TIE UP THE BUSINESS I HAD HERE AND THEN HEAD ON OVER WHILE MY ASSISTANT WATCHED OVER THINGS HERE IN THE US OF A WHILE I WAS GONE. DIDN'T EXPECT TO HAVE A TAG-ALONG.
"..Ah, land of the rising sun I see! I'm guessing your 'business' usually involves a lot of disemboweling of people the Yakuza want bumped off am I right?"
ENOUGH WITH THE QUESTIONS. ALL YOU NEED TO KNOW FOR NOW IS THAT IT'S JUST BUSINESS. THE REST WILL COME ONCE WE GET THERE.
"Okay, okay I know when to stop pressing my luck. But, uh hey since I'm going to be gone with you, what happens to Mickey Altieri back in the US?"
WHAT DO YOU MEAN WHAT HAPPENS? YOU THINK I WALK AROUND AS I PLEASE IN THE STREETS HERE? BRIBING THE POLICE FORCE ONLY GETS YOU SO FAR. SOMEONE WITH MY...DISPOSITION TENDS TO STAND OUT IN A CROWD. AS FOR YOU, MICKEY ALTIERI FLED WOODSBORO WITHOUT A TRACE AFTER THE TRAGIC DEATH OF CICI COOPER. THERE WOULD BE A MANHUNT FOR YOU/CALLS FOR YOU TO COME BACK AND FACE QUESTIONING. ISN'T THAT THE MEDIA CIRCUS YOU WERE LOOKING FOR?
Unable to think of a witty retort to the remark, Mickey settled back into the seat and eventually the two would have arrived at the airport. ChromeSkull had to do a last minute change of attire so he didn't look as out of place while Mickey simply slipped back into his casual attire. Soon, the duo would be on the first plane heading to Tokyo which is where ChromeSkull's associates were waiting.
Touching down with little to no conversation held between the two killers, ChromeSkull switched back into his usual attire and motioned for Mickey to follow him off the plane. Glancing up at the bright blue sky overlooking Tokyo, ChromeSkull held his phone towards Mickey.
TAKE A GOOD LONG LOOK AT THE SKY. FOR WHEN WE MEET MY ASSOCIATES, YOU'LL BE MOVING IN THE COVER OF DARK WITH A KNIFE, READY TO TAKE OUT WHOEVER IS ASKED OF US AND WE'LL RECORD IT ALL ON MY TRUSTY CAMERA HERE.
Giving the camera attached to his shoulder a solid pat, ChromeSkull continued on his way with Mickey following behind them as they became intertwined with the bustling populace that was Tokyo. Mickey lazily nodded to show that he had seen ChromeSkull's text but his eyes were busy scanning the crowd. For anyone who seemed to stand out. Maybe he could have some fun on the side while ChromeSkull did his work.
@Kaykay
​
Last edited: