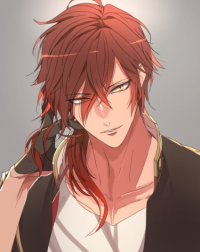 The devious Romancer of the West
Original poster
Roleplay Invitations

Group Roleplays, One on One Roleplays, Chat Roleplays, Private Convo Roleplays
Posting Speed

A Few Posts A Day, A Few Posts a Week
Writing Levels

Give-No-Fucks, Adaptable
Genders You Prefer Playing

Male, Female, Futanari, Androgynous
Playing Style- Passive or Aggressive

Both
Favorite Genres

Romance.action. adventure
Genre You DON'T Like

Military warfare. Battlefield combat. Anything too realistic warlike.

Hello, my name is *points to username* However, that sounds like a mouthful. I don't really blame you either. It is. Anyways, just a little overview. I been roleplaying for 10+ years. I am a chill person. I rp mainly for recreation. Note, I may not respond quick as lightning but you will get a post that same day if you replied on that day. Maybe even more. Just depends on my schedule. I am 21 years old College student. I also work full time as a phone line agent at a call center. I'm down for any type of RP. Even smut driven RP. But even smut driven rp needs a little bit of story to it. I'm just going to post some pairings I am craving, but that doesn't mean limited to that. In all honesty, most likely end up doing whatever topic/ plot you want to do. If interested just reply here or PM me.


Cravings:

Incest: Both MxF, FxF, or MxM
Teacher x Student
Cop x civilian
Power Rangers
Air Gear
Pirates
Naruto (OCs only)
Assassin's Creed
Bloodborne
Bleach (OCs only)
Master x Slave
Pet x Master

~Open to Requests and Ideas of Others.