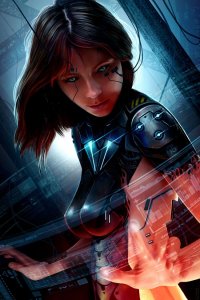 The Murrstress
Original poster
LURKER MEMBER
FOLKLORE MEMBER
Invitation Status

Not accepting invites at this time
Posting Speed

Multiple posts per day
1-3 posts per day
Writing Levels

Adept
Advanced
Prestige
Douche
Adaptable
Preferred Character Gender

No Preferences
Genres

Scifi, Fantasy, Modern, Magical, Horror, Noir, apocalyptic, Grimdark, yaoi, yuri, anything really.
ROLL THE CLIP!

*An authoritative voice comes in through the speakers as the lights dim*

In times past, Trance Kitsune used to interview members of Iwaku. Everyone from Asmo to two of Ryker's... personnel. She'd ask them imformative questions and try and find out the When, the Where, the How, and the Why, and most importantly, Who..... TK, sadly since the stop of that wondrous thread, has been on and off Iwaku, only to receive messages from her beloved Ryker.

Now?

She's returned for good, seeing as she will be off to college this year, and no parents can keep her off the computer.....and a member of Iwaku messaged her today, reminding her of the good times.

*On a movie-sized screen, a message scrawls itself across the fabric "THANK YOU TORSTY!"*

Now, in times past, she was used to people PMing her and asking to be interviewed, or, most cases, her asking them over PMs if they'd like to be interviewed. That is still going to happen. PM her if you want to be interviewed, or you want to see someone interviewed.

Seeing as the old thread is gone, and she's starting anew, that means EVERYONE gets interviewed and reinterviewed as some cases may be.

PLEASE WELCOME BACK, TRANCE KITSUNE, THE HOST OF THE INTERVIEW THREAD!

*Walks onto the stage*

I mustn't take all the credit, it all started because I saw GZ in the beginning, interviewing other people... I thought it was awesome, but then, it died.... I was so appalled by this that I set out to make my own thread.

Also, Torsty was nice enough to remind me about it. I had almost forgotten.

But now, I'm back, and so is this thread, and I will now ask you to please, WHO SHOULD I INTERVIEW FIRST?!