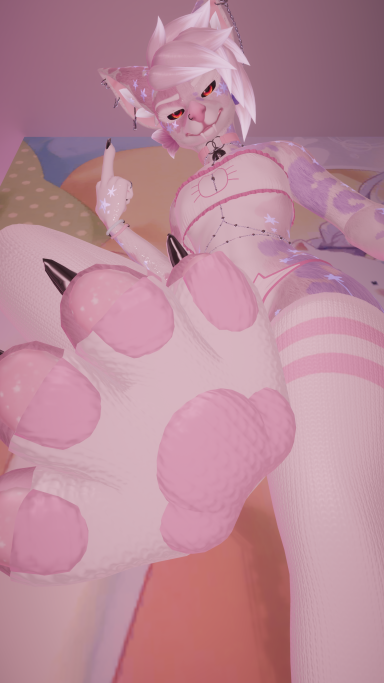 The Stray Furry of Iwaku!
Original poster
FOLKLORE MEMBER
Posting Speed

One post per day
1-3 posts per week
One post per week
Online Availability

It varies a lot due to my work schedule.
Writing Levels

Intermediate
Adept
Preferred Character Gender

No Preferences
Genres

I'm really not picky about the genres, but you will see me a lot on Romance, Comedy, Slice of Life, Action and Fantasy roleplays.
"

All

for

One

,

One

for

All

, but in the end, his

heart

gonna be

OWNED

by

One

..."
~

♥

~
​
The story follows the chaotic life of a guy named Ryunosuke, whom one morning, inexplicably wakes up in a dorm of a "only girls" school. Lucky guy, isn't it!? But this school isn't an ordinary one... It's Monsuta High School, a special school for different spicies of monster girls. Since that day, Ryunosuke's life took a 360 degree turn for been the only human and guy amoung so many girls that akwardly build some attraction towards him. Some try to touch him on weird places, some others chase him when he runs away from them and some even act friendly with him, but with a hidden intention... Definitely a "No Men Land", but seen as the luckiest shit that could happen from boy's point of view.
Will Ryunosuke find a way to return home or will he rather prefer to live in this world?
Will one of these girls manages to conquer Ryunosuke's heart?
~ This story conclusion is up to you! ~
Genre: Comedy Romance, Harem, Supernatural, Drama.|Posting Expectations: Intermediate (at least one complete paragraph with proper grammar, but doesn't needs to be that perfect. Fix any errors if you find any after posting it).
=============================================================
♣
Rules
♣
​
1. All

IwakuRoleplay Rules

apply here.

2. Roleplayers can have up to 2 female characters. Roleplayers needs to be active, so the story can move on. Also, if you gonna play with 2 characters, make sure to say with whom your playing by placing her name (you can also include a small picture after the name) before hand. Here's the CS template. Click for read the instructions inside:
Name

Can be any name you want, so go ahead and be creative, buddy!

Age and School Grade:

This is a High School. Characters can be:
•15-16 years -

Sophomore

or

10th Grade


•16-17 years -

Junior

or

11th Grade


•17-18 years -

Senior

or

12th Grade




Species

Can be any kind of monster or paranormal being. From American folklore to Japanese (yokai), any kind. Be creative!

Appearance

With a picture will be more than enough, but yeah, you can add some specific details, like eyes color, hair color, etc. Also, your character needs to have a human-like body for represent their "normal mode" (head, torso, arms and legs). They're supernatural beings, so yes, they can have a tail and such distinguish traits from your character spicies. You can be creative and add two pictures (preferable anime kinds, but can add real ones if you wish): one from her human-like form and another from her "real" form. If the pictures are too large, please, put them inside a "spoiler" tag or something like that. Remember, no explicit sexual pictures.

Personality

Tell us how's your character in at least 1 descriptive paragraph of 8 complete sentences. You can also make a small list of her personaliy traits.

Bio

Tell us the back story of your character in at least 2 descriptive paragraphs of 8 complete sentences. Try to be brief and include curious stuff about your character's past.

Powers/Abilities:

Each character may had a maximum of 3 powers/abilities. Can be any, but please, don't make it too overpowered and don't put god-like powers. Add a small description of them (can be in a complete sentence).

Club(s) I belong/help:

Put here the name(s) of the club(s) you belong or/and help. If you don't belong to none neither help, just skip this line or simply say that you're searching for one (that's if you want to, though).
​
After you make your CS, I'll read it and decide if is accepted or not. Be patience, please. Also, even if it will look cool, you don't actually need to make your IC with the "accordion" code. You have to right to do your CS in your own way, so this also means you can add extra detail on the sheet, but cannot leave out any of the ones already in there ("Club(s) I belong/help:" is an exception).

3. The principal plot of the story is to try to conquer Ryunosuke's heart. You can do that by friendly talk to him for know each other better or to force him by putting him into funny and weird situations, like suddenly pulling him closer to you and pinned his face right between your breasts. Any tactic is legal, but hey, nothing about explicit sexual situations. This isn't a Libertine roleplay.

4. If you want, your chracter doesn't actually needs to fall in love with Ryunosuke or to sexually harrass him. You can just be friend of him, help other characters with their conquer or simply have a good time roleplaying here. Also, you can also create a secondary story inside the main story. That would be more than appreciate and will make things more interesting. But, no Mary-sues or Gary-stus.
5.
No Godmodding or/and Powerplaying. These things makes a RP boring and may upset RPers. Your character may be the most skilled being in the whole damn world, but isn't a god. You can't dodge attacks many times in a row and you can get hurt. Keep this in mind, please. Also, you can't kill somebody's character without their permission and cannot control other characters.
6.
You can swear and curse all you want, no need to use **. That's pretty silly and makes writting a bit ugly. Also, remember to respect anyone here, in other words, DON'T BE A DICK. Bullying it's something I won't tolerate. Sure, this is something that can happen on the RP, but the other RPer must agree.
7.
No one can't go to the human realm and nobody, except of Ryunosuke, can be a human. Everything will happen in the school and some other areas from this Paranormal demension where only monsters and paranormal beings coexists. Plus, and I think this is more than clear, every character must be a female. Ryunosuke is the only exception here.
8.
You can create a club by going to the Principal Office located on the Main Building. She will give you all the necessary information you need. And, yes, you can be part of a maximum of 2 clubs per character, but hey, that's if you think you can really handle all of that. You can also be part of just one, but may help other clubs if they request your help.
9.
Members of the clubs can be from differents grades (Somophores+Juniors+Seniors). I think this was something obvious, but just in case, I let you know there (xD). Also, clubs can have a maximum of 12 members and they have the responsability to raise founds for their clubs, but will be given a specific amount of money for a start.
10.
You may use your powers inside of the school buidings, but that's not acceptable and you could be punished if the School Patrol catches you doing that. So, be careful and run for dear life if you ever got caught in the act!
11.
Though one, two or many posts everyday would be more than ideal, the least allowable is a post every three days. If you haven't posted by then without an explanation I will message you about it. If you don't answer within four days (given you've been able to get on Iwaku since then), I will assume you are no longer interested and give away your character spot. Therefor, you absolutely must let me know if you won't have time to post for a certain amount of time.

12. Have any questions or any recommendation/suggestions? Go ahead and let me know with a comment, buddy! I'm always all ears!
=============================================================
♠
Monsuta
High School
♠
​
The campus of Monsuta High School is really enormous and consist of 5 large buildings surrounded by a mystic forest: the Main building in the center, Somophore and Seniors Facilities on the West, and the Juniors Facility and the Library at the East. The buildings of the classrooms are conected via bridges in some strategic points. Along with the buildings, there're vending machines placed in differents spots around the campus, some benches scattered as well for any usage the students wants to give them and other 4 extra substructures: a good Cafeteria at the back of the Main Building, the Dorms Building that includes the Students' Lounge inside, the Gym that includes an Infimary and the beautiful Auditorium. The whole schoolgrounds, at eagle's point of view, looks like a enormous school facility in the middle of a forest.
​
Main Building

This is the biggest building of the whole campus. It's located right in the center of the territory, surrounded by the other four buildings. It has 5 floors, so there's a big a row of stairs that leads to each one, but there's also two elevators for those who are lazy.
1

st​

Floor: the Lobby
This is the place for the students to check in before classes or to find any information about the school. Also, all doubts and questions about the services and school stuff will be answered here with the help of the expert secretaries that are always there to help. There's a waiting area and a small area with couches and a big LED T.V. for anyone that just wants to relax.






2

nd​

Floor: Teachers' Lounge
This is where teachers have their desk and prepare their lessons. They can also talk to each other, discuss work, eat, drink and socialize while not in class. There's a kitchen and a area with a big LED T.V. in front of some comfy couches for teachers to relax and forget about the strees of work. Any student that needs to talk with their teachers about something related to class or have an important appointment can come here.






3

rd​

Floor: Student Council's Lounge
This is the place where all the members of the Student Council reunite for discuss everything related to the school students. The discussions include social and culture activities, like school festivals and such, promote a variety of services to the students, and debates about different topics. When needed, they also reunited with some teachers for ask for their advices.






4

th​

Floor: C.A.I.
The Centre for Access to Information (C.A.I.), in light of the objectives pursued by the school, whose main mission is to provide optimal access to updated information resources through the implementation of modern high quality services and effective use of technology stimulate learning, promote research, and the pursuit of knowledge thus contributing to the academic, social and cultural development of internal and external users of the school community it serves. The whole floor it's practically a room filled with cubicules (with computers on them) disigned for studies purposes. There's also small rooms with a table, some chairs and a chalkboard, just in case a group of students want to study without been interrupted or for discuss anything related to their classes.






5

th​

Floor: Principal's Office
Located right at the top of the Main Building for let everybody knows who's in charge of this place. Ms. Aizaka will attend any subjects that will cause a change on the Monsuta High, like the creation of a new club. Also, she's in charge of the School wealths and such administrative and technical stuff of the school. She's the one that has the absolute power, like an everlasting queen.




Building 1: Sophomore Facility

The name says it all. This 3 stories building is the home for all those 10

th​

grader girls. Each floor has 21 classrooms, which 12 belongs to the 12 Somophore groups (10-1 to 10-12) and the other 9 rooms are empty and availlable for a club. A big staircase runs through all the floors and also leads to the rooftop that sometimes, is open. Still, being there is something not accepted, so some teachers or the School Patrol may command you to leave the area if they find you there.





Buidling 2: Junior Facility

Same as the Somophore Facility, but this one belongs to all 11

th​

graders girls. Each floor has 21 classrooms, which 12 belongs to the 12 Junior groups (11-1 to 11-12) and the other 8 rooms ( because one room is taken by the Music Club) are empty and availlable for a club. A big staircase runs through all the floors and also leads to the rooftop that sometimes, is open. Still, being there is something not, so a teacher or the School Patrol may command you to leave the area if they find you there.





Building 3: Senior Facility

Same as the other facilities, but this one belongs to all 12

th​

graders girls. Also, some of this classroom may be more sophisticated and have some special rooms with high-tec computers and Labs. Each floor has 21 classrooms, which 12 belongs to the 12 Senior groups (12-1 to 12-12) and the other 9 rooms are empty and availlable for a club. A big staircase runs through all the floors and also leads to the rooftop that sometimes, is open. Still, being there is something not accepted, so a teacher or a School Patrol may command you to leave the area if they find you there.





Monsuta's Great Library of Knowledge


The second biggest building of the whole campus. This 4 stories building has all the story related to this Paranormal world, from its Origins to actual important events. In addition, there's a whole area dedicated to the studies of the Human Realm. This area is quite famous amoungs the students because of their curisioty about those other inteligent beings.


1

st​

Floor: Studies and Work Zone

A place for those students that wants to study in peace and silently with no interruptions at all. The whole area is filled with tables and chairs, surrounded by some of the hundreds shelves packed with antient and new books. The Library's lobby is right besides the Entrance/Exit doors. The Librarian will punish anyone who dares to make loud noises or have an incorrect behavior on the Library.

2

nd​

Floor: Computer Centre

This is the biggest computer's area on the whole Monsuta High School. Any student can access to any information through the Internet, free of cost. But sure, those adult siteplaces are totally blocked and cannot be accessable. Students may talk, but lowly and without a scaldal. The Librarian will be watching you. Also, some shelves packed with useful and interesting books are around here.

3

rd​

Floor: History of Monsuta World

This floor of the Library is the favorite of the Librarian. All the story of the creation of the world of Monsuta and the important events that made a changing on the history are written on the hundred of books that lays on the bookshelves. Any student can come here to made some researches or for simply sastify the curiosity. Everybody needs to be quiet here and security camera are watching 24/7, monitorated by the Librarian.

4

th​

Floor: Studies from the Human World

An special area dedicated to the studies of the uknown world of humans. There're tons of books that had some interesting information about the planet Earth and other stuff discovered by humans, but unknown from the supernatural beings. This area is quite famous amoung the students and like the 3rd floor, this place also has some security camera and silence is escential here.
​
Other Substructures around Monsuta High
​
Monsu-Cafe


Located right at the back of the Main Building, this is where students can take a break and get something to eat or drink. You have the option to eat something for free, granted by the School, but there's also an area for those things where you have to pay. There're always better than the free food.

Dorms Building and Students' Lounge


Located on a piece of land apart from the schoolgrounds, right at the North or behind the Monsu-Cafe, but that is just a few miles away. Like the name says, this is the place where all the students will live during the whole school year. Also, this is the only place where the School Patrol isn't involved that much, giving the students lots of privilages and freedom as long as they don't make a chaos. Each dorm includes two beds (which means you can get a roommate), a balcony, a bathroom and other necessary living things. The Student's Lounge is located on the first floor and is always open for everyone.

Gym and the Infirmary


This structure is located right at East of the schoolgrounds, a few meters away from the Juniors Facility and the Library. Here's where P.E. takes places, but can be also used by the students for play basketball, Volleyball and other indoor sports. Every months, all the students are summoned her for a monthly Physical exams, where the nurses check on their growing and other changes on their bodies. Luckily for them, this school is only for girls, but that doesn't mean there aren't perv girls amoung them. The Infirmary is connected on this building and can be reached through automatic doors that are in the 2

nd​

floor.

The Auditorium


Here's where all the students and School Staff gather for important school events, like an speech from the Principal or from an invitated person. Live plays and School Elections speeches takes place here as well and any student have the right to request the Principal a permission for use the Auditorium if they need it for play practices and other reated things.

​
===============================================
♦
Noticeable NPCs (Non-Playable Characters)
♦
​
Monsuta High School is filled with lots of NPCs. They're the teachers, School Staff, Students Concil members, School Patrol members, some workers and many others. But, there're some NPCs that, even that they aren't that important, play a noticeable role in the story. Coming up next, the 5 NPCs I'm talking about:

School Principal


Name:

Mizuki Aisaka




♣


Age: Looks like 28 years old (Her real age is a mystery)


♣


Species: Demon (Marid)


♣


Personality: Mizuki Aisaka is a nice, yet strict and responsable woman that watches over Monsuta High School's. She may look totally young and beautiful, but that doesn't mean she doesn't know anything about been a great Principal. She cares about all the students, so she scold at them if they do something innapropiate and makes sure they're on the right tracks of life. She listen carefully to everything a student has to say every time they came to her office and give an helping hand to most of the students events. Lots of students love her and consider her someone they can trust and can always ask for a wise advice. No one have ever seen her on her full demon side, but there's some rumors about how awful and scary she may look. So, everybody always makes sure to never ever make her mad, avoiding any nasty results they may regret later.


♣


Bio: Just like with her real age, almost all of Mizuki's past remains a mystery. She never talks about it and it's not that she will do it it anyways. There's some rumors about it, though. One rumor says that she managed to be the School Principal just a few days after the death of the Principal that was before her.


♣


Powers/Abilities
1.

Inner Sight

- This is the ability to see on all the 7 plains of sight in which Mizuki can hide. most demons have this ability, but only those with a higher rank can see on all the 7 plains.
2.

Levitation

- Mizuki can levitate and object, and in some cases, people and animals due to her high demon rank.
3.

Inferno

- Mizuki can invoke a beam of blue fire thatset things on fire the instant it touches it. Is quite hot, able to burn through most substance, but not most metals (depending of the metal).

Infirmary Nurse

sky blue

Work in Progress...

School Patrol Leader

green

Work in Progress...

Librarian

purple

Work in Progress...

Music Club Leader
​
===============================================
♥

Accepted Profiles and Availlable Clubs

♥

Accepted Profiles

Somophores

Juniors

Seniors

Availlable Clubs

Music Club - Looking for Members


Club Leader: Nanami Hayabusa
​
Last edited by a moderator: