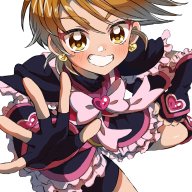 Ancient Iwaku Scum from 2006.
Original poster
MYTHICAL MEMBER
Posting Speed

Slow As Molasses
Online Availability

NEVER
Writing Levels

Adept
Douche
Preferred Character Gender

Primarily Prefer Female
Genres

Surrealism, Surreal Horror (Think Tim Burton), Steampunk, Sci-Fi Fantasy, Spaghetti Westerns, Mercenaries, Dieselpunk, Cyberpunk, Historical fantasies
Sozrosse stood upon one of the many balconies that overlooked the vast sea that extended to other lands and cultures far to the East and West. She was a survivor, not just of this noob invasion but of a conflict between the forces of good and evil aboard the angelic made space ship called the Legacy. She had witnessed the death and rebirth of the universe. She had been given the choice of going to the afterlife, being reborn, or coming to this world. Soo Jin Ya had chosen to come to this new realm.

When she was younger, she had heard tales of a great conflict in which a black clad prince had been killed by a combined force of Angel and Mad Man. What they had failed to realize was that the black clad prince had sensed this coming and had chosen a new successor body and moved to a realm called the Sanctuary. It was in this land that Sozrosse had been born as Soo Jin Ya, the daughter of a Chinese and Korean husband and wife. She belonged to a clan called the Shinzui,or simply the "ghosts." They were an advanced nation that determined the road to self enlightenment was suppressed by human wants and desires. Developing technologies that eliminated all desires, with the exception of the basic desires to eat and sleep, the scientists created "wise beings." They soon realized that without the desire to work, humans become lazy which is just our nature. Jin was one of the first to receive this treatment and she excelled at controlling the natural balance of chi around her and use it to control events around here. To some she'd be considered a wizard, but in her own mind she was a scientist....

She had been trained by the fabled Iwakuian named Coffeecakesadist and the successor to the black clad prince and was then sent to help save the universe from the twisted minds of those that had slain the prince. In the end they were successful. Now, she had become a "Knight" but was the most independent of the group. She was the middle man between the king and the defenders of the world. She was also made a Battle Mage by the King himself.

But it seemed like these days were now over. Monsters had invaded and she had chosen to stay behind. She had no idea what was going to happen next.