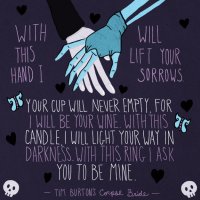 '60's Nerd♥
Original poster
Invitation Status
Posting Speed

Speed of Light
Multiple posts per day
Online Availability

Virtually always.
Writing Levels

Give-No-Fucks
Beginner
Elementary
Intermediate
Preferred Character Gender

Female
Futanari
Primarily Prefer Female
Genres

Fantasy, Yuri, Harry Potter, Homestuck, Real Life, Romance, Libertine
Okay so I LOVE the movie Labyrinth with Jennifer Connelly and the absolutely AMAZING David Bowie! And well, this will be going by slightly on what happened in the movie. I have been wanting to do this romance for like.... ever I guess! So the plot is a bit simple, but I know we can get it a long ways and make it absolutely AMAZING!
So the plot is that my character, Shade Nightingale, has heard of the Goblin King and pretty much during a very hard day for her of just well... everything that could go wrong, went wrong. So Shade couldn't taken it anymore and called on the Goblin King for help. That's when Jareth, the Goblin King, appears and takes Shade's little sister. So in trade, because she was her parents least favorite, didn't care much for her, etc etc, she decided a trade:
She will go with him in place of her baby sister.
Jareth loves the idea and takes her to his castle. He teaches her about the laws, the way around the labyrinth, etc, and finally, after a month or two of being around each other, Jareth confesses his love for her. Shade is absolutely amazed but she knew that all along, she loved him too. They then get together and start going out.
One night, however, when Jareth is gone doing whatever, Shade finds his... (I guess you can call it diary but I prefer journal) journal and curiosity took over. She read through it and found out about his past lover, Juliet, had died and he was depressed ever since and has not come to truth with himself and has search everywhere for her. There we're also drawings in there and because of the drawings, Shade found out that Juliet looked exactly like her.
So that is all I have so far. I really hope you liked it and hopefully we can get this started up. So here is Shade:
Name: Shade Nightingale
Age: 22
Looks:
https://s-media-cache-ak0.pinimg.com/236x/f5/d2/a2/f5d2a2fc475eb8a1b58bb92674b51d13.jpg
*upclose and actually has pitch black hair*
https://s-media-cache-ak0.pinimg.com/736x/0a/76/2c/0a762c8f60918903bf435ab47a7f2e4c.jpg
Personality: A true dreamer, day dreams, fantasy lover, loves to have fun, quiet, a bit shy, quiet at first then is really talkative as you get to know her, a little mischievous but not a lot or too bad (compared to the Weasley twins), loves to help people when sad, a good listener
Hope to discuss it with you soon! ^.^