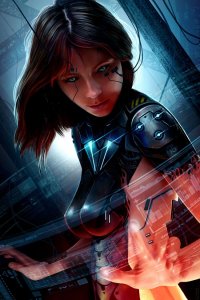 The Murrstress
Original poster
LURKER MEMBER
FOLKLORE MEMBER
Invitation Status

Not accepting invites at this time
Posting Speed

Multiple posts per day
1-3 posts per day
Writing Levels

Adept
Advanced
Prestige
Douche
Adaptable
Preferred Character Gender

No Preferences
Genres

Scifi, Fantasy, Modern, Magical, Horror, Noir, apocalyptic, Grimdark, yaoi, yuri, anything really.
PART ONE - INTRODUCTIONS
Chanis woke up with a chill running down her back as she rose from her bed, then jumped when her cellphone rang, The ID glowered out the words 'No Number', vibrating and flashing as she snaked out a hand to retrieve it. Within moments, she was on her way to a flight to New York.
Hours later, she had arrived at the gate and found a chauffeur with her name on a small blackboard and went with him to a black car, stepping into the back seats as he drove off.
Even later, she appeared outside of the building, then made the climb up the winding stairs and into the door. Into what was similar to a seminar room, a huge room filled with seats and a stage area. So far, she could only tell that she was the first to come, so she picked a seat to sidle into. Instantly, a projector started, The list clearly declared on the board.

1. The spirits at Changi Beach in Singapore are getting violent.

2. The ghosts at the Kranji MRT station are now taking their unfortunate taxicab drivers with them when they go to the cemetery, the drivers do not return from the cemetery.

3. Babenhausen Barracks in Germany are getting even stranger reports than usual.

4. Kirchlengern – Great Cliff in the woods. There is a haunted place within the woods. Among the usual uneasy reports of odd happenings, such as dead animals looking torn open, and then their bodies disappearing, vivid daydreams. Now there are new reports of not only bodies appearing torn and dead, but also human bodies and other unusual happenings that people won't go into detail about.

5. The ghosts of Windsor Castle have DISAPPEARED, Save for one malicious one, a demonic horned being that usually shares illness and misfortune to those who look upon it.

6. An odd turn of events, a large, 'dog-like' creature that is about the size of a human is roaming the streets of London. There have been casualties by this beast.

7. A Slit Mouth has appeared in Japan, and many have already been killed by her.

8. Himuro Mansion was the site of a brutal family murder and sacrifice.

Many weird happenings have been reported in and near the old mansion; including apparitions of those who once lived there, bloody handprints and sprays of blood, which mysteriously appear on the walls.

Sometimes, a small girl in a kimono is seen in one of the windows. To add to the mansion's mystery, no one knows the significance of the vast tunnels the run underneath.

9. Robert the Haunted Doll is missing from his home of sorts, meanwhile it seems like the town's under attack of this voodoo doll in Florida.
Chanis Clover waited for the other agents to appear, sipping at a soda she had bought at the airport. She was a little tired already, but from looking at the screen, she knew that she had no reason to be tired yet. This wasn't her first time working with her talents as directed by the overseers of this group, but it was rare for the group to have to be all together in one area... She could only expect that it was due to the large amount of work that had been put in front of them. Most of them weren't fresh into this. She had picked up quickly after her sister's.... odd death, and had been working as much as possible to try and figure out how it could have happened. Though there was one newbie. It was odd, she had never heard her sister talk about someone from China... She figured it would have come up, but then again, she didn't know.
She awaited the rest of the group.