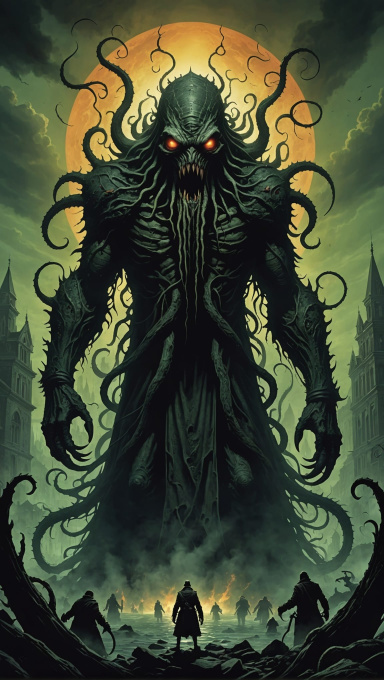 Waiting for Wit
Original poster
SECURITY DEPARTMENT
FOLKLORE MEMBER
Invitation Status

Looking for partners
Posting Speed

1-3 posts per day
Multiple posts per week
One post per week
Slow As Molasses
Online Availability

On fairly regularly, every day. I'll notice a PM almost immediately. Replies come randomly.
Writing Levels

Adept
Advanced
Preferred Character Gender

Primarily Prefer Male
No Preferences
Genres

High fantasy is my personal favorite, followed closely by modern fantasy and post-apocalyptic, but I can happily play in any genre if the plot is good enough.
Rhys'evin hadn't known the transfer was about to happen until it was only seconds away from occurring. The first clue was the sound of metal hitting the floor outside the cell, detectable by faint vibrations carried through the equally metal floor and walls that pressed in on all sides. The space was miniscule, barely large enough for all the various body parts to fit within, and it had been a massive struggle for the guards to actually succeed in closing off the space with the intended prisoner inside. More than a few of Rhys'evin's many tendril-like feelers had been lost in the effort to keep the door from closing.

Rhys'evin knew it was well deserved. In fact, it could almost be called flattering that they had taken such precautions to ensure escape would be impossible. Not only was the space tiny, preventing the tendrils from forming into a form that might be somewhat useful, but they had quickly discovered the Karthk'yarii dependence on food, and what would happen if the quantity of meals was drastically reduced. At this point thoughts were almost incoherent babble, barely decipherable even to the individual to which they belonged. What was more, many tendrils now littered the floor, dead and withered in a desperate attempt to preserve and use what little resources were left. The guards were taking every precaution, and making a few up along the way. Rhys'evin was starting to worry.

No, that wasn't quite true. Rhys'evin was starting to feel fear. It was a foreign emotion, even more so because this was its first appearance. Up until that moment, Rhys'evin had never doubted that any situation was escapable, no matter how deep the trouble seemed to get. It was starting to become a challenge to continue to believe that fact. Was it possible this cell would be the only view until the Empire decided upon an appropriate punishment, and life fled? No, it wasn't possible.

This unexpected visit was simply proof of that. Every time something changed there was an opportunity for escape. Of course, maybe this wasn't it. As soon as the door was open a bag filled the space, and was slowly pushed into the cell until Rhys'evin was forced to enter. The moment that happened the bag was sealed, and the sudden whirring of a pump was accompanied by the air being slowly drained from the bag. Rhys'evin knew that a few more feelers would die for this stunt, but the lack of air would not be deadly. What it would do was completely restrict movement, making escape not only impossible, but putting it among the category of things that included "Uetie acting selfish" and "Syastin creating chaos".

What the bag did not do was create a senseless zone. The vibrations through the bag made it more than possible to hear the conversation that was taking place outside, even if it was somewhat muffled. Rhys'evin was more than happy to listen in. Maybe they would drop a clue about what was happening.

"What a monster."

Rhys'evin wanted to protest. The Karthk'yarii might have been a bit odd, being one of the few species that had no definitive form but could weave together their feelers to create a facsimile of almost any species, but they certainly weren't the worse. The current trophy of grotesque belonged to one of the guards not dragging the bag along the ground, an unnatural behemoth who looked to be made of nothing more than blobs of gelatinous green fat, contained by a thin, translucent membrane, which would occasionally split open, letting some of the goop slide out. It would promptly turn red upon contact with air and liquify, running down the things side, only to be promptly consumed by the hundreds of mouths that ringed the bottom of the monstrous body. Then again, it was entirely possible that they weren't actually referring to appearance. If they were referring to acts of cruelty against the Empire, Rhys was more than happy to take the trophy.

"At least the thing won't be our responsibility anymore."

Was that so? Then whose responsibility would "the thing" become?

"I hope it's finally getting what it deserves."

There was a muttered chorus of agreement. Rhys'evin did not agree. Unfortunately, the guards did not seem to know much more than that, as they continued to drag bag and prisoner through the winding corridors and out of the underground penitentiary that housed some of the most dangerous individuals imprisoned by the local sixth council. It had not been prepared to house someone like Rhys'evin, and the warden had been forced to evacuate the entire bottom floor and converted it into one giant containment unit. If they were performing a transfer now, it meant Rhys was being taken to somewhere that was better prepared. That was not a good thing.

The one bad thing about the bag was that it did completely restrict Rhys' ability to get a sense of the surrounding area. There was no way to know what was coming. However, it was possible to recognize the already large entourage of guards growing even larger as the procession rose through the levels. But once they were outside of the prison Rhys'evin lost all sense of where they were, or any ability to predict what was coming. It was a silent, tense wait as, two by two, the guards peeled away, only to be replaced by others. These others seemed notably more professional than Rhys' old friends, as there was no chatter or shifting among them, only the sound of timed footsteps for those with two legs.

Suddenly, and with almost no warning, the bag was ripped away. Rhys'evin was moving in an instant, and there was a shout of surprise alarm from the surrounding guards at the speed of the unexpected attack. Rhys was, however, forcibly and violently halted when a mass of feelers, shaped together into a needle-like spear, was halted less than a millimeter away from the nearest guard's face. Or at least what looked like its face. Eyes were usually a good bet.

Something fluid that was not water or goop or any other substance Rhys had ever felt was moving from the floor, slowly enveloping the enraged Karthk'yarii, separating every one of the woven feelers, not only halting any chance of controlling them, but also able to move them against Rhys' own volition. It only took a moment for Rhys to come to a startling understanding of what was happening. The floor, the walls, the ceiling of the cell was moving in, slowly enveloping every feeler, trapping them more completely than they had ever been trapped. It was a deadening sensation, one that cut out all ability for sensation, and reminded Rhys of one of the rights of passage among the Karthk'yarii that involved near death starvation, and every one of the feelers had fallen away.

It was completely terrifying.

Just before the strange cell completely closed in, Rhys'evin heard a short conversation.

"Now do you see what I mean, Isindyll?" There was a Vollori Captain in front of him, face intense. "This thing is dangerous, heartless, compassionless, and if it gets out, it will slaughter everything on board without a second thought."

"I understand, Yolhn," replied a high, sweet, feminine, almost childlike voice.

"There is no mercy in this monstrosity," Captain Yolhn pushed. "Only ice."

"I won't let it out Yolhn. I promise."

Then the conversation was cut out and Rhys'evin was left in suspension, completely and totally deprived of everything and anything.
Last edited: