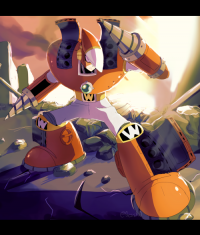 The Guardian
Original poster
"A cyborg? Mmmm... well best not dwell on it now... I'm sorry I made you worry. I just needed to get my head clear... um I think we both need some sleep." he stood up and went to the door. He looked back at her before he opened the door and left.
"No way Artemis followed him all the way here, it had to be another cyborg." he thought to himself. He opened the door his small guest room and flopped down on the bed.The harsh orange street light poured in through the rain splattered window and fell into the corner of the room where his sword and armor were. He looked at his mask and sighed "Guess it's time for a new one huh?" he got up and picked it up. He looked into the empty eye holes and ran a thumb across the mouth piece. He brought his other hand up and pressed on a small button on the side of it. Out popped a small disk tray with a translucent disk still in it. He carefully took the delicate object of out the drive and closed it back up. He went to his cloak and pulled out a CD case, opened it, and but the disk inside it. He gave another sigh, just looking at the case, before putting it back into his cloak. He laid down in bed and shut his eyes, sleep coming easily to the older man.
------
The next few days came and went as Ryoshi stayed mostly at the hospital while Akane recovered. Her new arm was getting easier and easier to use as it rooted to her nervous system. Brenner explained this was due to the nanno machines that were now flowing through her body, helping it adjust to the new limb. "However I would still use your other hand for fighting right now. Fighting moves are a bit beyond it right now, we need to well... in a way "show" the nanites how to fight. Thats why I want to move you to the training room down the hall so we can get you back into proper fighting order. Though I will say you have complete control over it otherwise, you've recovered quite quickly... thats why I'm allowing you to go outside when you want, but it will have to be with mister tall and depressing over there." he laughed and pointed to Ryoshi. "You've done well Akane, but now fun can start." he got up and walked out of the room.
The swordsman smiled "Well hey good new at least right? I mean how does your arm feel today, seems like you can move it just like normal." he looked to her. "So I have a surprise for you and now that you can go back out into the city I'd like to take you to it." he smiled. "Plus there are some places around the city I want to show you... my way of saying thank you and I'm sorry."
Once they were up and outside the cold crisp air hit Akane with its rainy scent, a light rain landed gently on her skin. Ryoshi had put on a simple surgical mask to hide his face, but he had the rest of his armor and hat on. "Come follow me." he turned from the hospital entrance and started to down the street. For Akane this was the first time she had seen the city, Its neon pinks, blues, and yellows painted the buildings that surrounded them. Signs for different shops were plastered all the over place, people littered the same street they were on, cars zipped past them, and the smell of food hung in the air.
Ryoshi seemed to know exactly where they were going as he brought them up to a set of stairs that lead up to an outlook of the entire city. He pointed "See the wall?" he pointed to a wall that span the entire perimeter of Quade. "This city is nestled right between The Dead Mans Hills and The Hog Plains. From there we make our way to the Mist Mountains and thats where we will find our Kirioni... then we can end this..." he looked over the brightly colors coming from the buildings below.
"Look." Ryoshi pointed out into the fog of the Dead Mans Hills and a huge hulking figure, bigger then the tallest building in Quade, came into view.
​
The beast came with in feet of the city, weapon ready, and swung down.
BZZZZRT!
There was a burst of electricity as its blade met with a force field. The blade bounced off and the monster left of a moan of pain as energy surged its way up its arm. "The whole city is covered in a dome of energy that repels attacks from the undead giants the roam the hills. I'm thankful we didnt encounter any of those on our way through." he smirked. The monster stumbled back into the fog with a whimper. "Come on this wasn't your surprise, just wanted to show you a nice view." he started to walk off.