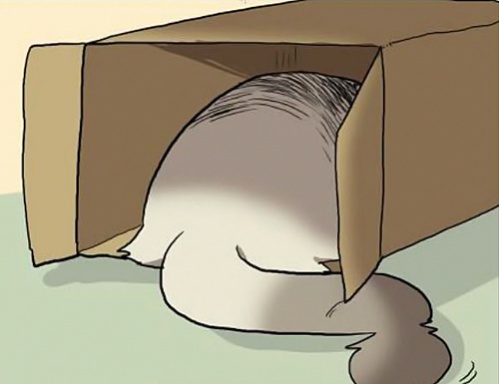 Cat Lady of Questionable Sanity
Original poster
Posting Speed

1-3 posts per week, One post per week, Slow As Molasses
Writing Levels

Adept, Advanced, Adaptable
Preferred Character Gender

Male, Female
Genres

Action-adventure, adult characters, alternate universe, anime, crime drama, cyberpunk, darker themes, drama, dystopia, eastern, edo, epic quest, fairy tale, fantasy, feudal, futuristic, grimdark, heian, high fantasy, low fantasy, magic, modern, modern fantasy, modern scifi, paranormal, psychological, romance, scifi, supernatural, urban fantasy.

"What-what's this then? Who are you now?" Red hood wondered aloud, somewhat concerned as young Bella cursed the strange man. She was more worried they might wake her Grandmother, should she be asleep. "Oh Frida, please, no more games. It's time to go home." Lupo pleaded, smiling innocently at red hood as he shot her a sideways glance. "What big ears you have….that's your child, then?" She asked, all common sense having suddenly departed from the young girl, though to be fair Lupo did appear at least significantly older than young Bella and herself. However she didn't bother to question why he was hiding behind the tree, right outside of her grandmother's house no less. All she could focus on was tending to her grandmother, it seemed. She was, after all, just a young girl in a red hood.

"Sorry if she gave you any trouble, we'll be on our way now!" Lupo didn't bid much of a farewell to the young girl, but it mine as well have been more than enough seeing as she simply continued with her business, passed the white picket fence and up to her grandmother's door while the wolf carried little short-haired Bella away, ignoring anymore vulgarities she might have to offer. He waited to set her down until they were well out of range from the young girls vision. "I had such high hopes for you, but you might turn out to be a boon in my side after all." The shaggy, hairy, fluffy eared man confessed. He then proceeded to adopt a genuinely gleeful, toothy and rather unusually ear to ear length grin, revealing a thick set of sharp teeth from top to bottom. Despite Lupo's teeth, his smile was one that wouldn't have been so unsettling on its own until given proper context, therein a gruesome cue could be manifested. What genuine joy young Bella could perceive without such context. "Following you has been most fruitful. I'll just be a few minutes or so. Please, wait here, I wouldn't want to be around me when I'm hungry."

With that Lupo dropped to all fours and began dashing in-between the thick sea of trees back to the little house tucked away in the woods, hidden beneath its misty pink hue and hedges.
"Well, see, my name is Bel-" The young Bella scowled, her explanation interrupted by Lupo's insistence on calling her the wrong name. It was about as annoying as being called "Belle" all those years by those who knew her mother; although, they at least knew her actual name whereas the wolf did not. More frustrating still was that the red-hooded girl accepted Lupo's words without so much as the bat of an eye. What exactly would make her think that the red-gold-haired child was at all related to the dark-haired wolf-eared Lupo? Before she could begin to object, Bella was being carried off and Red Hood was making her way to her grandmother's house.

"Lupo!?" Surely no name had ever been made to sound so accusatory as the wolf's was in that instant. Bella's cheeks puffed with her pout and she stomped her foot, hands balled into fists at her sides. "You're a wolf man! You can't eat people!" Her argument was pointless, of course. Part man or not, the wolf's instinct would not be overridden. "No, you can't! Lupo! Ah- what do you say to dogs? H-heel! Lupo, sit!" It was too late; the wolf had disappeared into the pink like a fog.

"I hate this!" Bella squeezed her eyes shut, hot angry tears stinging in them. What could she do as but a child against a full grown man of a wolf? What could she do even if she wasn't a child? "I can't do anything like this! Not that I could before." Sorrow and regret washed over her as she recalled her inability to help the Prince. All she could do was sit idly by, powerless to change anything. A sob or two escaped with a few tears, which she swiped away on one of her long blue sleeves. Turning, she trudged in the opposite direction, from which Red Hood had come down the established path. Surely, at the end of it, she would find a town or something. Regardless of child-eating wolves, towers, and fairies; Bella needed to find her way out of this forest and this dream.

Yet, the girl found herself stopped, staring back over her shoulder. Perhaps she was simply truly too nice for her own good; however, she couldn't let someone be eaten if there was any possibility that she might stop it no matter how minuscule. As fast as her little legs would carry her, Bella followed the path she'd only just taken back to the house where she burst through the fence and subsequently the door without thought for courtesies like knocking.

"Bad boy, Lupo! You can't eat them!" She wasn't sure what good addressing a wolf like a naughty dog would do, but she could only try. It was the only idea she had. "No, Lupo!"


A fluffy tail and patch of fur were all that could be seen above the kitchen table from the front door across the house, the sight of which was followed sequentially by the sound of low growling, especially upon closer examination. The tail and fur, however, were much darker than that which could be found protruding from Lupo's bottom and wrapped around his shoulders and back, even darker than his ears, which were partially black. The tail and fur were a stark pitch black, in fact. The idea that what remained hunched over behind the kitchen table was perhaps not quite the Lupo young Bella was familiar with only aggravated the menacing knot in your stomach, once the reality of the dream kicks in.

Steadily, the wolf stood up straight on its front and hind legs, creeping its head over the table, Lupo's aqua blue eyes shining towards little short-haired Bella, albeit whether he was still behind them was terribly unclear. His lower jaw and teeth dripped saliva and shook incessantly whilst his snout remained snarling and upturned, the guttural growl maintaining a low but menacing capacity in volume. The wolf gently made his way around the kitchen table, lowering his stance as he curved round the hickory hardwood legs, ready to pounce upon young Bella should she provoke him to. He could easily sense any timid trepidation in his prey, his wolf instinct evoking a violent reaction as a predator, further aggravating his snout and growling and the baring of his thick, sharp teeth.

As likely as it may have been the hunched over wolf before young Bella was Lupo, the fluffy ear man she ran into in the woods just a short time ago, it was unclear whether he maintained any semblance of free will in his primal form. As hostile the wolf made himself out to be, he didn't seem to be about to attack young Bella after having halted its approach towards her after rounding the kitchen table, choosing to stand his ground instead for the time being. Whether this was a conscious decision on Lupo's part or simply fortuitous mercy-more likely indifference on the wolf's behalf was purely mystery. All things considered, neither of these two personalities were likely fond of the idea that they should be made to stand there pooling saliva below them for any extended length of time when they could be helping themselves to the residents of the woods.


"L-Lupo? Is that you?" An understandably startled Bella stammered at the beast in front of her. Before he revealed himself from around the table, when only a little dark fur was visible, she would have had no doubt that it was he. Now, the only resemblance there appeared to be between the Lupo she met and this salivating canine was the color of his eyes. She held her gaze fast, locked onto his. If he was still in there, he wasn't making himself known to her. The fact that he hadn't immediately jumped at her throat might have warranted a breath of relief if he hadn't taken to snarling at her.

"Please, Lupo, be a good boy. Don't eat them. W-what if you could compromise?" Little Bella leaned sideways, trying to look around the table and see if Red Hood or her grandmother was there. "I don't see where a home-cooked meal would be such a difficulty to provide as long as you're friendly. I offered to cook for you, remember?" She hoped that the girl and her grandmother wouldn't be so disagreeable about giving Lupo food as he had been about eating anything but children and the elderly; although, she guessed that trying to reason with them would only result in an impasse. Gingerly, she extended a hand towards the wolf.


As his eyes settled on little Bella's tiny hand, the wolf's snout smoothed and the skin around his teeth relaxed, though he insisted a low growl and it didn't seem like he could help all the saliva. Little Bella might have been as happy to see the wolf's tail wagging as he was to wag it, though it did remain naturally frazzled and poofy. A high pitched cry finally escaped out from the wolf's throat as he tilted his head to the side, reminiscing over little Bella's dainty, nimble fingers, causing his tail to wag even faster. The wolf maintained his low stance as he approached Bella, slowly straightening up as his nostrils curiously absorbed every fragment of the scent upon her fingertips before proceeding to gingerly lick them.

In just a short handful of seconds the palm of Bella's hand was almost drenched in saliva as the wolf began to fervently slobber on it with his tongue. Naturally, he circled around to Bella's side and began sniffing her face, tempted to start licking her nose and mouth, but his appetite got the best of him. After realizing who Bella was, the wolf's tail stopped wagging and his pupils dilated as he stared at her in the eyes, ceasing his panting for a brief moment before abruptly barking directly in her face. His teeth weren't bared and his snout remained relaxed, yet the wolf continued to bark in Bella's face in rapid succession, following her every movement with his undivided attention.


The uncertainty written on Bella's youthfully round face eased as Lupo's bushy tail wagged, prompting an albeit wary smile. They were all safe if only for the moment, though perhaps it could be longer if she could only find something to feed the wolf. Scrunching her face, the little redhead held in a giggle at the ticklish sensation on her palm, hardly worried about it being covered in slobber. She wiped it off on the slightly dirty ruffled apron tied around her waist. If not for the barking, she might have scratched behind his ear.

"Aw, don't be upset. I'll get you something to eat." That was perhaps easier said than done. There was no obvious source of food like an icebox or pantry and she checked the cabinets nearest to her. Keeping an eye on Lupo, Bella inched around the table to check the other cabinets; however she found something much better: the basket the red-hooded girl had been carrying. Beside it, the girl herself was sprawled on the floor. She knelt with the intent to shake the girl awake, pausing with her hand poised over her shoulder. It was probably best not to, considering it might aggravate Lupo and reinvigorate his appetite for young girl. Instead, Bella grabbed the basket and moved back, away from Red to where the wolf stood watching.

"Here we go. Let's see.. We've got.. Oh! A ham!" There was a surprising lot in the basket, which didn't look like it could carry a picnic. She took the ham by the protruding bone and offered it to Lupo. "There's some bread, too. Eat up!" Once the meat was consumed, she would give him chunks of bread off the baguette loaf. Hopefully, this would be enough to satiate him, so he would forget about the girl and her grandmother.


Once the wolf's tongue touched the glazed ham, he sprawled his chest and belly onto the floor, making himself comfortable as he bit chunks off down to the bone, even proceeding to gnaw on the bone itself for a little bit. He could tell right away the chunks of bread were no smoked ham and seemed hardly worth a sniff, so he walked a few paces towards the carpet in front of the door, circling it a few times before plopping down onto it, resting his chin on its soft wool, blowing a heavy sigh of relief out his nostrils. The wolf's eyelids felt like they had tripled in weight and began drooping over his aqua pupils. All was right with the sated beast.


Bella relaxed as the ham left her hand, the underlying angst leaving her smile genuinely pleased. With Lupo taken care of, she could turn her attention to Red. She placed the bread that the wolf wasn't interested in back in the basket, which she set atop the table on her way back around it. Again, she knelt beside the unconscious girl, this time giving her a gentle shake.

"Are you alright?" Her voice was barely above a whisper, for she didn't want to alert the wolf who had just relaxed in front of the door. She held a finger up to her lips, hoping that the girl wouldn't scream or panic. "Sorry, but I gave him your ham. He's calm now, though; you should be okay." Bella shot a glance towards Lupo, who she could just see part of under the hem of the table cloth. "You should go check on your grandmother. I'll see if I can get him to show me out of this forest." Pushing herself to her feet, the young redhead offered a hand to help the hooded girl up; then she approached the wolf.

Amusement bubbled up inside her chest at the sight of him. He really was like a big dog. Crouching beside him, she scratched behind his ear, down his cheek and under his chin.

"Could I bother you to help me out of these woods, Lupo?"


Red's eyes glazed over as she opened them, opening wide-eyed and petrified as she gathered her bearings or lack thereof. As straightforward Bella was, she could not alleviate Red from the confusion and macabre that agitated her, amplified by her head knocking against the floor with a hard thud, leaving her fuzzy and disoriented. As oblivious she was watching Lupo carry Bella away, she at least had the common sense now not to panic and alert the wolf. Still she found herself rightfully suspicious of little Bella, who she gathered must be in cahoots with the wolf in some way or another. Whatever the case may have been, she helped herself up, eyeing Bella and the wolf cautiously as she retreated upstairs from the kitchen, leaving her wicker basket upon the table.

Lupo's eyes shot wide open as he sensed Bella crouching beside him. The muscles in his face seemed naturally contorted in a manner that made him appear indefinitely malefic and hostile, ready and raring to rip anyone or anything apart at a moments notice; even as relaxed as he was after having a whole ham to himself, the flaps of skin around his teeth were still partially receded, leaving the sharp set exposed. Ironically, his tail wagged with exuberant joy. Lupo stood up straight and cautiously moved to bite the center of Bella's dress covering her stomach, gripping the fabric with his teeth.

He pulled her towards him, only to lower himself onto the floor once more, nudging Bella with his snout and jerking his head to the right. Assuming he had failed to communicate his intentions to Bella, he rose to his paws and circled around her, lowering his stance as he inserted his head between Bella's legs from behind and lifted her onto his neck with the top of his head, making sure to balance himself as he lifted Bella off the ground.

Lupo treaded carefully along the floorboards to the woods, maintaining a balanced gait into the woods with Bella mounted on his back. It was up to her to keep a tight hold of the wolf while he gradually increased the pace of his gait a light jog until finally adjusting to a decent enough pace for their hasty retreat to town, cutting through the dense forest. They managed to make good time since Bella was so light and did not hinder Lupo's form much, so long as she didn't pull on his fur too hard or wrap around his neck too tightly. After a quick ten minutes had passed the number of surrounding trees began diminishing. They came upon a clearing in the woods, with one smooth, solid round rock sitting at the center; a
lonesome woman
sat atop it, donning a brides dress upon closer examination, the skirt of her dress splitting at the waist exposing her legs and hanging off each side of the rock. Her head hung forward, shielding her closed eyes and the sullen expression on her face. Her left hand gripped onto a bouquet of roses as pink as her pastel colored hair.

"Whoa!" Perhaps Bella didn't move quickly enough for Lupo's liking, for she was on his back before she could figure out how exactly she would climb up without possibly hurting him. She instinctively clung to the fur on his scruff as she might Farren's mane until she settled comfortably behind his shoulders. Her hands stayed there, prepared to hold on if necessary; however, she largely stayed put with her knees gently pressing against Lupo's sides as she would a horse when riding with no saddle.

"This doesn't look like civilization." The redhead commented to herself as they entered the clearing. It certainly couldn't have been far off, as the woods had thinned out. She scanned the trees for some semblance of a town, even just another house; her eyes fell upon a young woman. Who was she and why was she dressed for a wedding only to be sitting on a lone rock in the middle of nowhere? Bella's eyes dropped to glare between the wolf's ears, as if by doing so intensely enough, she could see what he was thinking. Of course, it wasn't Lupo who was responsible, but the dream. She heaved a sigh and cleared her throat.

"Um, excuse me? Are you okay? What are you doing out here all alone?"