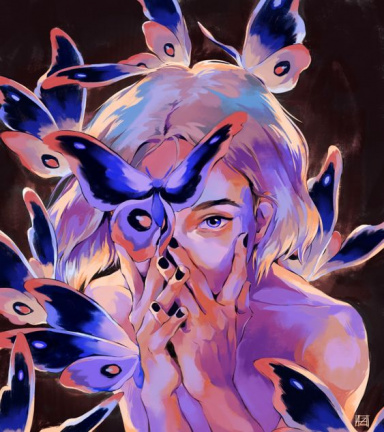 The Suffering Slav Problem Child
Original poster
FOLKLORE MEMBER
Invitation Status

Looking for partners
Posting Speed

Speed of Light
Multiple posts per day
1-3 posts per day
Online Availability

Always online tbh lol
Writing Levels

Intermediate
Preferred Character Gender

Male
Female
Primarily Prefer Female
No Preferences
Genres

I generally like a little bit of everything, but my favorite would be Romance and Drama.
To start at the beginning,
Hi there! How are ya? Just call me Mea, it's easier that way. My full name is Tímea though if you are interested. I hope the title was catchy enough to bait you into clicking on this so I'll cut to the chase. To start it all off I am a 19 year old gal studying graphics and media, I've graduated from an art high school from animation, art history, english and slovak. I'm a HUGE (seriously, a gigantic) fan of monsters. Excuse my french, but I did earn the title of a 'monster fucker' as whenever there is a monster in a video game I just imagine marrying them and making them dinner after a long day of work eating people and stuff. Not to mention that one time I played DnD and desperately tried to seduce every monster to the point that the DM had to beg me to stop. Yes, I am just that fun. Sadly this didn't really reflect in any of my previous posts too much, which is why I decided that I'm gonna take my time and write a more in depth post which I will totally not ditch after like 4 weeks of bumping it. Totes, my dudes. Anyway, just so I don't ramble on about stupid irrelevant BS I'll just make a few points which are better if you know about me if you even considered messaging me and are still reading this.
​
I am a 19 year old student, I somewhat work part-time, but it's all a doozy.

​

As you may have noticed, I'm a chatter box. I talk too much and quite simply I know it's really annoying. It's why my ex broke up with me, actually.

​

Given the fact that I talk a lot, I find it important to communicate with my RP partners. I won't get offended if you wanna try something different, I'm at a point where anything goes and I will even play a self aware foot which thinks it' a goose. I'm that desperate.

​

English is not my first language, shocker, I know. It is in fact my third language, I speak hungarian and slovak fluently while my english is a bit lame, but I am working on it as you can see.

​

I've got a dog and will probably spam you with pictures of her because she's a real treat to be around. (Really, her name is Sütike in hungarian which literally means cookie, so yes she is a treat)

​

My passion is to write long starters. I think roleplays should have longer starters as to give you an over all feel for the rp an the universe it's played in, give you some insight to the character and give you enough openings for yours to step in and for it to actually make sense.

​

I like monsters, again. Yay for team monster!

​

I am usually online, as I'm not really bothering to attend my classes most of the time, so yay for that.

​
And I think this is all about me that's worth taking notes of.
About that plot...
So, you may be wondering just what kinds of plots I've got in store. To be fair I'm not entirely sure myself, but I have some rough drafts of what would be really cool to write about, plus there are some sweet little things I just can't deny.
​
Medieval Drama with a dash of Romance.
This one actually has a few more divided plots, there is one which would be more inspired by

Dragon Age: Inquisition

, or one which is sort of like a more grim version of

Beauty and the Beast

(A plot which I mentioned in my previous posts as it's one of my favourites.), or even one which could be the Medieval version of

Twilight

and as stupid as that sounds, don't judge. The books are actually quite nice to be fair and I love some really cheesy vampirexhumanxwerewolf love triangles.

​

Survival Guide for Space Monkeys
So, the title was inspired by

'A hitchhiker's guide to the Galaxy'

,but other than that it would mostly be of a delivery team of some sorts who deliver stuff through the galaxy. That's about it, really it's not fleshed out at all.

​

Cyber punk everything, make my coffee cyberpunk even.
Do I even have to say more?? Cyberpunk anything is just great! I'm open for anything, really! Mostly I was thinking of Cyberpunk Japan and cyberpunk yakuzas and such, because it just sounds so cool.​

Some sweet, sweet FxF
This is actually plot I only managed to play once, basically it's about a gal who just moved into the city and is seeking work. It's not going too well, but she does get a strange invitation to a certain bar/nightclub. Little does she know that it comes at a price, as it's a supernatural place which has them fantasy rules of 'If you eat, or drink anything here you can't ever leave'. So, that sort of happens. I really don't want to spoil anything, but yeah I've got some sneaky plans haha.​

THE WITCHER, LITERALLY ANYTHING WITH THE WITCHER

I just really like it, I started watching it on netflix and it's so good I'm thirsty af for Geralt.

​
This would be about it regarding plots, but what about my rules?​
I prefer to write with partners who are older than me, as nowadays I like my RPs to have more mature topics. Besides, I just feel more comfortable writing with adults.

​

My main preference is playing female characters, but I can make a few exceptions. I don't like to double though, so it really just depends. Regarding my partners, I am fine with any sort of character since gender isn't that big of a problem for me

Yes, I do like to write smut, but I am not any good so I would like to practice a little. I also find it fun to be honest. Then again, I don't mind just doing a 'fade to black' sort of deal if my partner isn't comfortable with smut.

I'd like to get a few replies weekly (At least two a week) , since I am pretty active and I usually reply right away when I got the time.I know not everyone has a lot of free time, but still. If you can't do this, sorry but I just rather not wait like a month for one reply.

Communicate with me. Like, if you don't like something just tell me. It's not like I will bit your head off.

I only RP on discord, there I create private servers with text channels for OOC talk, the rp, character bios and ref pics. So, yeaah..Discord only, folks!
This would be about it, I do believe. If anything has tickled your fancy do slide in my DMs, or comment, send a raven or a pigeon with a message. Whatever works! Anyway, have a pleasant day, cheers mates.
​
Last edited: