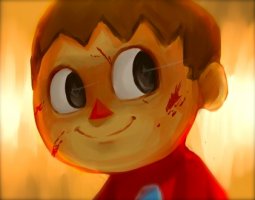 Hi-def
Original poster
LURKER MEMBER
FOLKLORE MEMBER
Preferred Character Gender

Male
Genres

Fantasy, Horror and Sci-fi. I'll try basically anything though. I also love strange and unusual RP genre concepts. Different is good!
In The Name of Innocence.


Riley Hall walked through the double doors to the 'East Stoughton Community Bank' at about 12:00. Although he had rehearsed this moment in his head a thousand times, his heart still felt as if it were about to burst through his chest. Small beads of sweat were forming along the back of his neck and his hands were shaking like windmills, but his face was calm, cool and confident. Overall, Riley was doing surprisingly well, considering he was about to rob a bank.
​
As he stood in line, watching as the guard took his break, right on time, he glanced at his reflection in the window. His hair was med length and little shaggy around the ears. It hung down just above his eyebrows and gave way to a pair of light hazel eyes. His cut jawline was in-cased in a light 5'oclock shadow, but it only helped to bring out his features. He had intentionally not shaved the day prior, feeling that the slightly different look might throw any witnesses off. On is body was a loosed fitting button up shirt, it hung over his chiseled physic , on top of a tight fitting, white wife beater. His Faded blue Levi 501's were just loose enough around the waist to hold the loaded .357 magnum. He prayed he wouldn't have to use it, like he did back in Arizona..
"Can I help you sir?"
Riley was jerked from his memories and was now face to face with the teller. He approached her, holding a steady, but non threatening eye contact with her.
This was it, Showtime baby.
As adrenaline pumped through his body, everything seemed to happen in frames, like watching a stop motion movie.
He stuck the gun in the tellers face….
Jumped the counter and put his arm around her neck, with the barrel pressed firmly against her temple…
The money was retrieved in large, unmarked bills…
Riley was out the door within 3 minutes….
The route was planned out. He ran down a near by side street to a spot where many cabs would wait for customers. He jumped in the back of the first cab he saw, with the cash and gun concealed. As sirens sounded in the distance, all Riley could think about was getting the hell out f here.
"Take me out towards the old airport." He said, for the moment paying little attention to the cabby.
Little Did Riley know, the police already had a rough description of him and his name...
​