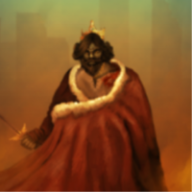 The Burger King
Original poster
Playing Style- Passive or Aggressive

I am in the middle between passive and aggressive. But I prefer to plan things out with my fellow RPers so I don't mess them up. Although I do keep plot twists under wraps. I believe planning things out helps make for better posts so I do it often.
Favorite Genres

Fantasy, sci-fi, post apocalyptic, parody.
Genre You DON'T Like

No SMUT EVER. Not big on modern RPs, not a fan of Mass RPs due to past experiences. I may make exceptions though if an RP is particularly interesting. I will NEVER get involved with anything like yaoi or furry FYI, those I do not make exceptions with. Also not too keen on perverse RPs.
This is self explanatory:

Song titles+In my pants

"Down in it" in my pants

"Brave New World" in my pants

"Lost in the Supermarket" in my pants

"Psycho Killer" in my pants

That's all I got for now..Some of these were probably used before, meh. Tried to be original though.