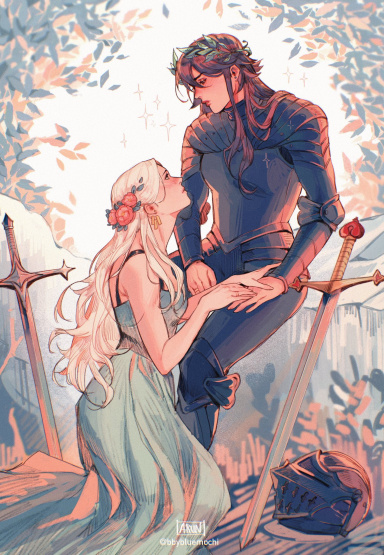 Just some guy who's a necromancer
Original poster
Love... Oh such a fragile ideal. They think that love conquers all. How incredibly foolish, impudent, disgusting!... How perfect... I will allow them to believe this until it is my time to strike. Then they will realize how fragile their defenders truly are in all aspects...
Passion can be extinguished leaving cold, and frozen in time...
Empathy can run dry, leaving others thirsting for comfort...
Joy may be quelled, remaining stagnant, unmoving...
The foundations may crack, Stability giving way to uneasiness...
And Hope and dreams may be shattered, and in their place Nightmares form...
All these will one day fade, giving way for what will truly last...
...
Hate
---
---
Sleep had been nice. Dreamless for most on this night. It wasn't sudden, nor was it clear when it happened. There was a dreamscape filled with swirling colors of pink, purple, green, blue, yellow. Inside was only a girl with a small animal perched on her shoulder. She wasn't looking at anywhere in particular. And yet she spoke. And her words were directed to the others who shared this dream
"

H-Hello?... Um... Hi, uh, is this thing even on? I've never contacted this many people before... Oh! Ahem... Greetings young human boy! My name is Sonia! I'm from a far away land, which has been overtaken by an evil entity... Hate now rules my world... So that's why I am contacting you. Because we can't take her on alone! We need you! But also, your world needs you too. She will not rest until the universe is consumed by Hate. But there is still Hope. I need to meet you all as soon as I can, so please! I've already contacted the girls, and they should be there soon! Meet me at Central Park right now, as soon as you can! Huh! I need to go so please, Wake U-!"
Awake in the night lying in bed. Surely it was just a dream?...
---
Plot Overview
---
Five boys are shocked when a young girl, by the name of Sonia contacts them in their dreams, where she told them they are the only hope of the world. They are all told to meet at Central Park, where they find out that five girls were also called to action. The girls were given powers, becoming Magical Girls!...The guys however are not exactly pleased to find out they are
Partners with a Magical Girl!?!
In
I'm Partners... With a Magical Girl?!
5 Girls (The Magical Girls) will gain magic powers called the Aspects of Love. The Girls are referred to as the Aspects, while The Boys become the Sources of Love, serving as the source of the girls' magical power. This however turns the partners into a cute fluffy animal whenever their partner is transformed. They are trying to defeat a mysterious entity only known as "Hate." The only way to defeat "Hate" is for the Aspects of Love: Passion, Empathy, Joy, Patience, and Hope, to all work together. However, they are still students and teenagers. Thus they still have their lives to live filled with school, homelife and drama of all kinds.
---
Plot Setting(s)
---
AI CITY
Ai City is a large, metropolitan city, with some of the finest technology avaliable. It is renowned for its cleanliness, transit systems, and school system. It is hard to find a city better than Ai City in all of Japan. Of course it isn't perfect, and there are still a fair amount of problems, but ultimately it is a great place to live and grow up as a kid. The Population is about 300,000 people.
Central Park
A large, well kept park which is frequented by children, teenagers, and adults alike. It has a nice playground which is usually filled with children on their days off, and after school. It also has lots of Semi-Forested Paths, which people often walk down, just to enjoy the view, and a moderately sized lake in the center.
Jinchi "School" District
The Jinchi District has been dubbed the "School" District due to the layout of the city. Most schools in the city happen to be in this general area. They happen to be two large school buildings, one an all boys school, Kishi Academy, and the all girls school, Meiko Academy.
Kishi Academy
The all boys school. Kishi academy prides itself on the respectful students they produce. That said, it's a big school. They don't see everything. The large, modern, mostly glass building encompasses the Junior School and a High School

Meiko Academy
Meiko Academy is the all girls school. It's across a large plaza from Kishi, but it does not take after it in appearance. Kishi is far more recently established. Meiko Academy is a much older building, though still a very nice one. It has a more Victorian feel to it, with a large clock tower standing in it's center. It too encompasses the Junior School, as well as the High School.
---
Cast of IPMG
---
Total // 10
Male // 5
Female // 5
For now, no more than 2 Characters per player I would request that people try not to play their own Partner
PARTNERS
(Sources)
— Passion //
@Shinku⭐Kun
— Empathy //
@Blackangel
— Joy //
— Stability // Reserved (
@Moonstone
)
— Hope // Reserved (
@Shinku⭐Kun
)
MAGICAL GIRLS
(Magical Girls)
— Passion //
@DANAsaur
— Empathy //
— Joy //
@Karyra
— Stability //
@xLarius
— Hope // Reserved (
@Reanimator Spuds
)
---
Roleplay Information
---
GM //
@Reanimator Bob
Roleplay Genre(s) // Magical Girl | Romance | Comedy | Drama | Modern Fantasy
Status //
Not Yet Open
Last edited: