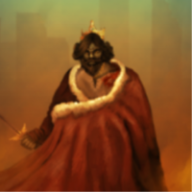 The Burger King
Original poster
FOLKLORE MEMBER
Genres

Fantasy, sci-fi, post apocalyptic, parody.

Lydia.
There they saw it all, the gates to what was once called the city of Lydia. The broken statues, the collapsed bridges, and the crumbling pillars. Its unbelievable looking at it now to think this place was one of the happiest cities in the world. A place where people held weddings, parties, ceremonies, and more. The beautiful cherry blossom trees that bloomed in the spring being Lydia's specialty. That was then, this is now, its just another dead city in this devastated world.
Lydia's destruction was an anomaly. The story went that a lone dark beast eloped with his lover and their child trying to escape the war and not take part in it during the final year. A group of a few locals didn't take kindly to him and he returned home to find they had tortured his wife just on the basis of her race. He went on a rampage in response, killing the guilty, the innocent and those whom just turned a blind eye to her slaying. No survivors were found except a few lucky souls and his daughter. Lydia was abandoned from that day forward.
That is until today. The Arcadian Brigade's leading scientist, Professor Ruby and her team had developed a small device capable of restoring soil damaged by both the aura bombs and the dark beasts. This would be the first field test of it and if it worked, then maybe it could be possible to eventually restore the planet back to the way it was before.
Knowing the way the world was now though, it was unsafe to leave the professor and the others by themselves. The Arcadian Brigade deployed the 4th unit, with Carla leading it for now as the first in command was at a conference. This would be an easy task anyhow, as it just meant they had to protect the researchers and a few Lydian spectators from bandits. There was no way any of the higher ups in the Arcadian Brigade could have foreseen what a turn this simple operation could take.
"We are to protect the people and the researchers. After the test is complete we will then escort them back to the safety of Arcadia. Keep your wits about you and keep on guard for bandits or any creatures. Let everyone know if you spot something or someone. That is all."
Carla took a commanding tone while briefing the 4th unit. She was a reasonable leader and wanted this to go off without a hitch. Shintaion was doing rather well now with most of the bandits eliminated but Carla knew better than to make assumptions like that.
She was glad to be on a mission like this though. Less violence,less having to be exposed to the horrors of this new world. Less witnessing the cruelty of these bandits, the ferocity of the monsters, and regrets of not being able to save every victim. This was something positive to really change the world back to the way it was. Yet even then it would be a ways off before it could become a world her sister would approve of. The fighting between the Order of Aegle and the Abscus Liberation Federation was just endless, the world could never unite and rebuild with such utter animosity.
Finally, the research team began to start work as the Professor Ruby's protegee; an awkward Earth Beast named Lowe utilized the strange device. It seemed to resemble something of a gun but instead released a purifying agent upon the dead soil upon firing. He combed all over the area and then called out,
"It's empty now. I'm gonna see if I can accelerate the growth and see if we can get any results!!!"
He then planted several seeds and then utilized his energy to attempt to cause the famous cherry blossom trees and a few crops to grow.
Lowe was a strange case indeed. He was about twenty-two and didn't look very intimidating at all for an Earth Beast. He was the typical gentle giant. This work under the professor was more of a hobby, what he did when not working with the rest of the 4th unit. He didn't care for fighting but did it out of necessity for his homeland and for Carla's sake. He was the only surviving friend she had. Lowe met her when he came along with his father to research the Dark Beasts. He lived underground with the Dark Beasts for a few years and became good friends with Carla during that time. He only left when the war broke out but promised Carla he'd see her again. He kept his word but never thought it'd be under these circumstances, with Joanna gone.
"Well then. Just be patient and it'll be show time! We're expecting some results here. I'm a professional here, I wouldn't waste your time making you watch this shit grow ever-so-slowly in a dump like this for nothing now would I?!"
The Professor exclaimed, joking around a bit as she cleaned her glasses with a cloth.
Professor Ruby Vulcan was a troubled Fire Beast genius. Around thirty seven years of age, she was always seen in that fancy lab coat of hers. She just wanted to be humble school teacher. Her father would have none of that, made her study all about weapons, magic, energy and even aura until it was burned into her mind. It made her smarter but it created a rift between her and him. She hated using this knowledge for destruction but her father saw things differently. He wanted Ruby's help in making the aura bombs along with many other leading scientists but she refused knowing how foolish it was. Ruby's only regret was being unable to stop the development of the bombs.
When the bombs dropped the guilt ate her up inside. She was glad her last name was a secret only her husband knew. This whole project to restore the land was not out of the goodness of her heart as she'd have the people believe. She could not die in peace until she undid the damage as much as she possibly could. Knowing her children would grow up in such a hopeless environment and that she failed to stop the bleak future she was living in now. She could barley sleep at night and was quite paranoid at times, fearing someone would find out her secret and attempt to kill her or her family as retribution.
Time passed, the Lydians paid their respects to the make shift graveyard they had made after the massacre. The Brigade members spotted nothing hostile or out of the ordinary yet.
Then finally, to the amazement of the researchers and spectators, the crops and the cherry blossoms were beginning to sprout and then due to Lowe's intervention, matured rapidly and finally grew to perfect specimens.
"Well there you have it! Well this concludes the field test! Carla, you and your unit can take us back to Arcadia now. We'll be back here one day, when Zigus can get this place secured.. Let's not dally any longer in this accursed place. I've got to get started on the plans for a purification airship!" The Professor stated sounding impatiently.
Carla nodded,
"Lowe you and a few others can guard the civilians and take the rear. The rest of us will lead the way. We will proceed with haste but caution as well.." She displayed a reversed smile looking back at the restored soil. She moved forward at a brisk pace, making sure she was going fast but keeping close to her comrades.
They Brigade was on the move now. Little did they know they were entering the calm before the storm, it seemed peaceful and quiet but the powers that be were out in full force, lying in ambush for the 4th unit....