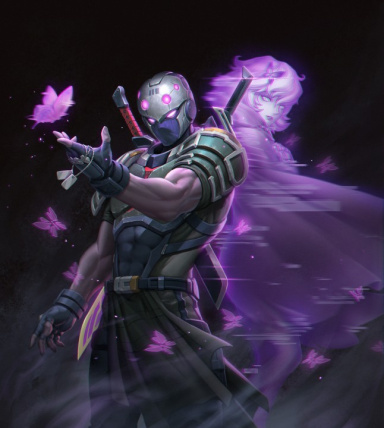 Neko Smasher of Iwaku's Walls
Original poster
LURKER MEMBER
FOLKLORE MEMBER
Invitation Status
Posting Speed

One post per day
Online Availability

Florida Time: 5:00 PM
Writing Levels

Give-No-Fucks
Intermediate
Adept
Advanced
Preferred Character Gender

Male
Primarily Prefer Male
Genres

Anime, Fantasy, Post-Apocalyptic, Action/Adventure, and Dark. Sometimes I like to do Edgy things, but it has to be played out right to work for me.
Oh how exciting this must be for you 1... 2... 5... 7! Wait 7?!" It was when God had become confused that a bright pink orb floated over to his side and landed on his little stub. It whispered to him and his eyes open wide. The seven heroes were all gathered on an empty plain of nothingness. Below their feet was a tile representing the abilities that God had yet to give them. On the tiles were pictures of their weapons. If the heroes looked around all they could see were various "screens" of the infinite realms floating about, on each black beings could be seen. Some seemed to be sucking something from the people around them and others were terrorizing the realm. God spoke forcing the attention of the heroes. "Well, that's certainly interesting." God then waved his hand away and the light hastily shot through a screen making it ripple. "It seems we've encountered some more generals. That sucks. I was hoping this would go along a lot smoother, well they are demons." God was shorter than the heroes and thus floated in the space above him. While explaining he floated about. "You're all probably wondering what's going on so let me enlighten you." He floated behind them and all the tiles quickly shot around to face him where a giant screen was. God now had a remote in his hand. How it got there? Osmosis. He clicked a giant green button on it once and a projector showed an image of a demon.
"This here is a demon. In the realms their "role" varies. In realms where things like killing, stealing, etc. are common they are tangible beings able to affect the world around them, but when the realms are in a more peaceful state these beings are turned into spirits." God clicked the remote again.
"This is a spirit. They literally can suck the souls of people and possess them. It's very simple to get rid of them. Cut their horn off." One of the many heroes then raised their hand, Papa Lee. God looked questionably in his direction, but then responded. "Speak."
"Speak. Ha, I can speak! Oh yes. I had a question. Why choose us?"
God sighed and hit his remote muting the being. "I haven't gotten to that. Jeez. Messing up my presentation. Where was I? Oh, yeah. The origin of the beings. Demons exist by the simple negative energy generated by the realms, but once it reaches a level dangerously high a demon general is created. These generals are able to create demons and can only be defeated by clearing a realm of its tangible demons and then confronting the general and killing it. If you don't my realm will overflow with demons and they will force you out." God then hit the button again.
The screen was pitch black, but the silhouette of a figure could be barely seen. "This is the Knight realm. It was an unending war over resources and land. At the time I was unaware of the demons and all the killing attracted them and created them. Before I knew it a general appeared taking on the name "Titan". Titan's demons fed off the raging souls of the soldiers and soon became tangible enslaving the race that lived there. When I confronted Titan he defeated me and I was forced back into this plain of emptiness and the heaven that dying souls awaited was destroyed and turned into hell and so I used my power to create multiple realms in order to hold Titan's conquest at bay. Since then he has conquered at least thirty percent of my realms. I am sending you seven to five of these realms."
God gave a glare to Papa and then rolled his eyes to see the whole group. "You were all chosen because you have the spirit of fighters within you, but were suppressed by your realm, the realm of boredom's atmosphere. Since nothing ever happens in your realms you are the best soldiers due to their only being good in your heart, but be warned that this may change as you encounter tragedy, loss of hope, and other difficulties." The tiles beneath the heroes began to glow a bright heavenly hue. "Now go my heroes! Save the realms!"
With this the tiles would dissapear and align themselves on the screen perfectly. The heroes would then fall onto a giant blue bounce pad that would send them through their respective tiles granting the weapons of their class as they landed on an island where someone stood waiting by a rock across a bridge.
Papa Lee, stood up rubbing his head and looked around. He then felt a large weight on his back and reached behind him feeling a hilt. He wrapped his hand around it and attempted to lift, but the weight was too great. He then tried to lift with both hands and the blade came out feeling lighter than before. The man seemed to notice the group because he started waving over to them.
@Minami
@Shinku
@DjGameK1ng
@firejay1
@Citrus
​