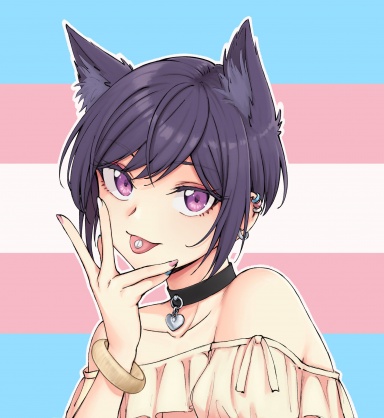 Useless Goddess
Original poster
FOLKLORE MEMBER
Posting Speed

One post per day
Multiple posts per week
1-3 posts per week
Writing Levels

Intermediate
Adept
Adaptable
Preferred Character Gender

Female
Transgender
Genres

Yuri, Magical Girl, High Fantasy, Sci-fi, Ray-gun Gothic, Mecha, Steam punk. Scifi Apocalyptic,
So! I will keep this introduction simple, I have recently discovered a new favored style, I play as the world and many characters, with story mostly created by me (though I will ask for your input of course) while you play one or two characters to go through the story, if that seems like something you may be interested in then hurrah! Read on.

Rules And Stuff:
I will say it now, I do not want text walls, I much, much, prefer smaller posts (a paragraph or less, maybe more occasionally) That way we can have rapid fire posts and get many done in a day, though SOMETIMES longer is merited.

If you wish your character to have romance keep in mind that with 75% of situations I will only do fxf pairings, so if you like that, then feel free to request it.
(Note, fxf includes male to female trans before, after, or during transition, gender less is also something I have experimented with for non sexual romance)

You have a one week period to decide if you like an rp, if at the end of that if you leave... No biggy, I wish you the best, but ff you randomly stop later on without even hinting that you wanna change some things up, I will... I dunno, glare at you for a few minutes and ask if you want a new plot? (I am really bad at being angry!)

Now all these Rps are highly changeable, you wanna change a few details? Just ask, same with questions about the worlds and plots.
They are also available in several formats, I can do more complex ones with stats and inventory and all that, or simple no stat no inventory, or a fusion.
I can also do these as 1x1 style depending on the story.


Sci-fi:

Galactic Heroine Story! (taken)
This is a sci-fi universe I have been fleshing out for years, containing dozens of races, plots and ancient threats, specifically this story begins during the early days of the Resurgence, where civilizations are returning to space after a disaster that knocked most species back to the stone age.
Throughout the rp you will travel a unique galaxy, gather a crew, pilot mecha and spaceships and stop all kinds of baddies.
The story will start on a world surrounded by a barrier that prevents anything escaping the atmosphere, and if you are curious about what happens next, inbox me the word Wanderlust.

World of Junk
Haihin the world of Junk is home to many things, pirates, scrap dealers, and even a small shipyard.
However, one of the most respected areas, are the academies. Filled with mostly humans who live withing the planet's bio domes, the occupants of the academies all learn mechanical skills from a young age, making them vital in the city's operation.
The academies are also very, very competitive.
You would play as a student in one of the planet's many academies, going about your life attending classes, salvaging wrecks and meeting the world's inhabitants.
This would be fairly similar to slice of life, though you should still expect some action.
If interested add the word scrap to your message.

Magical Girls: One of my big passions, be warned, if you take an rp here you will be locked in for what could take YEARS.

A Grand Tale:(taken)
The grand tale is a glorious romp through my magical girl world, starting at emergence of the first girls during the Tower arc, this rp will see many story lines with dozens of girls, all of them have a 'cannon' ending, but you can completely change them.
Technically this IS the armored girl sub genre and my girls are far more armored and armed than mage types like Madoka or Nanoha.
If interested inbox me the word Armored.

Dreamers: (taken)
Technically a prequel to A Grand Tale, this rp is set before the awakening and follows a group of girls who have the ability to enter a strange realm during their dreams, in this realm they fight strange creatures and face aspects of themselves they may not be comfortable with, though as they explore, the real world seems to change...
So this a complex rp, it is kinda hard to explain but I have been hoping to do it for a long time.
If interested inbox me the word Dreaming.

Phase Zero:
Set during the early industrial revolution of an isolated continent, this rp chronicles the rise of the worlds first magical girls, and the eventual war for power among them as they hide their identities.
I can't say much without spoiling this rp... However I CAN say, it does not end well, you can make it end slightly less badly for you, but a true good end is impossible.
If interested add the word zero to your message.

Modern Fantasy:

Heroes:
It was thirty years ago, the meteor looked as if it would end the world... But instead it broke up before even hitting the atmosphere, blanketing the world in a strange dust and causing odd crystal like growths on many things both living and inorganic.
While at first harmless... The real effects showed through less than a year later as individuals began to display superhuman powers, there was no way to tell who would get what, you could just as easily develop lighting powers as super strength... And many people took advantage of their powers for crime.
Fortunately for every villain there was a hero, and that's where you come in.
In this rp you will play as a new hero on the scene, there are very few limits on your powers though you will start off weaker and start improving over time, this will be an action heavy RP as you beat down the villains.
If interested message me the word Comic.


Your Wish~
One day on the way to school a girl finds a strange looking bottle... Upon removing the lid it explodes! Revealing a strange girl... Who introduces herself as a genie and promises to grant wishes!
What could possibly go wrong?

The answer to that question is obviously everything, this rp will be a modern fantasy romp, with wishes, fights and genies beating each other up.
What your character does with the wishes is up to you, though your genie DOES have limited powers, so no instant world domination.
If interested add the word bottle to your message.

Fantasy:

The Academy of Fates:
The Academy of Fates, known worldwide as the best place to learn the arts of magic... And also the only place to learn.
You have been invited to spend the next few years learning to be one of the few witches in this world, but be wary, the academy is older than it looks, and many secrets lay hidden that are best undisturbed...
This rp is inspired by shows like Harry Potter, Little Witch Academia and even some elements of skyrim and Abhorsen.
In it you would play as a new student, building up your posse, collecting spells and artifacts, and of course poking your nose into ancient evils.
If interested message me the word Witch.


Rule Breakers: (taken)
There are certain people in the world who don't fit in... They look and act different to others and regularly do the impossible, slaying great beasts and armies alike with their incredible powers.
These people do not fit within the plans of the gods, acting freely of divine rules and even mortal limits.
These people have been labelled accordingly.
Okay I don't even know entirely how to introduce this as you can see by that rambling mess, but basically this is an rp where you play as a rule breaker, someone with a ridiculous amount of power who is generally disliked by the general populace.
You will start during your awakening and go on to fight some insanely powerful bad guys, obviously another action heavy RP here.
If interested message me the word Broken

Land of Fire
The city of dragons is a hidden sanctuary deep within the wastes of the endless dunes, here dragons live in peace with the many races that share their blood, whether they be wyverns or the dragon folk who spend most of their time in humanoid form...
It is a fairly peaceful place to live... That is until a certain young dragon finds an odd orb...
So here we have a fantasy romp through a city filled with dragons and possibly further to other countries, you will play a young dragon shifter who finds an ancient cursed object and we will build the story further from there.
If interested add the word scale to your message.

Apocalyptic:

What Remains
The world has ended, or at least that's what everybody says happened, when tensions boiled and the bombs dropped, everything was wiped out... Though that was long ago, and people have moved on, building new societies from the ruins of the old.
However, this peace can be quite boring... And not everyone listens to the elders requests to stay at home.
This is a fairly peaceful world where you would play as a bored traveler in a post WW3 world, there ARE mutants and bandits, though you are under no obligation to fight them.
If interested add the word boredom to your message.

Trashers
They came without warning, the invaders spouted some badly translated message about being a threat and set the world on fire, killing billions, but of course they didn't stop there... Why would they after all the effort to find the place.
Instead, they rounded up a buncha survivors and messed with em, giving people all sorts of weird powers... Then, they just left, leaving us to our own devices... They shoulda finished us off.
This is a very violent world, everywhere is burnt out and ruined, abandoned alien war machines roam about and super powered humans fight it out for turf.
You would play a super powered girl who could do anything really, travel the world, try and make a gang or look for true love.
If interested add the word aliens to your message.
Last edited: