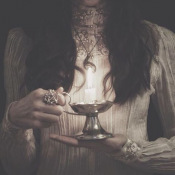 ᴏvᴇʀ-ᴄᴀꜰꜰᴇɪɴᴀᴛᴇᴅ
Original poster
Invitation Status

Looking for partners
Posting Speed

One post per week
Slow As Molasses
Online Availability

Anytime after 10pm PST because I do have three children.
Writing Levels

Advanced
Prestige
Douche
Adaptable
Preferred Character Gender

Male
Female
Genres

I enjoy low fantasy historical, comic book, slice of life, etc. I prefer gritty genres like world of darkness, crime, and more. I don't mind if they are modern or period roleplays. It's hard to pin down a favorite. Truly.
Hello, I am Mombie. As the username implies, I am an overtired mother of three that operates on caffeine, the mild enthusiasm my job might bring, and the joy of writing. I moved here from Roleplay Gateway due to the fact that the admin there doesn't like me and doesn't care for their site any longer. I love the way Roleplay Gateway works as a site, but could no longer tolerate the neglect from administration and being told that I "complain too much" despite my "complaining" being legitimate concerns that many others had. Since the majority of those that were bringing what little life RPG has left is also moving (also the site is down a million times a month for days), it was decided this was the best place to bring our private roleplays Descendents, and Leave of the King. It helps that my RP partner has former experience here and is pretty much a coding genius and made it easy.

I am very happy to see active administration and staff here that actually roleplay and are part of the community. While I haven't BBC coded in like... a billion years, I look forward to getting back into it and enjoying forum roleplay on a functioning and lively site again.

Anywho, I have been roleplaying for 20+ years. I consider myself a novel-length writer. I enjoy almost all genres. At the moment, I am not likely to join big group roleplays. I feel like I have gone through too much heartache in those types of roleplays, so it's hard for me to trust them. I prefer long-term partners. I don't do a lot of OOC chatter unless I am comfortable. I enjoy creating RPs and supporting others' creations, developing intricate and organic character relationships, and dynamic plots, to name a few things.

I'm a busy woman, so my posting is quite slow. I am not really looking for any new things right now. I'm getting a full-time job soon, so time is not on my side. Just saying hello, so that it doesn't look like I just barged in!