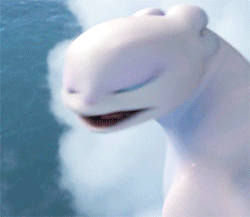 The Light Fury
Original poster
Name:
Castiel Bloodvist
Age:
18
Dragon:
(she won't come in until later on)
Aurora
Biography:
Castiel was always different from other people in her village. Everyone else in her village was always so strong and brave, and Castiel, while she was beautiful, was weak and could never stand in a fight, thus she was looked down upon and no on wanted anything to do with her. Though no one would dare say anything bad to her, for fear her father, the strong and quick to kill Drago Bloodvist, would do away with them. Because of this, instead of treating her badly like she was sure they wanted to do, they simply ignored her, refusing to socialize with the girl. So, because often her father was off doing whatever he did when he was away, she always alone. She would go into the forests that surrounded her village and just keep to herself. When her father did happen to be home, she spent much time with him. Though in her time with him, she felt as though she wasn't seeing what he was really all about and that he was hiding something from her. So, one day when her father was preparing to leave, she said her goodbyes to him like she normally did and then stowed away on his ship to see what he was really up to.
(Her hair is a pale blonde but we'll say it is so pale it will sometimes reflect the skies outside(for instance look pinkish during sunsets, ect). Her eyes are hazel and so will sometimes look blue, other times green, and sometimes a mix.)
Name
Marco Haddock
Age
19, just barely 19
Dragon
He Borrows Toothless most of the time. He is comfortable with all the dragons
Background
Marco was born to Hiccup and Astrid in Berk. His father, the chief of the clan and the leader of the dragons, was the most revered man of all. Sure, he wasn't exactly all brawn like his father, but Hiccup was smart and resourceful, leading the clan with a swift dragon by his side. Hiccup made sure that as a kid, Marco never had those same pressures he did. And so, unlike any other family, Marco was encouraged to explore, train, innovate. His brain thinks just like his fathers, it's almost eerie. However, Marco was a bit more hot headed than his father, which must have been a trait that he picked up from his mother. But when a mysterious girl showed up on the shores of Berk, his life changed, for better, or worse
​
It was hard, being the daughter of such a great man. People held her to higher expectations. Those in the village her father ran wanted her to be just like him. Brave. Strong. A warrior fit to someday take his place in the tribe. But, she was none of those things. She was an outcast, born of a great man and a young woman he had kidnapped from a neighboring tribe. Her father had been older, even when Castiel had been born. After she was born, her father was told that likely he wouldn't be able to have any other children. And sure enough, with as many times he tried again with her mother(as well as any other women he chose to try with), he had no luck in having another child.
Because of this, Castiel was of course his favorite and his pride. His only blood child. Her weak mannerisms were overlooked by him, but were heavily noticed by all in the village. Still, her father shielded her from harm and the terrors of the outside world, allowing no one to tell her of what lay beyond their village walls, as well as not allowing anyone to harm her themselves. Her sheltered life had made for a lonely life though. If those in her village were not deterred from her differences, then they refused to go near her for fear of her father's wrath.
Growing up with no friends had left her with much time to herself. She would explore the nearby forests, learn to build new things, and even learned her hand in archery. In her village, archery was something of disgust. After all, who would want to use long range weapons if they were good at things such as Axes and Swords? Well, Castiel was no good with those things, considering they would call for the petite girl to go hand to hand with much larger individuals, long range weapons was something that at least made her feel a little prepared in case she had to defend herself. But to make her feel safe, she had to practice it. A lot.
She was just coming back to the village from doing just that, her bow and arrows she had made herself places onto her back. She ducked under branches and stepped over logs walking down the familiar path until she finally made it back to the docks, where her father was preparing for his departure in the morning.
"Afternoon, Father."
Castiel smiled at the rough looking man who stood at the deck, arms crossed and looking rather stony in expression. Though, at the sound of her voice speaking to him, some of that washed away and she could barely see the hint of calm in his eyes that most didn't notice,
"How are the preparations going for your trip?"
Her father grinned and wrapping a bear like arm around his daughter, pulling her to his side, he nodded,
"Well. If all goes well, this trip will be very....rewarding."
Looking up at him, she frowned slightly,
"And...how long will you be gone this time?"
Chuckling the man let her go,
"No more than five days time."
He nudged her with his hand in the direction of their home,
"Now, go daughter. I have much to do before night fall."
Nodding, the young girl left without another word, heading toward their home in the center of the village. There wasn't much to do there at home. She cooked dinner. Read some old books. Her father came home a little later on, and as he was eating, Castiel decided it was time for her to head to bed. And so, standing up, she walked over to her father and hugged him,
"Good night father. I'll see you in the morning before you leave?"
"If you are awake early enough, then yes."
Looking at his daughter, Drago, kissing her forward then absent mindedly waved her off, sending her to bed.
...
The next morning, Castiel was up very early(as she was every morning) and made sure she was there at the docks before even her father. She was always there to wish him goodbye. Ever since she was a little girl she would stand there, sometimes for hours, waiting for her father and the men to come and take their leave. She wasn't there for hours this time though. No, within just a half hour her father was there with his other men. The goodbyes between the father and daughter were quick, and then soon, they were all on the ship, preparing to sail.
As she stood there, watching them do this and waiting for the to set sail, so many things came to her mind. Where were they going? What were they going to do? Just what was it her father did when he went on trips like this? She frowned as she thought about all of these and figured she would probably never know the answers.
Or would she?
Just then, as she stood there, an idea(that was possibly crazy) formed in her head and she, without thinking it through, was quick to put it into action. Snaking along the edge of the deck, she slowly made her way, without getting the attention of the crew, to the stairs that would lead to below deck, and once there, she hunkered down and prepared for the long trip ahead.
And it was a long trip indeed. Two and a half days to get to where very they were heading. The food was stored down below deck as well, so at Castiel didn't go hungry in her time there. It was toward the end of the third day that she felt the ship come to a stop, and curious to see just where her father had stopped at, she slowly crawled over to the stairs. Slowly making her way up them, she was surprised at what she saw.
Snow. She had heard of it, but the place she lived was warmer and never got snow. Snow and ice covered everything and it was surprisingly beautiful.
The second thing she noticed though, was that all the people had already left the vessel and were storming toward what looked to be a village on the island. Her eyes widened and she rushed over to the side of the ship, watching everything unfold, As her father and the men approached the village, people come out as well, ready for battle and rode on the backs of...no....it couldn't be. Leaning forward further against the railing, she watched and couldn't believe what was she was seeing. Her father had always told hr and the others in the village that dragons couldn't be trained and that one had to be very strong to even control one. These people must have been very strong then because each one of them rode a dragon.
She watched on, so fixed on the fighting going on all around, that sh hadn't noticed one of the dragons land on the deck of the ship. This dragon must have been a spare because it had no rider on its back. It stepped closer and closer to her and it was only when the beast was a few feet away that she felt its presence and spun around, eyes full of fear as she tried to back away, only to stumble and tumble over the edge of the ship, straight into the freezing waters below.
It was a struggle to keep afloat. Most people in her village didn't even know how to swim, but because of her small size and graceful movement, she had been one of the few to actually learn. Even with her knowing how to swim though, it was still hard to keep herself from staying under. Every time she came up for air, she was thrown back under by the waves, being carried further and further along the coast and away from the ship, which by then was already retreating away from this icy island.
Just when she thought she might never get out of the water, a rather large wave smacked into her, causing her to tumble once again, only this time, onto the rocky shores. Coughing and gasping of breath, she lay there, her vision growing blurry and her head swirling. Soon she lay there unconscious on the rocky shores on Berk and was found by the men of Berk, being carried into the village as the attacks continued to proceed.
Last edited by a moderator: