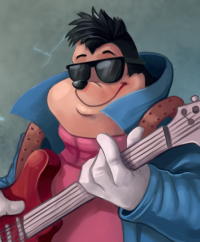 The Janitor Bear of Iwaku
Original poster
Invitation Status
Writing Levels

Give-No-Fucks
Adept
Adaptable
Preferred Character Gender

No Preferences
Genres

Horror, Modern, Modern Fantasy, Multiverse/Panfandom, Mystery, Paranormal, Scifi, Survival
Please see the group's
General Chat
/
RP Discussion
/
Discord Server
for OOC talk.
Please see the
wiki
for more info. Sign-ups can be found
here
.
---
Prologue
"Behind Closed Doors"
At a time indeterminate...
Blood dripped down on to the stairwell and loud footsteps slammed against the floor. A primal scream of anger rang out as Edmond Honda closed the door. He'd tried to put her to sleep by drugging her tea. It was supposed to work. But the girl...
Honda was bleeding out, badly. He could hear the witch coming. A door outside on the upper floor rattled and shook.
"Edmond! Come back here, you Judas!"
This was bad. This was really bad. Honda had feared for his life before, but never like this. Holding the doorknob tight, he ignored the blood seeping from the wound on his shoulder. How ironic that it was the old scar Jason Voorhees had left him, now open again.
His eyes darted around the room. There had to be something, anything, he could use. He couldn't hold this door much longer... huh? There! On the floor, glittering as if calling out to him, was a knife. It looked like a knife from the kitchen. Honda gulped. He really didn't want to... but Wanda needed help. If drugging her didn't work, he had no other choice.
Three... two... one... GO!
Honda made a dive for the knife. Dumb move.
"Gah!"
He rolled onto his back, clutching his shoulder in pain, the wound pausing him long enough for Wanda to burst through the door. Her skin was sickly pale and her eyes held so much darkness.
Wanda... what happened to you?!
She was on him. She would kill him, if he wasn't careful. He loved his friend dearly, but he had seen her kill someone else before, someone dear to them, someone she'd never kill otherwise.
"Wanda! Please! I just want to help-- AAAAUGH!!!!!"
Her hand dug into the wound, and he could only scream in agony. His senses were halted... but he couldn't afford that! His other hand felt the floor nearby, before landing on the knife.
"I'm sorry..."
he muttered, before stabbing Wanda in the arm, where he knew it wouldn't kill her. His goal was never to kill her, no; all Honda wanted to do was
save
her.
Reminded of his goal, Honda dropped the knife as he gained a surge of adrenaline, and grabbed Wanda by the arms, ignoring the pain in his shoulder. He could deal with that later. "
Wanda! Listen to me! This is for your own GOOD!"
On
good
, he threw her hard enough so that she went flying into the wall, before getting back onto his feet.
"You need help, Wanda! Let me help you, damn it!!"
The wall collapsed as Wanda slammed into it. As the dust saddled, Wanda slowly stood up, a large wooden spike sticking out of her neck. She looked like she was staring into nothing as she pulled the wooden object from her body. It was so quiet now, a needle could drop. Now wielding the shrapnel, Wanda teleported in front of the sumo
"I need help? We offered you a gift! I offered you a family! I showed you kindness, and this is all I get? Betrayal!?"
Surprising the sumo, Wanda lifted him up with one arm and slammed him into the wall behind him. She aimed the shrapnel toward his neck and was ready to kill him when, suddenly, she stopped. As Wanda fell to her knees, Honda could see that the color of her skin and of her eyes had turned back to their normal hue.
"Oh god, Edmond. She's in me. I tried to help her, and now... she's all over me."
Wanda shivered as she spoke each word. She reached up to cry into the man's arm. After a moment, Wanda looked up at him.
"I'm scared, Edmond. I'm so scared. You need to leave right now, please. You need to leave me."
"Wanda..."
Honda smiled at her.
"No way! I don't care how powerful she is, I'm not letting her take you! I lost you once Wanda, and no way will I lose you again!"
He extended a hand to help her get up.
"We need to get you to the Coalition, fast. I can let Noey know once we're out of here, and she can tell the others what's going on and get them out, too. But we need to get you away from here now-- away from her."
"Honda. You've always been good to me, but don't you get it? It's too late."
Suddenly, Wanda grabbed the Sumo, tossing him to the ground with ease, She grabbed the wooden spike once again and stood over Honda.
"I warned you."
Without hesitation, Wanda stabbed Honda over and over. Blood soon covered her from head to toe.
---
At a time in the present...
The invitation was scarce on details, but two things were clear: Wanda Maximoff was inviting you to a gathering, and she had a family for you to meet. The magic that transported you only activated upon your agreement to go, not taking into account whatever your reasons you had for agreeing to heed this strange invitation. A bright light enveloped you, and for the briefest moment, you felt like someone was pulling you. Your whole world went white, and you kept being pulled and pulled until--
You found yourself inside a spacious room that stretched on long enough to almost be considered a corridor. It seemed to be a well-lit waiting room of sorts, with lots of comfortable seating. Various other halls and rooms connected to here, but there didn't seem to be any way to orient oneself. There was no door that seemed to be the entrance to the building and no visible window to the outside.
What was most clear was that you were not alone. Others were arriving via flashes of light, much like you had. There didn't appear to be anything obvious about them that connected them to each other.
One of the guests looks around at the others before letting out a heavy sigh.
"I already don't like how this is looking,"
he said quietly. He looked boyish, about nineteen or twenty years old, as did the boy next to him.
"Billy? Ugh. Why am I stuck with you for everything nowadays?"
he groaned, running a hand through his silver hair.
The other boy crossed his arms.
"I'm surprised you even came, Tommy."
"Yeah, well..."
Tommy craned his head to take in the other guests.
"When kind-of-sort-of-mom starts acting all weird, I figure I'm sort of obligated."
"..."
Meanwhile, another guest, Kyoko Kirigiri, leader of the private organization known as the Coalition in the wake of its civil war, stayed reticent, not engaging with anyone for the moment. Rather, she stuck to her own private thoughts, only taking the briefest moment to examine the others around, recognizing some, and having no idea on who others were. This whole situation was strange, yet admittedly fascinating. Despite her responsibilities as the leader, Kyoko managed to find a way to take time off to visit the place Wanda had invited to, mostly involving placing her "dear" old friend Byakuya Togami in charge in her absence, considering she didn't trust anyone else to handle the responsibility. Besides, Byakuya was literally born a progeny. Organization management was practically his specialty. Even then, however, Kyoko would have sooner suggested Makoto, but he had mysteriously come out of contact in recent days.
... Come to think of it, Wanda had also been difficult to contact lately. Her invitation had come out of the blue, and issued so casually, as though nothing wrong had ever happened. The statement about her "family" mystified Kyoko; the Scarlet Witch had always been somewhat private when it came to talking about her family in the brief time Kyoko had known her, but it seemed like a sore subject that did not need to be pried into, so the Ultimate Detective refrained.
So here she was now, attending the event more out of curiosity for what could be going on with Wanda than anything else. Maybe if she was lucky, she'd also meet Makoto there too, and ask him just what the heck was going on. Granted, communication between the two had become strained ever since the Coalition Civil War, but... It was just something the two of them were in the process of working through.
Near Kyoko was another woman, dressed to the nines. She looked around worriedly for a moment before taking a deep breath.
"Leader Kyoko..."
Her name was Josephine Montilyet and she had joined the Coalition after gaining her memories of a strange experience in a location known only as the Dark Place. She held no attachment to Wanda, but as an ambassador for the Coalition and her home world's Inquisition, Josephine figured it was about time she attended formal excursions such as these.
Sighing, Josephine sat down on one of the chairs and looked at the Coalition leader.
"Do you have a bad feeling about this? I must admit, this house, a lovely as it... it's, how do you say? Off."
After Josephine spoke, a blur rushed by her and toward the boys. A gust of air whirled by as he stopped.
"My sister, your mother-- what foolishness has she gotten herself into now?"
Turning to the two women from the Coalition, he added,
"hmph. What has she gotten all of us into?"
Tommy groaned.
"Great, the kind-of-sort-of-uncle is here too. Family reunion?"
"... Yes. I feel the same way, Josephine,"
Kyoko said, putting a finger to her chin and giving a nod. So she wasn't the only one with suspicions. It didn't take a detective to know that there was something off about this whole situation, but Kyoko struggled to find a definite reason. Wanda had yet to show up, the lady herself being the most mysterious thing about this. Were she and Makoto in on something even the leader of the Coalition was out of the loop on? She didn't like it one bit.
She nodded towards Pietro, Wanda's brother, also known as Quicksilver. Indeed, it was like a classic, old dark house set-up, like the old film or the famous Agatha Christie novel. Everyone gathered to a mysterious home, wondering just what was going on. The only thing missing from the intrigue was... An extra, macabre detail that she wouldn't even entertain the thought of. There'd been too much of that in Kyoko's life already as it was. She could go another lifetime without any more of
that
of course.
"Your guess is as good as mine. Until we see Wanda, there's really no telling why she gathered us all here. I assume she didn't mean you, Billy, and Tommy when she asked to meet her... family."
Billy shook his head.
"I don't think so. I assume you received an invitation?"
Billy paused as Kyoko nodded her assent.
"Right, well, mine said she wanted me to meet her family. I didn't really get it, so that's why I had to come. She can't possibly mean for all these people to meet me or Tommy..."
He looked around at the others gathered, recognizing a few familiar faces. It was obvious what a few of them were doing here, but there had to be a connection between them all, right?
"Hey, uh..."
Billy cleared his throat before raising his voice in hopes of getting the attention of everyone in the waiting room.
"I have to ask, did everyone here receive an invitation? Or at least, know someone who did? You all must know the Scarlet Witch, right?"
Continued here.
Chapter One - Mid-Chapter Update
​
Last edited: