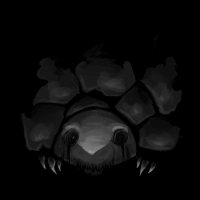 The Monster Under Your Bed
Original poster
Invitation Status
Posting Speed

1-3 posts per week
One post per week
Slow As Molasses
Writing Levels

Intermediate
Adept
Advanced
Prestige
Douche
Adaptable
Preferred Character Gender

Male
Female
Primarily Prefer Female
Genres

Fantasy, Magical, Romance, Dystopian, Religious, Post-Apocalyptic, Zombies (but the plot has to consist of more than just mindlessly murdering the undead), Steampunk

The din of the crowd roared in his ears. A couple of burly Crebs had decided to cause a ruckus, but it was to be expected. Lorkpar's often attracted the rougher crowds, after all. Mel rolled his head back and forth, stretching out some of the tension and waved for another refill. He'd lost track of how long he'd been there, a few hours at least...
"You sure you're up for another?" Lorkpar raised what should have been an eyebrow, but on his smooth browless, jade green face it was a second row of lashes.
"
I don't pay you to judge my choices, man. Just keep 'em comin'.
" Mel's voice was gruff, low, and deep, but the smile that pulled up the corners of his mouth reached all the way to his eyes. There wasn't many creatures in the universe he'd consider his friend, but Lorkpar was definitely one of them.
A crash sounded from the back of the room and Lorkpar growled, setting the bottle in front of Mel and grabbing a shock stick from underneath the bar. "Help yourself," he grumbled as he went to take care of the problem.
With a shrug, Mel grabbed the bottle and filled the glass, ignoring the bar owner's usual two-finger rule. As he set the bottle back on the bar he was suddenly aware of another patron sitting way to close for his comfort. Raising an eyebrow and swiveling in his seat, his jaw dropped. Ex-wife number two had cozied right on up to him.
"
You know,
" he said, taking a sip of his drink. "
One of the reasons I stick to places like this is so I don't chance running into the likes of you.
"
Mel scoffed and turned away from the unwanted visitor, rolling his eyes and swiveling his stool around before staggering off to a booth a little ways away.
@firejay1