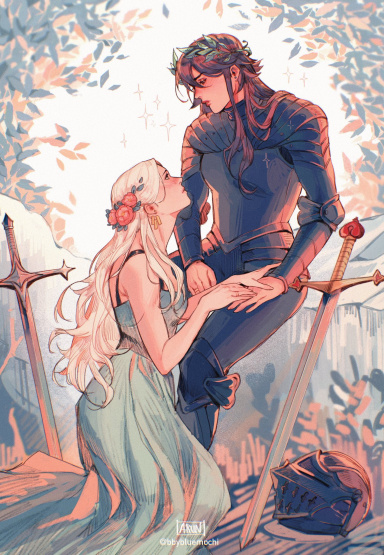 Just some gal who's a necromancer
Original poster
FOLKLORE MEMBER
Genres

Fantasy Romance, Scifi
Years had passed since the Earth had been abandoned. But the tenacious Humanity lived on and the Angelic race that took them into their care had placed a floating landmass in the sky. It was massive, and many had made a comfortable life there. However there were many who wished to one day return the the home they left behind. That dream resides in the generation that came far after those who originally lived on earth. In an academy in the center of the landmass suspended in the sky, Horizon, stands a mob student bustling and making a racket. It was now that first years would enter the academy, and veteran students stood beside them. At first glance they seemed to be human, but after a moment one would notice feathery wings on many of the students. From a stage set up in front of the Main building a voice rang out. An elegant and handsome man with big feathery wings began his address to the students.
"Welcome all my wonderful students, new and old to Horizon Academy. As you all know by now, this schools very existence is to eliminate the blight that plagues humanity. I am Head of House Aether, Samuel, and this Head of House Gaia,"
The Angel gestured to the man behind him. The man was scarred and his left arm had been replaced with a mechanical arm, with a gatling actually built in. He stood up from his seat and stepped forward
"Lukas Goodwin."
"Before I continue, Lukas has a few words that must first be said"
Pleasure. Now, instead of going on some long tangent about trying our best and doing what we can, lets get to the important stuff. As of today, we are all a part of one mission, to take back what was once ours. However, you are all just kids still. Your safety is our top priority. I may be the best damn hunter in this school, but I don't have many more years on me. We lose you, then we loose the Earth, and the entire Human race. I'd rather keep casualties to a minimum, but know that there WILL be deaths. I have seen friends and students fall before me. It is not for the faint of heart. Now, those who are beginning to question whether or not you want to risk your life for the good of humanity, you may leave now. You will not be punished. You will not be disgraced. Any who ridicule those who do leave..."
He paused and looked out toward the crowd. At once. The entire group fell silent. The atmosphere seemed to intensify and the air grew colder.
"Will receive a very severe punishment."
A group of students hesitantly walked out of the gates and back to the town. It was nothing new.
"Thank you Lukas. Now I shall go over the rules of our school, real quick, and then you will all be assigned to your dorms"
The Angel spoke for several minutes going over the rules and other important topics.
"Thank you all for listening. In the upcoming week, all first years will be taken with our staff members to help develop your skills. Any member of House Gaia will be required to obtain their first demon before they can partake in any missions."
Samuel finished up his speech and the students were allowed to explore the campus for the remainder of the day.​
~~~~~~~~~~~~~~~~Six Months Later~~~~~~~~~~~~~~~~
For the first year students, the first semester was mostly about training and learning about common demons. However, for the returning students, it was time to get their feet on the ground, and fight demons on Earth. It was the end of classes for the day, and so students were allowed their free time. Unless they had remedial lessons or of the like of course.
​