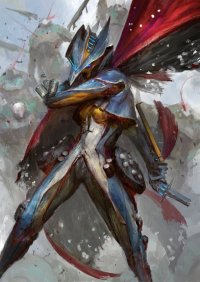 Cursed to Kuva Siphons
Original poster
Invitation Status

, ,
Posting Speed

Multiple posts per day, 1-3 posts per day
Online Availability

Afternoons after 4 to about 11-2 on weekdays,
Writing Levels

Give-No-Fucks, Intermediate, Adept, Adaptable
Preferred Character Gender

No Preferences
[BCOLOR=transparent]
Hiya, I'm just a high school student looking for more writing experiences, I hope we could write together in the future! Just a bit about me, I love sci-fi and fantasy, mostly modern day or futuristic. Not entirely a big fan of older times. If I had more time I would dedicate to watching more anime, but I don't like to just sit down and watch for hours on end. I prefer a bit of excitement in life, which is why I love writing as much as I do.
[/BCOLOR]
[BCOLOR=transparent]
Well, let's get straight to my personal preferences, shall we?
[/BCOLOR]
I'm on a lot of the time, in procrastinating mostly, but I do tab into here quite a bit when I'm at school. I can usually reply a few times a day, if not I'll always get in at least one.
I have a social life to myself, I can perfectly understand if you're busy for a few days. I somewhat would prefer a little bit of a warning first, if possible of course.
If I am doing something you don't like, or if I haven't replied in a few days, tell me! I'm absolutely open to communication, I hope you would be too.
Speaking of communication, I have a Skype if you would like to discuss things through there.
I would like to bounce ideas back and forth, none of my ideas are fully fleshed out.
I highly prefer to RP through messages here, though if you wish I'll use the threads.
If I suddenly drop communication, odds are I either forgot or am busy, again, feel free to shoot me a reminder or whatnot.
I'll add more if I think of them, as of right now that would be all I've got.
[BCOLOR=transparent]
I've got a few characters I kinda would like to use, if you have any plots you think they could fit that would be great! I know the base idea is a bit vague, but that's really the point. Each of these characters are flexible, can easily be tweaked. I somewhat have a few for them but I'd love to hear what you have! If you have any plot ideas in mind, feel free to tell me.
[/BCOLOR]
[BCOLOR=transparent]
DX-213 - An android gamer girl from the future
[/BCOLOR]
[BCOLOR=transparent]
Agent New Jersey - Hired gun from the remnants from an old experimental weapons project, now trying to get money off of his/her skills.
[/BCOLOR]
[BCOLOR=transparent]
(Note - If anyone is familiar with the RvB GFH AU, I've got something similar to that)
[/BCOLOR]
[BCOLOR=transparent]
Psi - Just a hologram AI traveling around.
[/BCOLOR]
[BCOLOR=transparent]
As for the plot ideas I have, I'll add a few of them when I get some more time, although I have a few and I think I can whip up some ideas depending on what you're interested in. I've got a few mind mind if you would like to ask though. Hope we can RP in the future!
[/BCOLOR]
[BCOLOR=transparent]
[/BCOLOR]
[BCOLOR=transparent]
Pardon the formatting issues, I've been having trouble with it for a while. If you have any suggestions or anything, hit me up with a message!
[/BCOLOR]