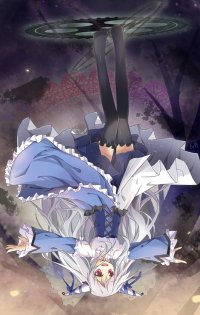 The Slightly Villainous One
Original poster
Invitation Status
Posting Speed

1-3 posts per day
Writing Levels

Intermediate
Adept
Preferred Character Gender

Female
Genres

Fantasy, Modern Fantasy
Last time, on HisaKou: *cue dramatic music*
https://www.iwakuroleplay.com/threads/hisakawa-koukou-the-anime-high-school.115551/
The welcome ceremony for all new first years... PASSED WITHOUT A HITCH!
The students settled into their dorms...
Now, the students have begun their lunch period. What will happen next? Find out... NOW!
[fieldbox=Akuma Ayaka, Turquoise, solid]


[April 2nd, 20XX - 12:10 PM - Cafeteria]

It was quiet. Too quiet. What were all the students doing? They were standing, but somehow, not talking.

Could this be, a Fuzetsu!? No, if it was a fuzetsu, they wouldn't be moving. Perhaps, this is some kind of silencing spell?

Of course, in reality, they were simply staring at the short girl who was walking down the corridor wearing a pair of cat ears and holding herself in a posture that suggested she was far superior to the other students.

And so, Ayaka found herself in the cafeteria.

"So, this is where the humans sate their appetites. Then, I shall test the exquisiteness of their cuisine!"

She spoke probably a bit too loudly, as she joined whichever queue was shortest, not bothering to check what that line was selling.
[/fieldbox]
Last edited: