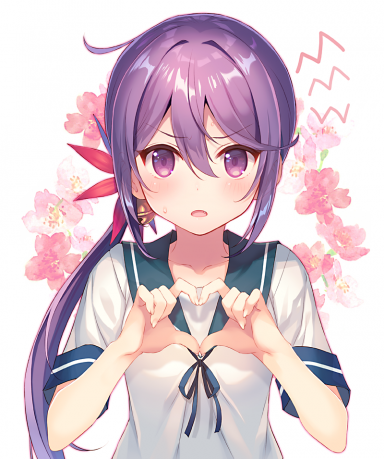 Literal No One
Original poster
"What Would You Do With the Things That Your Life Has Granted You?"
Hisakawa Koukou - The Third
My High School Life is Despairingly Governed by the Cruelly Impartial RNG
Sign Up Thread
is done and in existence!
Hello everyone. Ehb, here!
This thread discusses the second Hisakawa Koukou (HK) RP Remake. The previous GM has gone quiet. Therefore, to be able to take advantage of the new forum features for threads and keep the intro post updated, I've taken the helm of GMing this one. This also gives us a chance to try out RP ideas that can spice up what would otherwise be a straightforward Japanese School RP.
@ERode
Fujiyama Haruka (Female)
with 40 +
36
= 76 Stat Points
@Katsumi Y.
Katsumi Yukimura (Female)
with 40 +
24
= 64 Total Stat Points
@Ehb
Nozomi Yuri (Female)
with 40 +
60
= 100 Total Stat Points
(Out of sheer luck this is happens to be the maximum possible)
@Lady Sandra
Hilda Narina (Female)
with 40 +
47
= 87 Total Stat Points
@Cookie And Cream~
Johann Harisson (Male)
with 40 +
21
= 61 Total Stat Points
@Zombehs
Yoritaka Marcus (Male)
with 40 +
30
= 70 Total Stat Points
@Rithas
Kane Leo (Male)
with 40 +
34
= 74 Total Stat Points
@Shattered♦Secrets™
Hamasaki Toshi (Male)
with 40 +
55
= 95 Total Stat Points
@growl
Shimazu Aoi (Male)
with 40 +
37
= 77 Total Stat Points
The appealing new features up for discussion are as follows:
1) Randomized Character Relations
The previous iterations of HK had characters write out their relationships with one another. In this RP, your character's relation with every other character is decided whole by Random Number Generator (RNG) on my end when you state your intent to create a character. In a two step process.
Step 1
-
Opinion
: Which is between
Positive
, or
Negative.
Step 2
-
Relation:
This further defines what your relation with that other character is. For positive, you could be lovers, or siblings on good terms. For Negative, you could be a couple who broke up, or two people who've hated each other since Primary School.
By this format, everyone has an opinion of one another.
I do need help with this one! I could use some suggestions for what to add to the relation pool that characters' relations will be drawn
from.
What Adding this Means to the RP
Randomized Character Relations makes it so that everyone knows everyone to an extent. Conflict in the RP is generated through 'incidents' where relationships between characters are challenged. It can be negative, such as someone's significant other falls in love with someone else, or positive, such as one character wanting to reconcile with another character. The 'chapters' of the RP are divided and driven by seeing these challenges to the end.
The 'introduction' step that is normally in any RP is skipped entirely. Instead, you are challenged to act out the way your character is supposed be related to the other characters from the start, and we're jumping straight into the story from the get-go!
This also leads to the introduction of the Minor/Major Character label. What it translates to is "I'm just in it for the ride, too busy to be central to the story" / "Oooh! Ehb, MAKE ME INTO THE DRAMA!!!" You can switch your classification, even if you leave in the middle of your own incident. The incident is simply put on hold like a cliffhanger until it can be revisited.
Though your character's relations are given a one or two word trope. It is between you two to come up with the details once the IC starts. Such as, two lover character's can revisit how they got together somewhere or something.
2) Adding the 'Violent' option. Virtu-Ava
Drawing from a certain show, this adds a battle element to the RP. I wouldn't call it something that makes the RP into something more combat based, rather.... lets just explain it!
The school possesses a system that allows students to do battle with one another with stats decided by their grades. When a battle is initiated, the 'initiator' 'throws a die' which decides which subject each character's power will be based on. After that, it's very straightforward. The victor is just the one with the highest 'grade' for that subject in the battle. The first 'response' from the person attacked is either them being defeated, or them countering and winning. The defeated isn't physically harmed, but they will be exhausted. This allows you to use a Virtu-Ava challenge to stop someone from running away, or to resolve differences aggressively without having to resort to attempting murder.
RNG makes an appearance here as well. Your character sheet will have a 'grades' set of stats for all the general classes. You will be given enough 'points' to make all of your grades below average (D). An extra dice roll decides how many extra points you can apply. This is indeed very cruel, but you only get ONE and only ONE shot for this roll. Though I might give you a second chance if you end up with something pitiful.
What Adding this Means to the RP
A whole pool of shenanigans can come about from a school that has a virtual reality environment. Stuff like the school system getting hacked or an incident where everyone's avatars are forced to go into swimsuit mode for a whole day become options.
Your character can also have their 'real' appearance, and a more RPG esque 'Virtu-ava' appearance. Which can be as outlandish and different from their 'real' appearance as you wish.
You can go all out with how detailed you make your attacks. Which makes it hilarious when the opposing side wins just by cutting in your direction. (imagine the system allows for players to customize how their attacks look, but at it's heart plays like a really archaic turn based system). The default attack for anyone who doesn't detail their attacks is a karate chop.
Engaging in an Virtu-Ava battle should have the same dramatic effect as fighting someone, but not lead to hospital stays.
Yes, there will be an extra implement to keep people from from purposely abusing this or going around and trying to knock everyone out.
Additionally, a Virtu-Avatar lore section would be made. Listing out useful things such as 'bugs' which you can gamble on exploiting in the story, as well as set the field for some odd mishaps that can sometimes befall the system on some days.
3) What does all of this mean for characters/players from the old RP?
I really want to do the relation randomizer to make adding new players easier. But, there will also be an additional set of things that will happen. For people returning to the RP, please look at these in detail and comment for ones that you feel strongly about.
Character Cap - Each player aside from GM and Co-Gm's will be limited to 1, preventing people ganging up in Virtu-Ava battles, and to facilitate people actually interacting. This will mean that, for people with multiple character's in the previous RP, they will have to pick only one to bring back in, or ask to be a co-gm.
Grandfathering Policy - I do not intend to grandfather returning characters' relations in. If you do want to keep it, then you will have to go about manually converting the relations to the new format.
Class Rearrangement - Characters will be focused into the second year class, so no one is off alone in another class. Ideally they will also be in the same class. Unless a large cast size calls for division.
Teacher's GM Only - This will be done to focus things on happenings between the students.
Unlimited Clubs De-emphasis - For the purposes of keeping things tight knit, characters in the story will be a a part of a single club they have to manditorily be a part of. The 'Social Morals Club' makes students go out and do things in school and out in town to prevent them from becoming NEETS. They can be part of other clubs, but that will only be a minor detail now.
The 'start time' of the RP in universe will be at the school culture festival. Or maybe a school trip to the beach. Considering you've read this you can know give an opinion! The 'school calendar' from the old RP will also be used.
Keep in mind that everything presented here is up for discussion. Please bear in mind that all of these decisions have been made based on what I've seen happen in the previous RPs. So at least please give everything a read-through before protesting at the very least. Thank you!
Conclusion:
All in all. This RP is formatted and intended to be like a cooperative light novel. Everyone is encouraged to follow the overall theme indicated by the title when making their character. That is, people overcoming the negative givens of their life and relationships with one another that the RNG called 'Fate' has given them. The RP challenges you to create a character who is likely to express themselves in a myriad of ways to a myriad of other characters, in a world were your actions towards one character isn't necessarily just a closed box, but rather in an environment where everyone is connected.
If you feel like some minor details are missing then feel free to ask. It's likely I might've overlooked it or purposely held it back so people with interest can have something to ask.
Help Me! - Interest Thread Objectives
This is why I started the thread. Feel free to look at this if you're interested and want to get involved beyond posting a character when the OOC goes up.
(!) At the least set the stage for the new HK OOC thread.
(!) Get at least 5 People on Board before posting Sign Up Thread
(!) Get Additional 'Relationship Tropes' for the pool. See the red text in Randomized Relationships.
(!) Figure Out whether to do:

Randomized Relations
Virtu-Avas

Hear other people's opinions in case I might be writing myself into a train-wreck.
START TIME WHEN!?
I'm generally waiting for people from the previous thread to respond here. Discussions will probably keep going for up to a week after this thread is posted. Giving me enough time to figure out how to make a new thread, and for this discussion to... uh, finish discussing ~❤ !
Format: Group RP
RP Type: Modern, Japanese High School/Drama/Slice of Life/Near Future
Expected Post Rate: 1-2 Per Week or More
Character Limit: 1
Co-GMs?: Send Me a Message for Further Details
Sources Used:
Character Image - Original Characters By Pixiv User, Kauto
Last edited: