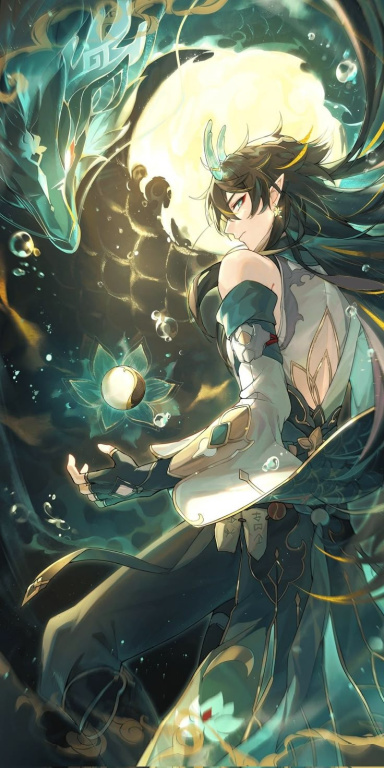 Roleplay Invitations

Group Roleplays, One on One Roleplays
Posting Speed

A Few Posts a Week, One Post a Week, Slow As Molasses
Writing Levels

Advanced, Prestige, Adaptable
Genders You Prefer Playing

Male, Female, No Preferences
Playing Style- Passive or Aggressive

Generally aggressive in my own roleplays and a partner's roleplays, however I will take a passive seat if the scene calls for it. In group setting, if not my own then I'm more passive.
Favorite Genres

Fantasy, Sci-fi, Modern, Magical Realism, Slice-of-life, AU, Post-apocalyptic, mythology, time travel, fandom, romance, slow burns. Well, basically anything except for what is stated in the "Don't Like" section
Genre You DON'T Like

Master/pet, emo, furry, horror, hentai, Sandbox rps. Just no.

Romance, to a certain extant. Additional note on the genre, I don't hate romance, I love it actually! BUT, if I am not feeling any chemistry between characters, I will not force myself into it.
[fieldbox="GM post, goldenrod, dashed, 10"]Throughout the rest of the day, everyone talked about the match between Mayra Ruiz and Eduardo Pierce. Much of the discussion was on the topic of who had the upper hand while others focused on their fighting technique. In particular, Mayra's powers were frequently mentioned, people examining the applications and usefulness in the battle, even ways to go against the girl. Il-Seong took part in the conversations, bragging about being in the same class as Mayra and describing the fight in his own words, often exaggerating the parts of the story for flair.
School ended for the day and Savino drove the students back to the dorms. The dorm cafeteria opened at four to serve dinner, offering a variety of meals to choose from. Students paid for their meals with the cashier scanning their IDs that pulled money from a small meal plan account each student was given. Students were also allowed the option to eat off campus. Any who chose to eat outside was reminded the curfew was at ten and they'd have to provide their own money to whatever store they visited.
Il-Seong managed to gather a small group in the cafeteria, once again relaying the match to those who would listen and using grandiose gestures with a little paper figure running across the table. Ilea was sitting a table away. She listened to the story, shaking her head yet laughing at the boy's story.
"And right before they were about to land the fatal blow, Ms. Markov jumps in like a ninja.
Bam!
Mayra was down.
Ksh!
And so was Eduardo. She called the fight a draw, but it wasn't over yet. Number 8 wanted to keep going—" the paper figure imitated a person getting up off his knees. "But then Ms. Markov sucker punched him in the head and did some cool trick where she flipped him over and made him land on his face." The paper figure then fell face first and stopped moving.
Philomela, who had joined the crowd, shook her head. "She didn't punch him in the head, but she did land a hit to stop Eduardo before he could do anything else."
"Whatever. It was like an epic—"
The televisions in the room interrupted Il-Seong, the local news station playing their theme song in an urgent tone. Many students turned their attention to any nearby television set as the words
"BREAKING NEWS"
flashed on screen. The screen then cut to a news anchor with blond hair sitting at a news desk with her palms clasped together.
"Good evening everyone. I am Lois Vale with Breaking News.
"Blackwater Penitentiary, a maximum-security level prison and one of the world's highest-rated prisons for holding notorious villains, was attacked today in what appears to be a bombing." The TV then showed a video of a smoking building in the mountainside. Occasionally, something would move in the air from one location to another in the prison; either an employee of Blackwater, or a hero who volunteered their services to assist. "The attack occurred earlier this afternoon, but in a strange twist, nobody was hurt, and no inmates are missing. Unfortunately, we were not able to approach the facility for further questioning, but a representative held a press conference in the Aurora City Capital Hall." The screen then changed from Lois to a video of a tall woman dressed in blood-red clothing. She stood in front of a podium and raised her hand, calling for silence from the gathered reporters.
"Good evening everyone. I am Tisiphone. At 11:43 am, Blackwater Penitentiary was under attack. All our guards reacted quickly and efficiently to quell the situation. Nobody was hurt, and all inmates are accounted for. As of this moment, we do not know who was responsible for the attack and what their purpose was. We are currently investigating the possibility of an internal breach or any signs of prohibited outside communications from the inmates. As a maximum-security prison, we frequently run drills in preparation for catastrophes like this. Everyone on board handled the situation well and kept both citizens and inmates safe. We will continue to monitor activity, but rest assured you are all safe from harm tonight."
The screen then switched back to Lois. On the bottom of the screen was a line for the stock market and other news headlines. Some of the titles that flashed by were "First day of school for HSSI students!" and "Merical Dream CORP stock points up by 32%."
"That was Tisiphone, one of the three wardens of Blackwater," said Lois. "As you may recall, Blackwater Penitentiary is the prison for a number of dangerous villains, like Jack Rust who was behind the tragedy of the San Francisco bridge two years ago." Next to Lois on screen was a picture of a man with dark hair, the most current picture of Jack Rust.

​
"It was that same incident where he was successfully stopped by the mysterious weapon Hydrangea. We will be following this story closely and will continue to provide updates. Lois Vale, Aurora City News, signing off."
Philomela pursed her lips. Ilea stood up and tossed her trash, leaving the cafeteria to go for a walk. Students started to resume business when the next episode of
Living in the Wild with Gryll Bears
started. "That's troubling," said Philomela. "Though I'm glad they were able to get the situation under control."
​
"Yeah," Il-Seong nodded. "Oh, someone in my family once helped take down a villain who was sent to Blackwater! My uncle lives in Seoul and was able to help Capella—the local team—take down the . . ."
"Here we go again," Philomela groaned as Il-Seong told his new story. [/fieldbox]