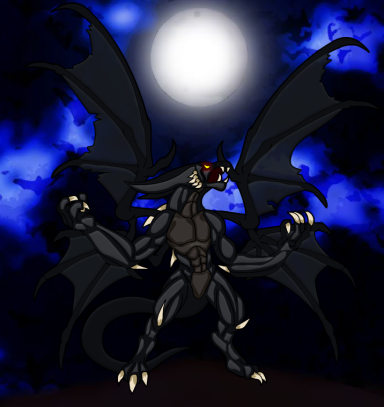 Alpha of the Dracopyra pack
Original poster
Invitation Status

Look for groups
Looking for partners
Posting Speed

Multiple posts per week
Writing Levels

Intermediate
Preferred Character Gender

Male
Genres

Fantasy, Sci-fi, Iskai
To
whom it may concern…
If you have found this letter, then I am gone, as is this once sacred world. You who have travelled far across this wondrous galaxy, this infinite realm space to come here, it is likely you will find a world far from your own, now likely dead. Once I was king of this world and its people, a race thought to be the kin of gods and monsters alike. We were as powerful and prosperous as we were prideful and arrogant, and like all who were like-minded in their self-imposed beliefs, our feelings of supremacy and indulgence paved the way to our self-destruction.

We were treated as gods, and like gods did we fall and fade. Our existence brought a great darkness to our lands, and our hubris invited its wrath.

As I write this, a great cataclysm unfolds upon the land, cursing our once great people to powerlessness and teaching us – for the first time – the inevitability of our extinction. I have naught now but a daughter to call my legacy. My kingdom is finished, my people are doomed, my world has ended.

But I will not be idle and accept my fate without resistance. I will banish this cataclysm from this universe, even if I must drag it out myself. My kingdom will rise again, but not by my own hands.

But by yours.

You who journeyed to this world for reasons I cannot possibly fathom, the great darkness that brought about our end stole our precious treasure, gems imbued with our power. You may use them as however you wish, but should your desires be vast, find them all and return them to this place. Do this, and your wish, however impossible it may seem, shall be granted onto you, and you shall rule this land once closest to the gods in my stead.

And to my daughter, if you be the one who lived to find this, to you, I deeply implore, for these stones and this world, are your birthright.

Signed,
King of the Forgotten.
It has been 5 years since Mike formed his elite group of mercenaries, a group of powerful people from all walks of life. Though it's unknown how Mike gained such a powerful group of individuals to help him in his quests, no one can deny the respect he holds.

Our story began one peaceful morning on a space station known as Blue Garden, where Mike had brought one of his squad mates to help one of his kids who had gotten sick. "Sorry about imposing this on you during your short leave, Alice, but no one else was available during this time." Mike said to her, clearly apologetic about it.

With a big yawn, the rather drowsy Alice walked over to them from the ship, her glasses, and white lab coat uneven and clearly a little too big for her as the sleeves were larger than her arms, while oddly enough carrying a guitar case on her back. She looked as though she just woke up from a day or two of hibernation. Still, she looked at them with as much of a smile as she could muster, her eyes barely opened.
"Oh no, don't worry about it, chief. I'm…always happy to help."
She said, making a big yawn during her pause. Spending days performing research medical practice and how to apply her magic to the mix has tired her out. They were supposed to all have a day off today… But a doctor's work is never done.

Mike would notice his wife, who had been seated next to her child's bed up until now, rising to her feet after she had been comforting the young boy by gently brushing through his hair. 'Come now, Mike, I'm sure Alice doesn't mind.' Nari stated gently, walking over to her husband and lightly gripping his hand in hers. The woman still resembled her younger self, when she and Mike had first met, although she had grown to be more mature and graceful over the years. 'I told you Fenor would be fine, didn't I? He takes after his father, after all.' she smiled softly, placing a small kiss on his cheek as her many tails brushed along his hip. One of her ears flicked and turned to the side, and her attention was drawn away for a moment before she turned back to the man standing beside her. 'I think Sael is throwing a tantrum again, could you go take a look, dear? I know Navir doesn't mind her raging about, but I'd hate for her to be rude.' she stated, a slightly perturbed look on her face.

Alice walked into the room in question, seeing the little boy looking utterly miserable in the bed. He wasn't moving much, but he was breathing a little heavy, and showing an expression that suggested pain. Grabbing a plastic bottle of apparently coffee she had in a pocket of her guitar case, she immediately drank some to wake her up and walked over to him.
"Hey, little guy… I'll be your lil doc for the evening, so let's see what's wrong with ya."
Mike blushed softly as she kissed him and felt a tingle go through his body as her many tails brushed him. It was a calming technique as Mike took a deep breath before he smiled and said "Such a temper that one, wonder where she got that from. Certainly not me."
"Oi, Romeo and Juliet, you wanna flirt about, I'm sure there's a balcony somewhere for it, time for Hamlet to have his monologue."
She said outright to both her boss and his wife. Nothing wrong with flirting under normal circumstances, but it's not very classy to do it in front of their bedridden son. Besides, the fewer people in the room for confidentiality reasons, the better.

He winked at Nari before chuckling softly as he walked out to the training ground in their garden. Mike designed and made this when Nari first became pregnant, knowing how powerful their kids could become, especially if one gained both the abilities of a werewolf and a kitsune.

Though he did think that would be quite an impressive feat, his ears twitched before he approached Sael and Navir. "Why can I hear my beautiful daughter having a tantrum? What is Navir doing? Hmm." He said in his strict father tone, he loved all his children dearly but can be very serious with them as well.

Putting on some gloves, Alice began observing the body to see where it ached, noticing several oddities throughout the body. Elongated arms and legs slowly rescinding, enlarged canines in the mouth, nails on the toes and feet shrinking and reforming slowly from a claw-like hook shape, and most notable of all those black dog-like ears on top of his head. She had an idea of what was going on, but she had to make sure.
"You wanna see something cool?"
She asked. Without waiting for an answer, she unzipped the case on her back to bring out a rather stylish – if not 'edgy' – electric guitar, and positioned herself to play it. Rather contrary to the appearance of the guitar, She played an uncharacteristically soft melody. With every reverberation of the strings, sparkles of light burst outwards, darkening the room until the area around Alice and the boy looked like a beautiful part of the cosmos itself.

The sparkles then coalesced into the blue colony they were on, and the moon nearby, its shadow creeping slowly to consume its entire surface.
"Looks like there was a full moon a couple of days ago. Hmm…"
She then grabbed a thermometer from a pocket of her lab coat and stuck it in the boy's mouth, noting a high fever. She stayed silent for a bit, before then grabbing a small glass vial and a syringe.
"This might hurt a little, but I guarantee it'll be worth it, so just hang in there for a bit."
She said, sucking up the vial's content into the syringe and the syringe into the arm, pushing in whatever was in the vial into his bloodstream.
"You're doing great, kiddo. Now the next couple of days are gonna still be tough, but that should make things a little easier on you. Just keep resting here for a while, don't get up unless you need to, K?"
She said, giving a kind smile to him.
"Oh! Before I go, wanna see another cool trick?"
She asked the boy. Again without waiting for an answer, she counted from three with her hand, snapped her fingers, then closed her hand into a fist, opened it again, and as if out of nowhere, a bottle of pills appeared.
"I'll be sure to show you more tricks next time, so be a good boy and rest until then."
She said to him, patting him on the head. She then turned around and tossed the pill bottle towards Nari.
"If he seems to get any worse, pop him some of those, but only if it's getting worse. Any earlier and it might make things worse instead instructions of when to take them's on the bottle, nothing else I can do right now."
She said to her before walking off to catch up with her captain.

Nari, who had kept watch over her little one while Alice worked on him, nodded as she caught the bottle of pills she was thrown. 'Will do, thanks for the help, Alice.' she stated with a smile, returning to the kitchen as the doctor stepped out.

Upon stepping outside, Mike would be greeted by an oddly familiar sight; a young, white haired kitsune child with a wooden staff in her tiny hands, furiously swiping at a woman in a regal looking, black dress. Navir was dodging the uncontrolled swipes with an expressionless face, hands linked behind her back as she jumped around gracefully. Sael was nearly reduced to tears in her rage, angrily stomping around as she pursued her opponent, but clearly not getting anywhere. When Mike's voice reached them, the young girl froze for a moment, only to drop the staff and trot over to him with tears streaming down her face. 'Dadddyyy!' she cried out, jumping into his chest, burying her face into his shirt.

Navir silently approached the two as Sael was blubbering into her father's stomach, sobbing uncontrollably. She waited a moment as the girl calmed down slightly, sucking in breaths of air between sobs as she attempted to speak. 'N-Navir. Keeps. Dodging. Me.' she managed to exclaim between cries, only for the reaper to sigh slightly as she crossed her arms in front of her.
'I am attempting to teach your child the importance of anticipating your enemies movements. Unfortunately, her emotions get the better of her.'

'THEY DO NOT!' Sael roared angrily, turning around furiously with tears in her blazing eyes. Navir didn't even flinch, only cocking her head to the side and rolling her eyes ever so slightly. 'As much as I could educate you on the fluctuations of your soul right now, I will refrain from doing so. If you find me so mean for not accepting your hit, I will indulge you.' she stated, flicking her hand towards the fallen staff. It was lifted off the ground and drawn into her hand by magic, before she handed it back to the sulking child. 'I will allow you to hit me once, come then.' she stated, taking a step back with her arms still crossed.

Sael seemed to hesitate, but after a moment her eyes gleamed mischievously as she accepted the staff, a cocky smirk appearing on her face. Her father was unceremoniously pushed aside with her tiny arms, before she got into a stance and lifted the staff high above her head. 'Take this, Navir!' she yelled excitedly, before swinging the piece of wood down hard. Being a child of a kitsune and a bloodwolf, Sael had an innate, unnatural strength to her. Without direction, her power could be very destructive, hence their training. Unfortunately, she was in for a rude awakening.

When the hit landed, a gust of wind erupted from the force of the strike and caused a cloud of dust to explode around them, covering the field and blocking the two of them from sight. A sound could be heard, the clattering of wood on stone, and when the dust settled, Sael's excited face faded into surprise. Navir had not avoided the strike, as promised, but had lifted a single finger to block the staff when it came down. The weapon was split in half, the bottom half resting against her outstretched finger, with the middle part in splinters around them on the ground. A small bit of the top part had remained intact and had fallen to the ground as well.

Sael's mouth was agape for a moment, before her eyes shined with adoration, and she erupted into a stream of excited blabbering, until Navir silenced her with the raising of her hand. 'Do you understand why hitting me makes no difference now?' she asked softly, crouching down to the young girl's level. 'If a mouse attacks a lion, the lion would not care, yes? Our difference in strength is too great for your attacks to mean anything.' she explained calmly. 'But, if you can anticipate where I am, your attacks can reach me. If you can anticipate where I'm going to be, you can predict where my attacks will be as well. Even a mouse can escape a lion, remember that.' she stated. Sael's eyes went wide, before she excitedly nodded, only to forcefully throw herself into Navir's arms for a hug, causing the reaper to look rather sheepish for the first time since they got here. 'Thank you Aunty Navir!' the child exclaimed, causing Navir to sigh softly. 'I'm not your aunt, now run along and go see if your mother made lunch yet.' she stated bluntly, yet not unkind.
'Alright Aunty!' Sael laughed, seemingly disregarding Navir's words entirely, before running off towards her house.

Navir rose to her feet, brushing the dust off her dress, before making her way over to Mike, back to her stoic expression. 'You have three of these running around? You must have your hands full.' she commented absentmindedly as she looked at the house in the distance. After a moment, she turned to Mike, seemingly having cleared her mind. 'We should get going soon, we have a meeting scheduled at twelve.'
"Ah, there you guys are!"
Alice said, running towards the Captain and first-mate, before stopping in front of them.
"Finished on my end. … Your kid, Chief, has had a severe case…of bad luck. There was a full moon a couple nights ago. … Your kid's got Post-Lycanthropic Shock. Body transforms for the first time, its human state doesn't know what's going on and can't really prepare for it, so the insides get rocked. The body goes back to normal and the insides basically have to take a while to reboot like a computer. To make matters more complicated, your kid caught a cold during his nightly travels while the immune system was still down from his transformation, which exasperated everything else. Gave him a dose of Antiviral medication, but it's possible his immune system might overreact on account of getting a cold while it was rebooting. So just in case, your wife has a bottle of immunosuppressants on standby. He's gonna feel like hell for a little while, but he'll be fine."
She explained to him.

Mike sighed in relief at that; "Maybe Nari's right and I did overreact. Glad to hear it's just a cold, it's been a long time since I've had to deal with the lycanthropic shock. I forget how much it affects the body and systems" Mike said, clearly thinking back to his own experiences, before saying "Alright I'll inform Nari. Then we can head to the ship, shore leave is ending early as something massive has just happened. Did you hear the broadcasted message from this King of the unknown? Those gems he mentioned, I'm pretty sure I know their origin and if that's true, we need to get moving ASAP
before everything hits the shitter"

Mike then took the chance to say goodbye to his family, promising Nari he would come back home safely, before heading to the ship to await everyone else return.
Last edited: