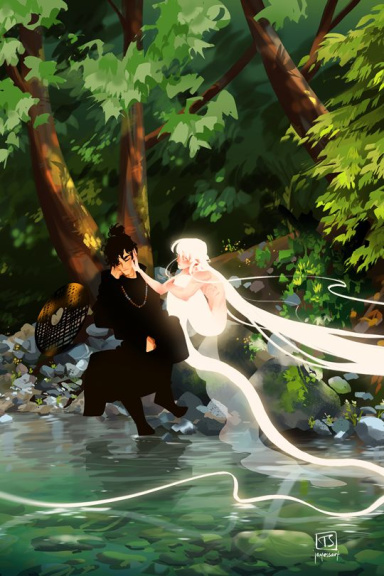 Chaotic Lawful
Original poster
SECURITY LEAD
SECURITY DEPARTMENT
DONATING MEMBER
FOLKLORE MEMBER
Invitation Status

Not accepting invites at this time
Posting Speed

One post per week
Slow As Molasses
Writing Levels

Adaptable
Preferred Character Gender

No Preferences
Berko of the Iqinile
It was no surprise to find the pot empty. With his bowl equally void of food and so his stomach Berko could hear the snickers of the guards behind him, whispers mixing in with that low mocking murmur as they were exchanging crude snides amongst each other about the Iqinile newcomer.

"They need less food, very efficient." Berko heard someone say, as if he was a well-designed stove instead. It was one of the kinder whispers he had caught onto, the feeling of being unwanted thick in the air as Berko avoided the glares given to him.

"What's with the spots, even?" the question rose above the crowd, intentionally rising over the general volume of the murmurs exchanged as a sly eye was thrown into Berko's direction, still new and still friendless as he dropped the spoon back into the pot, his bowl still empty as he willed himself not to reach for his face, not wanting to give them the satisfaction that he had heard them and understood them and that he was conscious of the blooming spots in his face.

He felt the fool, agreeing to stay behind to polish the armour while the rest went ahead for lunch. Only now did Berko realise that the request to polish and oil his armour was only a pretension from the rest of the guards, meant to hold him back as the rest ate.

"Think his disease is contagious?" The question came, not directed at him, but at one of the guards that had been appointed to mentor him. A mentor that had soon abandoned him as Berko found himself alone and trying to figure out the patterns of the patrols on his own, unable to figure out who to talk to if his own mentor was unwilling to actually mentor.

"About to find out, he is glued to me," the guard had responded as Berko winced, knowing that he had indeed been loitering around his mentor in the hopes of observing how the job was done.

But a man was hungry and the day was long and not knowing any better now that there was no food Berko picked up the empty pot and his bowl and walked down to where he knew the kitchen to be, hoping that there might be some scraps left behind, or to find out that the cook had per accident gotten the amount wrong and gotten too few out.

"Hello?" His voice was uncertain, already discouraged at the reaction of his own fellow-guards, while he stepped deeper into the kitchen, reaching a counter on which he set the empty pot.
@Doctor Jax