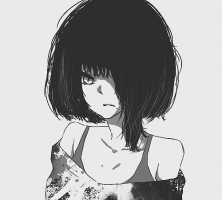 ♡multidimensional traveler♡
LURKER MEMBER
FOLKLORE MEMBER
Invitation Status
Posting Speed

1-3 posts per day
One post per day
1-3 posts per week
One post per week
Slow As Molasses
Writing Levels

Adept
Advanced
Adaptable
Preferred Character Gender

No Preferences
Genres

Slice of Life, Modern, Horror, Mystery, Drama, Fantasy, Angst, Tragedy
Name:
Brayden Oliver Grey
Age:
16
Grade:
10|Sophomore
Sexuality:
Predominately Homosexual
Clique:
No-Group
Personality:
Brayden is the little brother to any person willing to let him cling to them, regardless of age. His forgiving tendencies along with his friendly demeanor allows him to befriend almost anyone. Brayden often thinks with his heart, rather than his head and his emotions cloud his thoughts, making his judgement biased. However, it's rare that Brayden is seen angry or frustrated as he's usually happy and bubbly. He's rather clingy and a bit too trusting, resulting in him sometimes getting involved with the wrong crowds. He's immune to the bad side of people, and others usually take advantage of this trait. A bit antisocial and a huge fangirl, Brayden spends most of his time cocooned in his room playing video games. Brayden is caring, sensitive, and accepting, however he often forgets to take care of his own needs. Whether this means doing his homework or remembering to brush his hair. Brayden doesn't appreciate being helped or asking for help, as he likes to believe that he can take care of himself. Reserved and a bit quiet around others he doesn't know, Brayden is easily intimidated and rarely approaches anyone he doesn't know. Rather insecure, Brayden is in constant need of other people's approval and will do anything to please others.
History:
Brayden's biological mother was an attraction for bad luck and had gotten pregnant at the age of 15 by some boy she barely knew. With no other choice,she was forced to give her baby up for adoption and Brayden was adopted by a lovely elderly couple. They treated Brayden as if he was their own, spoiled him, and even scolded him when he refused to eat that disgusting green goop that always came along with his meals. Up until the age of 7, Brayden lived a quiet and happy childhood. His adoptive mother had been late-diagnosed with leukemia. It was rather late for treatment and she continued to plea for them to let her go, unwilling to helplessly watch as her body deteriorated, as she was only going to live a couple months regardless of her treatment. Hesitantly, Brayden's dad agreed and Brayden's mom was taken home, where exactly a month later, she passed away. Although it hurt that the person who was closest to him, who encouraged him to draw, was gone he was thankful that she had passed away peacefully. However, Brayden's dad took the death hard and plunged into a darkness that he'd never escape. With no other way to rid of the pain, his dad turned to alcohol. Brayden watched helplessly as his other parent slowly left him.. His addiction came to the point where he could no longer focus on anything else but alcohol. The numbness of the substance was wearing off and anger was all that was left. It wasn't long until his dad continued to find ways to blame Brayden for his problems. Who was once a gentle, loving man was now a violent being with a hot temper. What was once verbal abuse was now physical, but Brayden didn't mind. It was his father's way of showing him that he loved him, and if it numbed his pain, even a little bit, Brayden didn't find a few scars. This was temporary.. What his father had been dealing with would never go away. Brayden just made sure that he never went swimming without a shirt on, he made sure he always wore long sleeves, that he learned how not to flinch when someone touched him, to avoid sleepovers and changing in front of other people. Because it was just one slip up that could potentially expose their family's secrets. And it WAS just one slip up that exposed everything. After Brayden had locked himself in his room, his father had taken the locks out his door. This resulted in his eldest sister walking in on Brayden changing. She had discovered their secret. Before Brayden had a chance to explain, she had confronted their father and before Brayden knew it, his father was in jail for child abuse and he was living with his sister. He didn't understand why she had overreacted like she did. Brayden was fine. However, he stayed quiet. He didn't want to upset her further than she already was. His sister was often gone all day and all night, as she was always working. It wasn't long before the distance Brayden was putting between them finally got to her and she decided to send him to Hawthorne, in hopes that focusing on his school career would help Brayden take his mind off of their current situation.
Strengths/Weaknesses:
Quite the nurturing type, Brayden is quite in tune with other people's emotions, making him a great shoulder to cry on.
Even though he's not very strong, nor is he athletic, Brayden's energy never waivers.
This may not be much of a useful skill, but Brayden has somehow managed to beat Contra without the use of a Spread Gun.
Brayden is easily frightened, and is rarely seen going out of his comfort zone.
Rather clumsy and just extremely aloof, Brayden is weak and uncoordinated at all things exercise.
Brayden often refers to himself as "tone deaf" which is actually not that far from the truth.
Habits:
Brayden tends to worry too much and often blames himself for other's misfortunes, even when they have nothing to do with him.
When put in an embarrassing situation, Brayden will often spout random facts he learned whilst searching the web.
Brayden will often spend most of his time drawing, or animating. When he lacks the proper equipment, he'll likely be doodling or writing down random lyrics from songs he likes.
Secrets:
Brayden father beat him on a regular basis, but Brayden couldn't care less. He's only upset with his sister for putting his father in jail.
Brayden has never been in a relationship.
He has never actually finished Metal Gear Solid.
Brayden suffers from insomnia, oh which originated from his anxiety.
When Brayden's sister brought home a stray cat it attacked Brayden and now Brayden refuses to go near another "beast".
Talent:
Brayden prides himself on his drawings, but it was still surprising when Hawthorne accepted him for his art.
Extra Curricular:
Art Club
GSA
Desired Classes:
Accelerated English 2.
Geometry.
Biology.
Accelerated U.S. History.
*Drawing Advanced.
Painting Intermediate.
Sculpting Intermediate.
Spanish 1.
Honors?:
Brayden never has a GPA lower than 3.5, however he's comfortable with where he is.
Twitter Name:
@miserabledoodle
Affiliations:
Love Interest:
Justin Path-Crush
Justin has always seemed to be able to make Brayden smile.. He enjoys hanging around the energetic boy and is often being dragged around. He doesn't mind this, as Brayden has patience which ultimately allows him to be able to hang around Justin.. You can imagine how ecstatic the boy was to find they were going to be roommates. ​
Friends:
Vanessa Abernathy
Kolton Birch
Anabelle Finch-Close Friend
Marianne Finch-Close Friend
Kyden Jeffer
Eryn Lawless
Fiona Lee-So cute! Hangs around
Julian Micheals-Gaming Buddy
Justin Patch-Close Friend
Valerie Poxleitner-Follows Around
Infinity Price
Jacob Smith
Daniel Webster-Hangs Out A lot
Eryn Wilhelm
Freedom York-Close Friend
Although Freedom belongs to the clique Brayden tends to avoid, Brayden couldn't help but be drawn to her naturally sweet side. She often comes to him when in need of a talk, and Brayden is there to listen.​
Neutral:
Axel Carrison
Giovanna Cross
Quinton Decaro
Destry Feuchax
Jaxon Lewis
Eliza Montgomery
Hayden Pratt
Sebastian Thomas
Adalyn Wolfcastle
Enemies:
Vincent French-Picks on Brayden, Doesn't Really Mind.
Favorite Song:
​
Last edited: