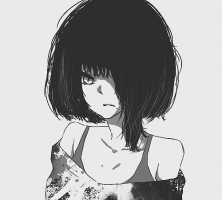 ♡multidimensional traveler♡
Original poster
FOLKLORE MEMBER
Invitation Status
Posting Speed

1-3 posts per day
One post per day
1-3 posts per week
One post per week
Slow As Molasses
Writing Levels

Adept
Advanced
Adaptable
Preferred Character Gender

No Preferences
Genres

Slice of Life, Modern, Horror, Mystery, Drama, Fantasy, Angst, Tragedy
THIS IS THE SIGN UP THREAD FOR GROUP RP PLOTTING - ||ᎠᎾᏞᏞhᎾusᎬ.|| [FULL] | IwakuRoleplay.com
Hey Girl, Open Your Walls. Play With Your Dolls.
It continued to follow around its toys. It's been so long since it had found the perfect surrogates.. Staring at its prey, it knew. This was the one.. The one who would complete its family. A smirk crawled on its lips, even the thought of such a thing made it smile.

We'll be a Perfect Family.
They were.. special. They were perfect. It wasn't long before it made them realize this. It was going to make them happy. They would all be together, where they belonged. It was helping them. It was putting them with those that loved them, and those that would make them happy.
When You Walk Away, Is When We Really Play.
You awake in a rather small room. You're disturbed to see that this room is nothing you had seen previously.. Or maybe it was. You search through your mind, looking for anything to latch onto.. A name, a face, a house. Nothing. The panic sets in as you sit up, throwing the floral sheets off your body. Tears roll down your face as you look into your vanity, staring at an unfamiliar face in Victorian clothing. Only then do you notice the envelope sitting atop the vanity. It reads,

"Welcome to the Brough family!"
No One Ever Listens, This Wall Paper Glistens.
The door that had previously been locked suddenly opened and you were reluctant to exit. However, after a heated mental debate, you decided it was best to exit the creepy room. After you followed a series of red arrows through pastel colored corridor, you enter what is most definitely a kitchen. There, three other Victorian dressed men and women stand. You all look at each other, frightened look on your faces as you begin to discuss your awakening. You all freeze as you hear a raspy voice emit from the walls.
Don't Let Them See What Goes In The Kitchen.
The rules are fair. They'll be easy to follow, and the dolls will be happy if they follow the rules.. They just need to follow them. Or else it would get mad and it'd have to replace the broken doll.
I'm definitely a quality over quantity type of writer, however I would appreciate it if your posts were at least two, well written paragraphs.​

I get that this is a roleplay based on dolls, but it's also based on the facade of perfection.. Your character isn't going to be perfect, they're going to be forced to act like they're perfect. I don't want carbon copies of the same cliche characters either.
Romance is welcomed in this roleplay, however smut is not. Either take it to the PM's or fade to black.
PLEASE, PLEASE, PLEASE try and stay as dedicated as you possibly can to this roleplay.If you cannot commit to posting at least once every 5 days then I encourage you to find another roleplay. I understand we all get busy but I am insistent on not letting this roleplay die and I hope you can be as committed as I am. If you don't post within a week, I'll have to murder your character and drop you from the roleplay.
Dolls can easily be replaced and they WILL be replaced. If you happen to drop out, and I hope you only join if you're confident in your ability to stay active, your doll will be killed and replaced by another.
It is extremely possible that your character will die. However, if you're a doll those chances are significantly decreased if your character follows the schedule and the voice's orders.
There will be a limited amount of characters, as I want this roleplay to be small and manageable. The limit will vary on which idea we decide to go with.
Realistic face claims only, please.
Mother: @Eeveena
Father: @Vio
Sister: @seeing the reflection
Brother: @Yandere-Chan
What about you is heroic?

What about you is social? What do you like about people?

Of what benefit could you be to the current group (the special reason they were picked to be a doll)?

Why would you choose to join the current group?
Personal Questions
What is your real, birth name? What name do you use?

Do you have a nickname? What is it, and where did you get it?

What do you look like?

In your opinion, what is your best feature?

What's your real birth date?

What is your most prized mundane possession? Why do you value it so much?

What one word best describes you?
Likes & Dislikes Questions
What hobbies do you have?

Who is your closest mundane friend? Describe them and how you relate to them.

Who is your worst mundane enemy? Describe them and why you don't get along.

What song is "your song?" Why?

What annoys you more than anything else?

What would be the perfect gift for you?

What's the most beautiful thing you've ever seen?

What time of day is your favorite?

What kind of weather is your favorite?

What is your favorite food? What is your least favorite food?

What is your favorite drink? (Coffee, Coke, Juice, Beer, Wine, etc.)

What's your favorite animal?

What do you find most relaxing? (Not as in stress relief, but as something that actually calms you down.)

What habit that others have annoys you most?

What kind of things embarrass you? Why?

What don't you like about yourself?
Miscellaneous Questions
What is the thing that has frightened you most? Do you think there is anything out there that's scarier than that? What do you think that would be?

Has anyone or anything you've ever cared about died? How did you feel about it? What happened?

What was the worst injury you've ever received? How did it happen?

How ticklish are you? Where are you ticklish?

Do you have any bad habits? If so, what are they, and do you plan to get rid of them?

If you were a mundane person, what would you do with your life? What occupation would you want, and how would you spend all your time?

What do you do when you are

bored?

What is the most frightening potential handicap or disfigurement you can conceive of? What makes it so frightening?
Last edited by a moderator: