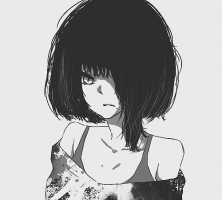 ♡multidimensional traveler♡
Original poster
This idea was inspired from Melanie Martinez's Dollhouse.. and an episode of Criminal Minds.​
I have a very general idea for this roleplay, but the foundation basically several people were chosen to take part in the "Dollhouse Experiment". These people were kidnapped and awoke in separate rooms without any memory of their previous life or how they had gotten there in the first place. Upon examination, they find that their rooms are freakishly neat and pristine, and their appearance quite doll-esque. This is where this roleplay idea becomes a bit complicated because there are several routes to go after this...
First Idea-
These dolls were kidnapped at a very young age and have known nothing besides the sheltered environment of their life-sized dollhouse. All around teenage age, they've accepted their lives and are completely oblivious to the fact that they were all once kidnapped as young girls and brought to their dollhouse. I'm still unsure of where to go from here.. Either new dolls, both male and female this time, show up with their memory still fully intact or a group of high school students find their dollhouse and are mortified to find the kidnapped dolls.
Second Idea-
It's basically the same idea as the one above, except this time it's an amnesiac family. Of course, the family isn't actually related. Again, they were stalked, chosen because they were "special" and forced to live their plastic life. However, this time there's a voice, concealed but still there, that orders these dolls to follow through with their sick delusion.. Or else they might die. This family will be given certain character traits assigned by the voice that they must follow and if they break character whilst the voice is monitoring, they will be severely punished. This can also applied to a group of teenage dolls, rather than a family.
Subplot Ideas-
I like the idea of one of the dolls actually being the voice. If you are interested in having your character be this voice, message me privately. However, this isn't a first come, first serve position. If there are multiple interests, I will choose which doll I feel is most fitting for my position. However, keep in mind that this may include my character as well.
Okay! Now that we've got the plot ideas established, let's discuss what I'm looking for in my roleplay and in my fellow roleplayers!
General Rules-
I'm definitely a quality over quantity type of writer, however I would appreciate it if your posts were at least two, well written paragraphs.​

I get that this is a roleplay based on dolls, but it's also based on the facade of perfection.. Your character isn't going to be perfect, they're going to be forced to act like they're perfect. I don't want carbon copies of the same cliche characters either.
Romance is welcomed in this roleplay, however smut is not. Either take it to the PM's or fade to black.
PLEASE, PLEASE, PLEASE try and stay as dedicated as you possibly can to this roleplay.If you cannot commit to posting at least once every 5 days then I encourage you to find another roleplay. I understand we all get busy but I am insistent on not letting this roleplay die and I hope you can be as committed as I am. If you don't post within a week, I'll have to murder your character and drop you from the roleplay.
Dolls can easily be replaced and they WILL be replaced. If you happen to drop out, and I hope you only join if you're confident in your ability to stay active, your doll will be killed and replaced by another.
It is extremely possible that your character will die. However, if you're a doll those chances are significantly decreased if your character follows the schedule and the voice's orders.
There will be a limited amount of characters, as I want this roleplay to be small and manageable. The limit will vary on which idea we decide to go with.
Realistic face claims only, please.
I will probably add on to this later.
So, now you've heard the plot and what I'm expecting.. Again, this idea is flexible and I'm interested in the ideas that you might have to offer. If you need me to clarify anything, just ask and hopefully this idea gets enough attention to blossom into a beautifully crafted roleplay of which I'm excited to contribute to with anyone else who happens to be interested!
Last edited: