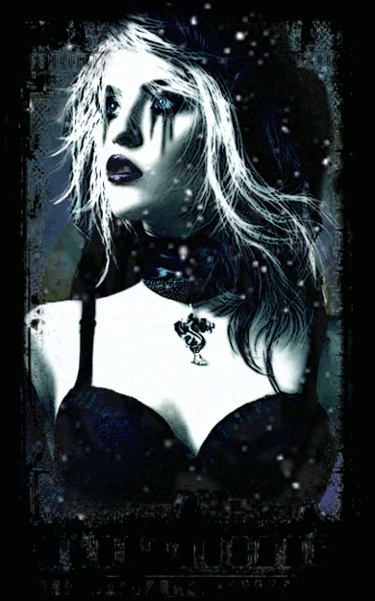 When the Forever Sleep ends...
Original poster
Roleplay Invitations

Group Roleplays, One on One Roleplays
Posting Speed

Several Posts a Day
Writing Levels

Douche
Genders You Prefer Playing

Primarily Prefer Female
Playing Style- Passive or Aggressive

Passive/Aggressive... I wait until I see an opportunity to jump in rather than jumping in prematurely.
Favorite Genres

Fantasy, Sci-Fi, Romance, GOT
Genre You DON'T Like

Horror, Shooters

Humanity has merged with the technology they created. Years and years after the creation of full dive technology and the acceptance of "ghosts" which are online imprints of the minds of deceased players who died in real life while playing a game. The world outside, the real world, is now known as the half life. Only those too poor or too scared to partake in the online worlds remain in the half life. Farmers, caretakers, low and middle class workers... Everyone else earns their living in their choice of game, online. One such game is Gun Meister Online...

You are one of the lucky few who obtained an invitation via PM or Pod Mail to join Gun Meister Online. It's not a new game, but only those invited by someone already online can join, and even THOSE invites are filtered by the administration of the game. Identification checks, backgrounds, social security checks, monetized deposits and assurances, as well as a permanent imprinted character once approved.

You made it however. One of the lucky few. Gun Meister. The only game in which the currency in game translates 1 to 1 with the currency in real life. One credit for one United States Dollar. The only game in which your first character is your last. The only game where you can pick up a gun, shoot another player, and get paid for it in real money and not get punished.

The character creation screen loads in front of you, pulsing a dazzling array of colors as they coalesce into a picture of a laboratory full of vertical cloning chambers half glazed with sheets of ice and obscured by fog.

Are you ready to make your character? Are you ready to begin your journey?

________________________________________________________________________________________________________

Hello everyone!

I'm planning on creating a legends story based on the Noah Barnett novel: Gun Meister Online. You can be a Meister, or you can be a gun! Please PM me if you want to know more, or ask here! If you've already read the book then great! You probably loved the story and already know most of the rules! Just write out your character and PM it to me for confirmation!

If you don't know much about the story, I'll explain a little more below.

Gun Meister Online is a full dive VR MMO. The world is futuristic and full of chrome buildings, giant tv screens and billboards, huge arenas, lavish player owned houses, fast cars, and flying vehicles for the massively successful!

At the very center of the main city is the arena, where every player goes to start a match... Matches consist of player versus player missions where the objective is to stay alive, and eliminate the other team! You can have up to three matches a day, and each match will earn you REAL LIFE MONEY.

The match options are Team Death Match, Death Match, and a new option. Insurgent... (Not recommended for new players) Players also have the option to join high payout "Ranked Matches" that are random.

Come create your character, but be warned. Once you create your character, there is no going back. You cannot change their stats or modify their physical appearance in any way.