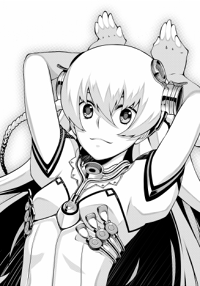 Edgeknight
Original poster
[tabs]
[tab=overview]
It is the far future, and mankind has spread across the stars. The invention of the hyperspace drive has finally freed humanity to play across the stars, flying through a superluminal ether. Humanity spread, fragmented, and spread further, until several small colonial powers had been established, across a portion of the galaxy.
It was then that we discovered, we were not alone. Alien monsters struck without warning, devastating the worlds they attacked, be they border colonies or further in. Wiping worlds of Human life, the unknown aggressors drove humanity back, and forced them to join forces to face their common enemy. The United Interplanetary Federation was born, and with it, the Interplanetary Space Defense Forces. The nascent government had trouble maintaining order, and continued to be under pressure from an implacable enemy which destroyed all that it could.
In the wasteland of Humanity's defeat, Guardians, valkyries of flesh and metal, rose to stem the tide. Their valiant efforts drove the monsters back into the darkness from whence they came, and earned a new peace for mankind.
That was years ago. The ISDF pushes forward, and so do the Enemy. Borders change, and occasionally planets are taken by either side. For most, life goes on.
Take on the role of a Guardian stationed aboard the ISDF Cruiser
Astrea
and enjoy a life of adventure, battle against horrifying alien monsters, tea and cake, and other things.
The World
The ISDF


The Interplanetary Space Defense Forces are humanity's military arm in space. They have several fleets and fly all manner of missions, from policing trade routes and stopping pirates to engaging in combat with the Bydo to protect (or, if the worst has happened, cleanse) colony worlds. The ISDF is structured similar to a Navy in terms of ranks and overall organization, and because humanity loves the romantic notion that space is a sea of stars.


Ether Liners




The next step...​


In what many view as the next step along the evolutionary ladder, some humans exhibit psychic powers. Generally referred to as Ether Liners, ESPers, or psychics, they have somehow been born with powers of the mind beyond those of most people. Each ESPer usually has a single psionic talent, or a few which are closely related at best.

Psychics are highly sought after in many branches of society, as both the business and military worlds try to study their talents and put them best to use. Those who decide to become Guardians are fitted with special implants designed to amplify their abilities to even greater heights comparable to any other weapon befitting a combat cyborg. Some directions have been taken into designing weapons specifically with psionic talent in mind and as a prerequisite for using them, and they range from the orthodox to the completely bizarre.


Androids




Dreams of electric sheep​


Continued advances in the development of AI and cybernetics have brought about the creation of fully-artificial humans. These androids are in many ways indistinguishable from their biological counterparts. They eat, drink, and sleep, although maybe not as much. Debates on the extent of their rights are ongoing, as they are created beings, fully owned by their creators. An android can, obviously, never be psychic.

Androids are even created to be Guardians, often more quickly and easily than enhancing a baseline human. Considered by some to be "artificial" Guardians and others to be "pure" Guardians, advanced combat androids are an increasingly common sight within the ISDF ranks. They have the same overall capabilities as any other Knight, and are often even more resilient to harm and mental stresses.


The Bydo




Demons without, demons within​


The Bydo are an alien enemy who seemed hell-bent on destroying humanity. A force of strange monsters who are often poorly understood, they travel freely in space, often in gigantic living ships capable of hyperspace through their own, organic means. Their general nature appears to be biomechanical, and they often meld aspects of machinery and living things within their appearances.

Studies so far indicate that the Bydo may exist in part in another dimension, or be native to one. This may be one explanation for their incredible vitality. Most Guardian weapons are designed specifically with affecting the Bydo in mind, however, and can defeat them regardless of whatever esoteric defenses they may possess. Bydo are known to be able to possess and control human technology, and even human beings themselves, driving them mad or turning them against their comrades, and into...something else entirely.

They're still out there, lurking past the borders of human space. Like barbarian hordes of old, they occasionally pressure civilization, but there has yet to be a second all-out push into war. For most people, it's welcome enough to know that though they be surrounded by monsters, those monsters shy away from the light of civilization and its protectors.















[/tab]
[tab=rules]
Rules will be pretty much the usual.
Follow Iwaku rules and guidelines.
Don't be a jerk.
Please don't do all those typical bad roleplay behaviors with all manner of funny names.
And that should over just about anything I can reasonably think of. Below are some general guidelines and things to be aware of.
A Valkyrie's cybernetic body is incredibly tough, but you can and will be injured horribly. Loss of a limb is at best a temporary setback, so please bear that in mind.
You are not, however, completely indestructible. And if you go into a fight against truly staggering odds without a plan, I will not hesitate to kill you for it.
The Bydo can do worse things to you than simply kill you.
Much like Batman, you can breathe in space, should you not want to have a full helmet and such for space combat deployments.
Dismemberment, death, and insanity are all possible, if not likely. I probably cannot stress this enough. I'm not using dice to leave it all up to chance, but if I were, it would certainly make them all more possible.
I will try to limit any abilities I think are too strong, although I'd rather not set absolute or hard limits right now. I also have a certain aesthetic in mind for the "mecha musume" look of Guardians, and will try to keep things consistent with it as much as possible. Sorry to impose my preferences on everyone.
Character Sheet
For making of characters, yes.
Name:
Your character's name. You can include any nicknames or callsigns as well. Bear in mind that in general, you
never
get to pick your callsign, that's up to your buddies.
Rank:
Your military rank.
Type:
I can't really think of a better term for this, because it's not exactly "race." If you're an android or an ether liner, you'd say so here.
Bydo Coefficient:
0.00 (A measure of your overall power output and ability to do the Bydo harm. Higher is not necessarily better, and I'm not sure if this will stick around and be more than fluff. Usually between 1 and 5.)
Appearance:
An anime image at the very top of your post is preferred. Please do include anything not shown in the image, or otherwise relevant that you wish to add in text.
Personality:
This can be pretty brief, as I'm a firm believer in most of a character's personality coming out through play, so this sort of thing is, at best, a rough guideline and nothing set in stone. However, I also think it's important to think about how your character would behave at least a bit, so writing some basics down is good. It also helps weed out any really undesirable archetypes.
History:
The
real
meat of figuring out who your character is.
Where did they come from? What events shaped who they are today? Did they volunteer to become a Guardian, or were they sought out for other reasons? Have they been in the force long? Any notable battles they participated in?
Fighting Style:
Not as important as in a battle shounen martial arts tournament, but still handy. How does your character approach a fight? Do they rush in to melee? Hang back and snipe? And so-on.
Equipment:
You're full of cybernetic augmentations and have additional armor and weapons besides. This is where you list and describe it all.
Weapons:
See above, but I'm singling out weapons for their own section.
EX Abilities:
Use this for any unusual or unique abilities your character has.
Theme Song:
This is important. If you need some suggestions, I'd say look for themes from STGs, or from Super Robot Wars.
Etc.:
Anything else that doesn't fit into the above.
[/tab]
[tab=cast list]
Mirana "Mina" Kamaria
Esfir
Alice Aegis
Toro Suzuku
Charm-4
Pick one and I'll edit in her name.
Eunike
Yulia Nazarova
Rika Kamaria
[/tab]
[/tabs]
Last edited by a moderator: