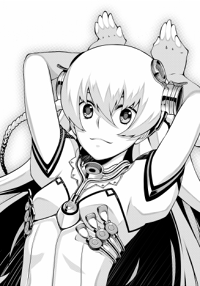 Edgeknight
Original poster
LURKER MEMBER
FOLKLORE MEMBER
Invitation Status
Posting Speed

One post per day
1-3 posts per week
One post per week
Writing Levels

Beginner
Elementary
Intermediate
Adept
Adaptable
Preferred Character Gender

Female
Futanari
Primarily Prefer Female
Genres

Scifi, anime, mecha, magical girl, superhero, cyberpunk, yuri
It is the far future, and mankind has spread across the stars. The invention of the hyperspace drive has finally freed humanity to play across the stars, flying through a superluminal ether. Humanity spread, fragmented, and spread further, until several small colonial powers had been established, across a portion of the galaxy.
It was then that we discovered, we were not alone. Alien monsters struck without warning, devastating the worlds they attacked, be they border colonies or further in. Wiping worlds of Human life, the unknown aggressors drove humanity back, and forced them to join forces to face their common enemy. The United Interplanetary Federation was born, and with it, the Interplanetary Space Defense Forces. The nascent government had trouble maintaining order, and continued to be under pressure from an implacable enemy which destroyed all that it could.
In the wasteland of Humanity's defeat, Guardians, valkyries of flesh and metal, rose to stem the tide. Their valiant efforts drove the monsters back into the darkness from whence they came, and earned a new peace for mankind.
That was years ago. The ISDF pushes forward, and so do the Enemy. Borders change, and occasionally planets are taken by either side. For most, life goes on.
What's this about?
Guardians' Heaven is a space scifi RP about mecha musume-like Guardians. You'll all take the roles of these larger-than-life heroines, stationed on the same ship. Adventures and battles await. Also plenty of cute girls doing cute things. If you like cute girls, fancy battle armor, and fighting space monsters, you might like this game.
Guardians (also called Valkyries and Knights, among other things) are cybernetically enhanced young women, or sometimes androids, equipped to fight an alien menace. They tend to take on a mecha musume sort of aesthetic when in full armor and combat gear, but look fairly human without it. Some even have psychic abilities which are augmented to new heights by their technological enhancements, but they are the exception, rather than the rule.
The RP draws inspiration from R-Type, Knight Run, Strike Witches, Busou Shinki, Kantai Collection, and some other sources. So, uh, yeah, just bear in mind that such a weird mix is probably the style I'll be going to follow, somehow. I prefer to wear my inspirations on my sleeve, and then try to have fun with mixing them into a new whole.
I don't have many expectations for players, although I will probably ask for a regular posting schedule of once every few days, to keep things nicely rolling along. I'll at least be holding myself to such a thing, and will try to advance whatever events are under my control every time I do. No need to feel like you can't just post a whole bunch in the meantime, for a conversation or other reasons. I do have something of a specific aesthetic style in mind for what "kind" of mecha musume is appropriate to the setting, so if you're not sure what works, ask first.
If you're interested, feel free to ask any questions you might have. I'd be happy to answer them.
Last edited: