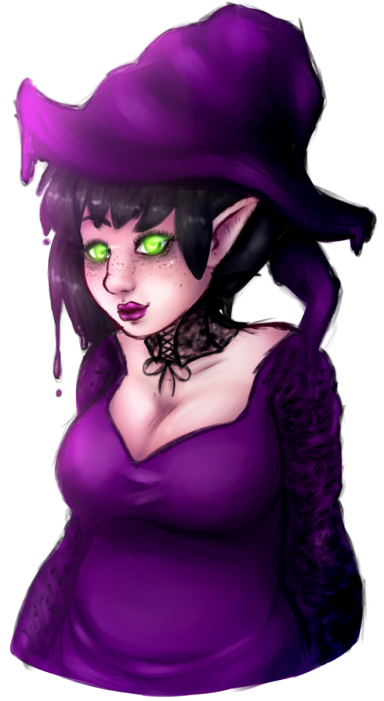 Mom-de-Plume
Original poster
SITE SUPPORT
DONATING MEMBER
Roleplay Invitations

One on One Roleplays
Posting Speed

Several Posts a Day, A Few Posts A Day, One Post a Day, A Few Posts a Week, One Post a Week
My Usual Online Time

11PM to 2AM EST, plus or minus a few hours in either direction.
Writing Levels

Adept, Advanced, Prestige
Genders You Prefer Playing

Male, Female, Androgynous, Primarily Prefer Female
Playing Style- Passive or Aggressive

Combination.

My strengths lie more in the direction of emotions and short-term ideas, where my ability to plan out long-term plots is weak. I do best with a partner who helps me cover that weakness.
Favorite Genres

I'm open to a wide range of genres. Obscenely wide. It's harder for me to list all I do like than all I don't like. My absolute favorite is mixed and multiverse, but I'm not limited to those.

• Mixed Genre
• Multiverse
• High Fantasy
• Hard Fantasy
• Low Fantasy
• OP Fantasy
• Science Fantasy
• Modern Fantasy
• Soft Scifi
• Science Fantasy
• Low Scifi
• OP Science Fantasy
• Modern Realistic (Strict)
• Modern Realistic (Loose)
• Urban Fantasy
• Alternate History (Fantasy Preference)
• Post-Apocalyptic Mixed
• Post-Apocalyptic Fantasy
• Post-Apocalyptic Scifi
• Post-Apocalyptic Modern
• Dystopia
• Displacement
• Military
• Dying Earth
• Supernatural
• Drama
• Mystery
• Horror
• Religious
• LBGT
• Crime/Detective
• Parody
• Comedy
• Tragedy
• Romance (Must Include Others)
• Erotic (Must Include Others)
Genre You DON'T Like

The list is short. because it's hard to find genres I don't enjoy.

• Yaoi/Yuri (Gay/Lesbian is fine!)
• Furry
• Fandom
• Historic Non-Fantasy
"I worry more that I cannot determine our present height," Jade murmured quietly, seeming calmer now that Éjjel had explained the safety. Still, she remained quietly near the man, who seemed very calm.
Kinny's language lessons along the way proved an ideal distraction, and Jade paid close attention. For once, she felt she understood the culture more than Kindall did, and his obliviousness matched what was usual for her.
However, he quickly seemed to grasp the lesson, beaming as understanding dawned.
"Oh! So... Édéla was flirting?" His grin widened as his mind clicked the pieces together. It was an invitation, one well-suited for people who enjoyed playful and dramatic entrances, such as the one Édéla gave. From one playful soul to another, Kinny could appreciate the sentiment.
So, since Kinny wasn't satisifed with his own ónic vocabulary, he looked toward his aunt.
"Please translate for me, Auntie?"
She gave a weary nod.
He looked to Édéla. "Are you looking for someone to leave tongue-tied? Because you're gorgeous, I'm willing, and I'm speechless."
Jade's hand slammed into her face, and then her other hand joined it, and both slid down. "I will not translate that. I cannot say that."
"Auntiiiiie!" he pouted at her, but she didn't remove her fingers from her face.
She squinted, then huffed. "He asks if you are looking for someone you wish to leave with a knotted tongue. If so, he says he is willing, because you are beautiful enough to leave him unable to speak properly."
What lame humor her nephew had!
Jade huffed quietly. "I apologize for his attempt at being humorous in his attempts."
She wanted to tell him shame on him, shame on his family, shame on his cow, but he would be the only one to get the joke, and that was a faux pas.
⋯﴾⛧﴿⋯​
Warwick watched her, and before she even finished her motion to gain distance, he sighed and put the dagger slowly back into a pocket that looked like it would be inconvenient to access easily, as it was near the bottom of his jacket, on the inside—he had to pull his jacket up and bend over to get at it to put the dagger away.
He then dropped the coat's edge and held his hands up, showing his empty hands as he just stared quietly, then closed his eyes, trying to think.
"I had to learn your language when I arrived here. If anyone has tried checking, I use English exclamations when I am surprised." He sighed out his nose. "Aside from that, I do not know. I am not smart."
He closed his eyes and sighed again.
"Impossible things are normal where I come from. People are burned by ordinary silver that is not heated. The dead sometimes walk around and have to be re-killed. People who lose limbs regrow them in a week on their own without help. Shadows eat people who don't obey—" he cut off suddenly, and his expression lifted slightly.
"Is there anyone in this universe whose shadow is solid black? Like someone spilled black paint? Point a bright light at the shadow, and watch it. It will smoke and hiss—the shadow will." He looked like he had hope again, but after a moment, he slapped himself in the face.
"Except that probably sounds too stupid, as well," he grumbled, "Maybe I should just go back to my cell or something..."