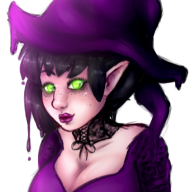 Mom-de-Plume
Original poster
SITE SUPPORT
DONATING MEMBER
Invitation Status

Looking for partners
Posting Speed

Multiple posts per day
1-3 posts per day
One post per day
Multiple posts per week
1-3 posts per week
One post per week
Writing Levels

Adept
Advanced
Prestige
Preferred Character Gender

Male
Female
Primarily Prefer Female
No Preferences
Genres

I'm open to a wide range of genres. Obscenely wide. It's harder for me to list all I do like than all I don't like. My absolute favorite is mixed and multiverse, but I'm not limited to those.

• Mixed Genre
• Multiverse
• High Fantasy
• Hard Fantasy
• Low Fantasy
• OP Fantasy
• Science Fantasy
• Modern Fantasy
• Soft Scifi
• Science Fantasy
• Low Scifi
• OP Science Fantasy
• Modern Realistic (Strict)
• Modern Realistic (Loose)
• Urban Fantasy
• Alternate History (Fantasy Preference)
• Post-Apocalyptic Mixed
• Post-Apocalyptic Fantasy
• Post-Apocalyptic Scifi
• Post-Apocalyptic Modern
• Dystopia
• Displacement
• Military
• Dying Earth
• Supernatural
• Drama
• Mystery
• Horror
• Religious
• LBGT
• Crime/Detective
• Parody
• Comedy
• Tragedy
• Romance (Must Include Others)
• Erotic (Must Include Others)


Jade sat up, one hand at her mouth, and darted to the bathroom on scrambling, half-slipping bare feet. Behind her, a man propped himself up on the creaky bed and watched her go. She flung the toilet's seat and lid up, then let loose.

Violent hacking and a torrent of bile-infused liquid leapt from Jade's mouth to the toilet before she wiped her mouth on her hand.

"Everything alright in there, Lady Jade?" The man asked slowly from the bathroom doorway.

"Yes. I am sorry, Hunter Willem. I may have a stomach flu." She lied, unable to look any higher than his feet. She felt filthy all over, but the poor man didn't deserve to hear that after he went to so much trouble to make sure she reached multiple orgasms... "I shall clean up."

"No, no, I got it. You go see Al. I can handle a bathroom and a bed. You're sick." He walked toward her, and rubbed her small, bare back.

"I-" She cut off as she felt his large, warm hand on her back, then glanced toward the toilet as she felt her skin crawl. "Yes, probably." Her eyes felt hot as she rose slowly, then approached the sink so she could wash her hands again before she used them to sip at some water to get the taste and smell of vomit out of her mouth before she grabbed a tissue to dry off, and then wipe her face. A brief glance at the mirror showed what she had not wished to see—red rims around her eyes, pale skin, and flushed cheeks.

Hunter Willem let his hand fall back to his side. "Do you need help getting to the infirmary, at least?"

"No. Thank you." She smiled at him, only a little forced. "I am sorry to put so much cleaning on you, and for ruining our afterglow."

"No, no. You're fine. If you're sick, we shouldn't have even." He trailed off, then glanced to the side.

Her cue to go before it got any more awkward.

Jade rose to her toes to kiss the giant of a man. "Thank you for a wonderful night." With that, she pulled on her card-printed underwear and her worn jeans, then gathered her steel toed-boots, her socks, her jacket, and her favorite shirt—the one that only had one shoulder, and had the cutest green die on the chest. Once she had everything, she exited the Hunter's room.

Once the door was shut behind her, she walked a time, up and down the halls until she was sure even his enhanced Hunter senses wouldn't pick up on anything amiss.

With a deep breath and a heavy sigh, she opened a portal. Without looking, she stepped through. Her foot slipped on something wet, and she toppled forward into a trash can and a brick wall, then crouched and waved one hand behind herself to close the portal as she looked around.

Seeing nobody initially, she hugged her knees and buried her face, then began to sniffle into her shirt as she buried her face in her bundle, uncaring if anyone saw the sides of her breasts. The sniffles became sobs and hiccups, and then hoarse gasping cries as she struggled with exhaustion from a week of little sleep, a wild romp, and then fleeing through a portal. With her face buried in the soft white cotton, she let loose.

Tears flowed, drool pooled, and snot clogged.